Video Breakdown: Running over EIU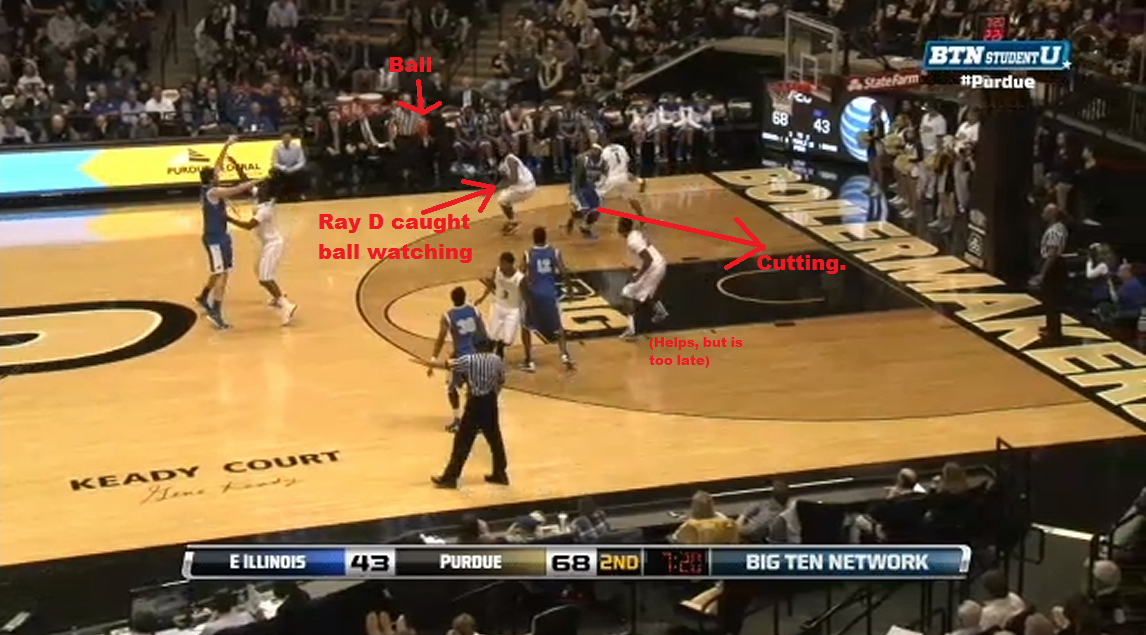 Hopefully you read my EIU Postgame Reaction and J's Box Score Breakdown. I cannot recommend those dog gif's enough.
The game wasn't widely broadcasted, and even though they made a few highlights public, I thought you lovely BS readers would like a little more video to work with. I'm a firm believer that you can find gems in any game, no matter how lopsided the box score.
All video clips will be posted under the YouTube username The Train Stop, you can find all past (or unused) clips there.
GIF OF THE NIGHT
Beautiful. So beautiful.
AJ Hammons was in the building.
http://youtube.com/watch?v=TqNZRQUkYRI
Those three plays happened within a 70 second span in the first half. Needless to say, this is the AJ Hammons we saw at times against CCSU and this is the player Purdue needs as tougher competition gets closer. Coach Painter limited his minutes as it became clear the game was well in hand (finished with 18 mins), but Hammons made the most of his time while he was on the court. Very efficient shooting, high percentage from the free throw line, (somewhat) active on the boards…aside from a few defensive miscommunications (see below), this is exactly what Coach Painter wants from AJ this early in the season. A lot of you aren't believers (for good reason), but I think AJ will get exponentially better as March inches closer.
Run, Boilers, run!
This Purdue team is weird. Not bad-weird, just different-weird. Matt Painter-led Purdue teams, from Landry/Teague through the JJ/Moore/Hummel era, love half court motion. Those teams were too busy setting perimeter screens and pump faking to worry about transition. They had some of the most skilled and intelligent players in program history, so methodically picking apart defenses became their calling card. Miss an assignment, lose E'Twaun on the perimeter, dare JJ to pass by collapsing, let Robbie run free…those Purdue teams would roast you from every angle at a grinding Big Ten pace.
This year's Purdue team…they want to run. They want to run a lot, and they want to run on every play. Two Purdue bigs usually crash the boards on defense, while Ronnie Johnson or Bryson Scott leak out to start the break. And then…they're off.
http://youtube.com/watch?v=YyOVcIbwgss
The first section of the video shows how quickly Purdue transitions from defense to the break after a steal. Everyone is acutely aware of the change in possession, and is already running in their lane. The reflex time after a steal is remarkable, and that played a large part in Purdue building an early lead.
The second section highlights beautiful transition passes, not limited to just RJ and Bryson Scott. Everyone is so unselfish, and this young team has such amazing chemistry that was unfathomable last year. If anything should make Purdue fans excited for this era of basketball, it's these three plays.
Finally, look at how aggressively they attack the rim, extremely willing to draw free throws.
Purdue pushes the ball every single time, and it seems like everyone is on the same "Born to Run" page. RJ and Scott run the break like Tasmanian devils. Ray Davis and Smotherman lurk in the strong side corners, ready for a baseline drive if the ball is sent their way. Stephens and Carter load the weakside perimeter, ready to rain 3-pointers from the heavens. Hammons and Simpson do a great job trailing the play and crashing the lane. Coach Painter has this entire team running and gunning, resulting in a completely different (and wildly entertaining) Purdue team.
SWAMY SPOTLIGHT – No Defensive Communication
The Swamy Spotlight isn't always a good thing. EIU didn't shoot well, but that wasn't really a result of Purdue's staunch defense. In fact, EIU shot poorly despite the many defensive lapses.
First, take a look at a few open cuts:
http://youtube.com/watch?v=r0eUI90vxHs
One at a time.
First highlight – Man, Terone got burned.
It looked like Terone broke his ankles while slipping on a sheet of ice. EIU's Reggie Smith cuts to the basket and has a clear passing lane, but their center can't make the pass. So Smith cuts back, and boom…wide open shot.
He missed, but that's a great look.
Second highlight – No communication between Hammons and Smotherman.
Look at the top of this picture. AJ Hammons is literally pointing out a switch that should have been made as the pass is in the air. Communication needs to be crystal clear, and it looked like Smotherman should have switched after the ball moved back out to the perimeter. Hammons needs to be very vocal while anchoring the defense.
Third highlight – Simpson bites on an inbounds fake.
This is actually a very well-run baseline inbounds play. They fake the ball to a "cutting" wing, who is running off a screen set by EIU's Sherman Blanford. Simpson bites, and Blanford has a clear lane to roll to the rim. Defense in the lane was a little porous while Simpson was in without Hammons, and this needs to be a point of growth with Jay.
Fourth highlight – Ray Davis gets caught ball-watching
This was just a case of the defense taking advantage of an inattentive Ray Davis. Blanford made the most of Jay Simpson switching to the perimeter (with Hammons on the bench) and Peck was slow to rotate. Easy.
Purdue also had some pick and roll communication issues:
http://youtube.com/watch?v=y5x6-8cj9v0
First play, Sterling Carter is doesn't talk during the pick, and ends up…facing the wrong way.
I have no explanation for this.
Second play, Scott gets caught on a pick and a very well-run route by his assignment.
He needs to call a switch here, but Ray Davis doesn't get the message and EIU gets an easy look at the basket.
Finally, Bryson Scott just loses his man…and smacks in to AJ Hammons. Because he's a gigantic human being.
EIU doesn't capitalize on this wide open shooter, but expect teams like Michigan State, Ohio State, and even Oklahoma State (on Thanksgiving Day) to kill Purdue with defense like this. Please don't give Gary Harris an ocean to work with.
Purdue has shown some really interesting and innovative sets on the offensive side of the ball, but the team remains on different pages on defense. This needs to be fixed before Marcus Smart has the chance to destroy every Boilermaker in his path.