Boilermakers aren't extinct, Mastodons are, Purdue beats IPFW 63-43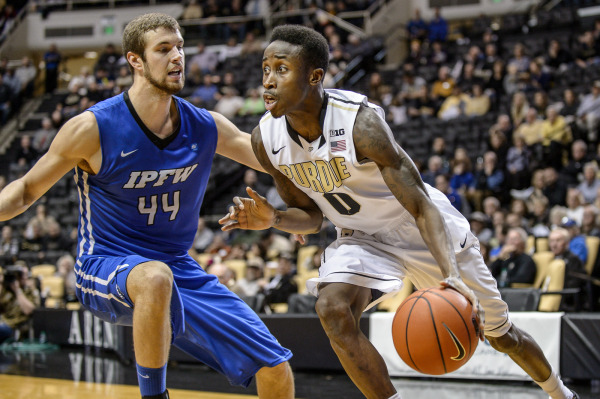 Starters: Jon Octeus, PJ Thompson, Rapheal Davis, Vince Edwards, Isaac HaasFinishers: Jon Octeus, PJ Thompson, Kendall Stephens, Vince Edwards, AJ Hammons
What happened?
Our Boilermakers beat the Mastodons of IPFW 63-43, in a game that was as important as it was ugly (at times). Matt Painter decided, for the first time this season, to change his starting lineup and move Hammons and Stephens to the bench in favor of PJ Thompson and Isaac Haas. The move still has me a little curious, because I didn't think those two were the reason Purdue dropped the North Florida game on Saturday…but Matty sure knows more about this team than I do. And it seemed to pay off.
Even though Haas missed three straight bunnies at the rim, the guards kept getting him good looks that paid off to the tune of 10 first half points and a few moments of steamroller-ness we have come to know and love. Again, his court awareness and defensive agility leave something to be desired (especially when compared to AJ), but when he decides to bust a drop-stop there's no one that can stop him. His aggression has seemed to light a fire under AJ, because when Hammons came in he played with a chip on his shoulder. Tonight, AJ was especially vocal on defense, crashed the offensive glass with energy, finished with his first double-double of the year (13 points, 12 rebounds), and was his usual Great Wall self when IPFW decided to drive inside (5 blocks. FIVE). If you can't tell, I absolutely love that Purdue can alternate between seven footers, and will continue to mention it in my postgames until one of them leaves to dominate the NBA (or possibly outer space basketball leagues, as the NBA might not give them the competition appropriate for their behemoth skills).
(This is probably a good time to acknowledge IPFW's center was 6'9". But still.)
Stephens also seemed to perk up after the benching, showing some great defensive effort and hitting a few backbreaking shots. The Kid finished with 13 points on 5-11 shooting, generally looking more in-tune than his efforts against North florida. His perimeter partner Dakota Mathias found his shooting rhythm early as well, hitting two 3s to open Purdue's quick lead. (Dakota would later cool off offensively, but had some incredible passes that I've saved for later.)
The first half ended with 3 scoreless IPFW minutes…and then 5 straight IPFW points. And they picked up where they left off in the second half, with Purdue getting off to a very slow start. Thankfully, Purdue built a large first-half cushion, but for a second it looked like déjà vu as IPFW's Joe Edwards spurred a semi-run to bring the lead to single digits.
But AJ's lucky and-one (see the Moving Picture of the Night), seemed to light the spark that the team needed to finish the game. Purdue held the Mastodons to 4 points over the final 6 minutes, and clinched a much-needed bounce back victory. Though this wasn't the type of win I might have dreamed of, and the semi-comeback wasn't fun, it's really the W that counts.
For some reason, the Boilers play again on Wednesday night against Arkansas State. 3 games in 5 days…who scheduled this, the NBA?
The game was over when…
…Kendall Stephens hit a backbreaking three pointer with just about 3 minutes left to play, extending Purdue's lead to 17 and icing a solid win.
The Good: (MORE GIFS FOR YOU LOVELY PEOPLE)
GREAT. WALL. OF. HAMMONS.
Ray Davis getting his points via backdoor cuts and general hustling/sneakiness, like this.
VIIIINNNNNCCCCCCEE. He continues to be the greatest, even when he doesn't notch 25 points, 8 rebounds, and 5 assists.
Also from the last GIF: Octeus is so subtly great. He was crashing the offensive glass hard tonight, finishing with 3 offensive rebounds. One resulted in an easy putback, and after the other two he reset the possession, where Purdue set up Stephens and Edwards for great three point looks (Kid sunk his, Edwards' rimmed out). Basically, Octeus has been the glue keeping these wins together, and Purdue is unspeakably lucky to have him in West Lafayette. Someone bake him some cupcakes.
Isaac Haas being unstoppable on the block if given even a foot too much space.
ISAAC HAAS BEING AN ENT ON DEFENSE
Basil Smotherman was fantastic defensively today, and seemed to love being an absolute pest. I can't recommend this move enough.
It's Keaton Grant's birthday! (Well, on December 8 it was.) Send him some love/nudes via the tweet machine.
The Bad:
The Ugly:
Turnovers, especially turnovers resulting from miscommunication and indecisivenesshttp://giphy.com/gifs/3rgXBCgJelImQIRUkM.
Love you guys to death, Paint Crew, but…

shoutout to the 120 kids in the stands. RT @jeffkeller: @BoiledSports @ThePaintCrew pic.twitter.com/DIBSplwJWx — Aneesh Ramaswamy (@aneeshswamy) December 9, 2014

  (Side note: It is my belief that, when going, the Paint Crew is one of the 5 best student sections in the country. This year, outside of a great showing vs NC State, it's been merely decent. I'm not putting on my haterade and saying "back in my day"…but I do feel like it's fair to hold the Paint Crew to the high standards they've met since 2007. Remember, national outlets were still running features on how loud Mackey got even after E'twaun and JaJuan graduated. High standards are kept for only the best…relish that.)

AJ Hammons getting blocked by 6'nothing Isaiah McCray. Out of respect for the Hammons family, I have declined to put up video footage.
Moving Picture Thingy of the Night:
Jimmy V shoutouts of the night:
Both a part of the Purdue family. Brock Davis is a current student manager of the basketball team, and cancer survivor. Tom Reiter was a former Purdue Associate Athletic Director, and passed away this past January after a battle with cancer. The disease continues to be awful, progress is continually made, and The Jimmy V foundation helps fight the good fight.
Feature image from PurdueSports.com