Kings of the Basement: Purdue falls flat against Northwestern, 74-65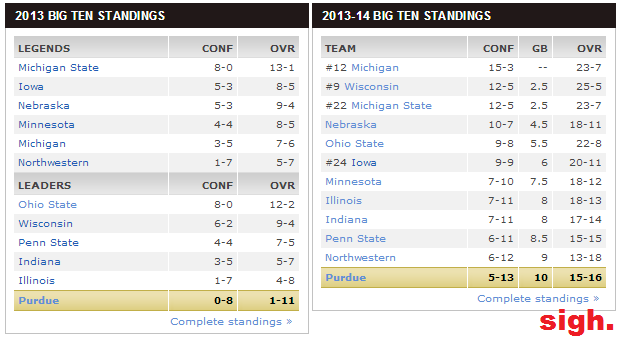 Purdue couldn't pull out a victory on Senior Day as Northwestern finished a season sweep of the Boilermakers with a 74-65 victory in Mackey Arena. Purdue clinched a last-place Big Ten finished for the first time ever…and, for the first time in Purdue history, both football and men's basketball finished dead last in the Big Ten during the same school year. So I guess at least there's a piece of history, right?
Let's deal with today's game first.
Purdue started the game shooting 17% to Northwestern's 50%, giving the Wildcats an early lead. Disjointed Boilermaker guard play, slow rotations on defense, and AJ Hammons drawing a foul 34 seconds into the game all contributed to Purdue's terrible beginning. Ray Davis and the Boilermaker bench mob kept Purdue close (9-11 from the line helped too), while four of the starters (RJ, TJ, AJ, Kid Stephens) finished the first half with 0 points on a combined 0-14 shooting. (Note: Hammons was doing his part on the boards, but couldn't convert anything offensively.) Northwestern wasn't shooting particularly well during the first half (35%, 11-32 from the field), but their ability to create extra possessions with offensive rebounds gave them chances that Purdue never earned.
The second half wasn't much better. Peck and Carroll started in place of Hammons and Stephens, but Purdue continued to make the same mistakes as they have all season. Look at this screenshot of Ray Davis (who played a great game) taking a long jumper while double teamed, as Carroll and Terone Johnson are fairly open:
I hate pointing out these shots every game, but Purdue doesn't really give me much of a choice. As Coach Painter said earlier in the season, "If your issues in November are still issues in January, it's probably who you are." I can only assume that holds true for mistakes in March as well.
Anyway, Purdue started to build some semi-cohesive momentum on the offensive side of the ball during the second half, but collapsed on the defensive end. Northwestern was full of confidence, the crowd was completely silent, and Drew Crawford was allowed to do anything he wanted. 27 points on 6-13 shooting, 13-14 from the free throw line, 7 rebounds, 2 steals, 1 assist, and 1 block (of an AJ Hammons dunk)…what a night for Northwestern's senior leader. As noted by the Big Ten Network's broadcast team of Eric Collins and Stephen Bardo, Crawford might be the most respected player in the conference given his 5 year Northwestern career. Well-deserved accolades for the senior.
Purdue's awful turnover differential gave Northwestern some additional possessions during the second half, with most of the errors happening in the paint. On three straight possessions, Purdue tried to get the ball to the big man down low…only to have the ball swiped away every single time. Very frustrating, but not surprising. The Boilers kept chipping away, however, managing to reduce NU's lead to 7 with four minutes left. But one back-breaking Crawford three after some fantastic Boilermaker defense all but ended the game and served as the last whimper of this severely-underwhelming season.
The only bright spot today, fittingly, was Travis "mother****ing Tacos" Carroll.
http://youtube.com/watch?v=T17-M_pSBik
What a way for the senior to go out. TC finally started hitting that floor-spacing jumper, hustled after every rebound, threw a few big-man elbows, and urged his teammates to keep fighting during an otherwise-dismal first half. Travis didn't get much play in the second half, until the (2/3 filled) Paint Crew chanted his name. TC finished with 7 points, 5 rebounds, and a lifetime of respect from Purdue fans everywhere.
Errick Peck's second senior night was great as well, finishing with 6 first half points and a bucket full of hustle. Ray Davis had a very good game (13 points, 4-9 from the field, 9 rebounds), Hammons finished with an active second half (13 points, 4 rebounds, 2 blocks), and Terone Johnson attacked the basket during Purdue's late run (10 points on 4-11 shooting, 3 assists, 3 rebounds). Bardo and Collins also had some nice words to say about Terone Johnson's Purdue career:
http://youtube.com/watch?v=p_0efD3Ylic
No matter what you say about TJ's production or efficiency, nobody can question his effort or heart. That's something I'll definitely miss.
Once again, however, point guard play let Purdue down. Ronnie Johnson finished with 2 points, 0-6 from the field, 2 assists, 4 rebounds, and 4 turnovers. RJ did collapse the defense, producing a few great kick-outs…but was largely mediocre when the team needed him. Bryson Scott (4 points, 1-4 shooting, 3 rebounds, 2 assists, 2 turnovers) was decent defensively but a train wreck as the primary ball-handler. He's always in "full steam ahead" mode, regardless of how many teammates are wide open. He needs to develop a change-of-pace game, or Coach Painter needs to pick up another true point guard (*coughPJTHOMPSONcough*) and shift Bryson Scott to a combo-guard role.
What a brutal year. Two wins in the last 13 games of the regular season, 1 torn ACL, 1 career-ending health diagnosis (life-saving for Jay Simpson, less important yet brutal stroke of luck for the team), 0 wins against ranked opponents and Northwestern, 3 fewer conference wins than last year, and 12th place in the Big Ten. For the record: 5 Big Ten wins are the most for the last-place finishing team since the 1993-1994 season…the same season Big Dog led Purdue to a Big Ten title. I say again: what a freaking brutal year.
The most frustrating part of this year has been the fact that nobody can identify the root of this team's inconsistencies. Here's the always-fantastic Jeff Washburn's take, which happened OVER A MONTH AGO:
Started attending Purdue hoops games 52 years ago. This is the first one I can not figure out. Maybe I thought it had more than it does.

— Jeff Washburn (@JeffWashburnJC) January 31, 2014
That still holds true at the end of the season. Coach Painter's postgame press conference gave us some candid quotes:
"It's my fault. It's my job to get guys to play together, it's my job to get guys to play, it's my job to get guys to play smart, and we don't do any of those. And so this is my fault. When you start off, people will always give you a break. But when you're somewhere for nine years, they shouldn't. They absolutely shouldn't. They absolutely shouldn't, because it is my fault we are in this possession…We have to recruit a more unselfish player, we have to recruit a tougher player. We have some of those guys in our program, and some guys who don't…and that's my fault. This isn't a school district. I recruited these guys."
Say what you want about the guy…but that is exactly what I want from the leader of this program. Coach Painter is holding himself accountable for this season, which is exactly what he needs to be doing. In my eyes, the 2011 recruiting class (Donnie Hale & Jacob Lawson) has led to this year's disappointments. That's fairly indisputable. But three straight top-twenty recruiting classes, a few budding leaders (Ray Davis, Basil Smotherman, Jay Simpson, and 2014 freshman Vincent Edwards all fit the bill), and undeniable talent have given Coach Painter the right to ride out this storm. His seat is definitely warm going into next year, and will be scalding hot if another failed season is on the horizon. But he's earned the opportunity to right the ship, and I still trust him to do so.
Of course, the elephant in the room is AJ Hammons' possible NBA departure leaving Purdue without a low-post threat in 2014-2015. We'll cross that bridge after the Big Ten tournament.
For now, I'll leave you with this tweet from OSU legend Mark Titus. (Remember, this doucher's mom had an incredible basketball career at Purdue. How he grew up an IU fan, I'll never understand.)
Grew up hating Purdue, yet can't help but feel bad for Boiler fans. Last in B1G in fball and bball this year. Great fanbase deserves better.

— Mark Titus (@clubtrillion) March 9, 2014
Sigh. Purdue's first Big Ten Tournament game will be on Thursday, March 13th at 2:30pm EST against the 5th seed (Nebraska, Iowa, or Ohio State).
AJ Hammons GIF's of the Game: