Lousy Season Draws To An Unmerciful End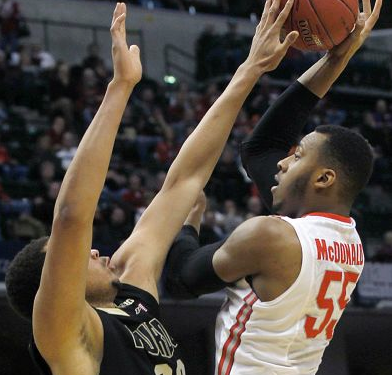 J noted on Twitter that our Boilers put us in perfect position to have our guts ripped out, yet again in the closing minute of the game...and of course, after having our hopes lifted and dashed, lifted and dashed, Terone Johnson's final shot as Boiler rimmed out and Purdue's disappointing season came to an end.
A painful season ended with a painful loss...but this wasn't really a microcosm of the season. Purdue showed hustle and heart throughout the game. RayDay gave us a little foretaste of what might be to come next year as he moves into the starting line-up, RonJon had a few drives in which he made one of the nation's best on-ball defender look slow and Purdue generally played solid defense.
This game was nothing like the Northwestern game that left me with a bad taste in my mouth...but a different bad taste is left since it's the last game of the season and Purdue goes down a loser. Granted, in the modern era, all but a handful of the teams in the nation lose their last game...that's not lost on me.
James, a guy that used to write on this very site, quipped a few days ago that it's hard to beat a team three times in the same season...and while today was closer than I thought it'd be, a good team will generally beat a not-very-good team most of the time...that's what happened today. Sure, aOSU has struggled at times this season, but they're pretty good in close games, and flat-out great under Matta in the B1G tourney. They continued their trend of winning in this event, this time behind Craft's 16 points and Ross' 19/15 game.
My running joke this season is the question- Which part of the team will fail today? Not which player, but in which aspect will they just wet the bed. Today, it was turnovers. Purdue turned the ball over 17 times...but the last few games have been that way. At time Ronnie Johnson simply looked excellent, literally moments later, he looked scattered and out of control. Some of that goes on aOSU's defense, but not all of it. RonJon finished with 12 pts, 3 ast, and 7 costly turnovers. Rumors of his transfer have gotten a bit louder on Twitter and message boards...but none of the roots of those rumors seem credible; but following a disappointing season, I don't rule anything out. Transfers are kind of the cost of disappointing seasons, it seems, in this era of college basketball. I do hope he's not one this off-season.
Hammons played large- 15pts, 9 rebs, 5 blks. Ohio State sagged down in an effort to double team him all day, but he was too big, too strong, too skilled; except when he dropped the ball down below his shoulders (which he didn't do a ton of today). Much like RonJon, it's not completely clear if the Ham Slammich will be back in black and gold next year...If he decides to go pro, Purdue will be a drastically-different team next season.
I'm not sure if either leaving is a good thing for the program...while one of them leaving might be very beneficial for him, depending on where he lands. I'll let you decide which guy I'm talking about.
Falling 63-61 to a team that was ranked for about half the season isn't shameful...and if Purdue had fought like they did in this game all season, they would have won four or five more games...But ifs and maybes are worthless. Purdue finished the season two games under five hundred a season after Painter had supposedly cleaned the program up of guys who weren't willing to play within the system. Talk of doing it again seems completely focused in the wrong place.
If Painter doesn't make changes to the way he and his staff prepares and his to his system, Purdue might be looking at another season that is right around .500 in '15. As we talked about a few days ago, he took some responsibility for the state of the program, but at the end of the day, this is HIS program...and he is the guy who has the overall record, not the players.
Next year, Purdue has a full line-up of incoming Freshman. My guess is that two will be impact players, two might be candidates to redshirt, and one will get a lot better as the season goes on...but I'm just guessing. What we do know is that this incoming class is not the Baby Boilers simply because they've never played together before now...so the thing Purdue seemed to miss most the last two seasons, chemistry and continuity, will once again, be a work in progress.
Hopefully the fellas bond over a few road trips and a pick-up game or two this summer.