Minnesota steals the win from Purdue, 62-58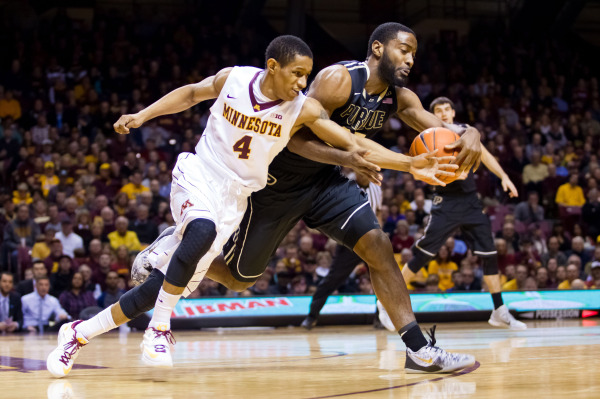 Starters: Jon Octeus, Dakota Mathias, Ray Davis, BASIL SMOTHERMAN, AJ Hammons Finishers: Jon Octeus, Dakota Mathias, Kendall Stephens, Vince Edwards, AJ Hammons
What happened?
An emotional roller roaster, that's what freaking happened. Purdue lost at the dreaded Barn, 62-58.
Purdue started the game looking somewhat lethargic, driven by a ton of meaningless passing. Minnesota, meanwhile, looked like a 3-7 Big Ten team playing with something to prove, forcing Purdue to play at their faster pace. Little Pitino's squad averages 71.8 possessions per game, good for the 23rd fastest pace in D1 basketball. Meanwhile, Purdue has averaged 64.3 possessions per game during their four game win streak…good for somewhere around the 300th fastest D1 pace if extrapolated to the whole season.
Basically, Minnesota was getting the game it wanted, which would be incredibly important during the second half. And, unfortunately, I think Purdue's starting lineup adjustment inadvertently played a part. Basil Smotherman deservedly got the start over Vince Edwards, who had been low-key bad during Purdue's four game winning streak (and apparently was benched because he was late to a morning meeting). Tons of telegraphed lazy passes, shoulder-high dribbling, and 7 minute checked-out stretches of play have plagued Vince during these past two weeks, and Basil's effort and energy were the exact opposite. But Basil's athleticism gave Purdue the means to push the pace, limiting some fully-developed post touches by Hammons and Haas and neutralizing Purdue's biggest strength.
Another huge weakness to start the game was Purdue's three point defense. Now, let's get this out of the way first. I generally don't believe in "bad" three point defense; either you prevent threes from being taken, or you lazily put up a hand and play the percentages. The biggest key to any great defensive team is their ability to run players off of the three point line…and this is where Purdue completely whiffed to start the game. Minnesota got tons of open looks as players like Ray Davis (really!) and Mathias lost their assignments along the perimeter.
With 9 minutes left in the first half, Purdue was down 8 and you'd think the sky was falling based on my earlier description. But, oddly enough, the game really seemed like Purdue was merely biding their time. All of a sudden, AJ came through with a few beastly defensive stops and the ball started fizzing around the perimeter with some purpose. Vince was the key to Purdue's late first half run, hitting two rainbow-arcing threes and facilitating everything from the high post. This was the Vince we saw early in the season, and needless to say Aneesh gets pretty excited when Aneesh sees Vince going all Vince. He finished the half with 12 points on 5-6 shooting, 2-2 from behind the arc.
A bunch of "The Good" GIFs below are from that stretch. Vince hustling, AJ slamming home a faux-alley oop, VINCE PUMP FAKING AND DUNKING IN THE MOST FUNDAMENTAL WAY POSSIBLE, and a Demarcus Cousins-esque post dunk from AJ "Tha Gawd" Hammons. Purdue took a four point lead into halftime, and nobody knew how it happened at the time. But upon further inspection, Purdue's rebounding margin was 22-12 and Minnesota went on a cold shooting spell where they ended up shooting 8-25 from the field. As we all know, Purdue is a second half team and didn't panic when they were down 8 in the Barn. S'all good.
And then.
Oh god.
It happened.
The second half.
Let's just go to the tape:
Five steals in two minutes. FIVE STEALS IN TWO MINUTES. F I V E  S T E A L S  I N  T W O  M I N U T E S.  I'm gonna break this down, because it costs less than a therapy bill.
Minnesota started the half with an aggressive full-court press, and Ray Davis didn't come to the pass from Mathias. Carlos Morris stole the ball, ran straight over Octeus, and got to the line. I was angry at the turnover, and Octeus was bobbing back a bit, so I can see this call.
ONE POSSESSION LATER, Octeus is pressured, Vince runs back to help break the press, and fumbles the pass from Octeus. Turnover, leads to a Great Wall Of Hammons blocked layup out of bounds...followed by an Andre Hollins layup.
THE NEXT F'ING PLAY, Octeus throws the ball away to Morris, who absolutely barrages over Octeus on the way to the basket but gets the call again. This was a straight up awful call.
Morris makes the first free throw, misses the second, Hollins grabs the offensive glass and hits an off-balance, heat check, leg kick, Ali-Farokhmanesh-sized-balls three. Aneesh reaches for the pepto and the whiskey.
I DIDN'T EVEN CUT ANY TIME IN THE VIDEO BEFORE PURDUE'S NEXT TURNOVER, WHICH HAPPENED BEFORE I COULD POUR THAT SWEET SWEET PEPTO. Hollins stole the ball from Davis, eventually leading to a made layup. Assisted by Andre Hollins.
DeAndre Mathieu overcomes the spelling of his last name, makes Bryson Scott look like a fool, dives on the ball, tips it to Morris who scores the easy layup.
A;ldkjnfao;ienfaoignaorgbjairlugnaligfunraligjuarligju.
By the 10 minute mark in the second half, Purdue had been outscored 21-2. TWO POINTS IN TEN MINUTES.
By the end of the run, Minnesota was doing stuff like this. With 10 seconds left in the shot clock, Minnesota calmly runs a weak side pick and roll with AJ's man, drawing him out of the paint and on his heels. Hollins then executed an absolutely gorgeous pocket pass to Hammons' rolling man for a dunk, and my soul was destroyed.
Look, by this time I had long since chalked this up as a loss…but the three pointer can be the great equalizer. Jon Octeus banked in a pair of threes, which were incredible enough that I needed to make a youtube video of em both. PJ Thompson, who got some run after Octeus was in foul trouble trying to draw fouls, knocked in another one. Kendall Stephens, who had the mother of all Jekyll/Hyde games, drilled two massive threes to cut Minnesota's lead down to two. THEN OCTEUS HIT TWO MORE THREES AND THE LEAD WAS DOWN TO TWO. Purdue was fighting until the last whistle, and it was great to see.
But, you know. Life comes at you fast.
The game was over when…
https://www.youtube.com/watch?v=NAYuOVD1FcM
...Purdue had a shot to tie the game or take the lead with 20 seconds left to play and no timeouts. Octeus looked right at Hammons, who made a tremendous read of the defense and kicked the ball out to Ray Davis in the corner. Here's how wide open he was:
And he passed. 31 minutes, 1 point on 0-3 shooting from the Captain.
Vince would eventually get the ball back, the refs would continue to suck, and Coach Painter almost had an aneurysm. Game over, 9th loss of the year.
The Good: (All links are GIFs or videos, because I love you all)
The Great Wall of Hammons. 11 points, 10 rebounds, 5 blocks, 1 steal and only 2 fouls on 5-8 shooting. Dude is getting really good at this basketball thing.
VINCE HUSTLING.
This faux-alley oop from Stephens to AJ. Fantastic pass by The Kid, who was ragged on for his passing ability on the latest Purdue Basketball Beat but launched a great one here.
Ray Davis hit a halfcourt shot after Coach Painter called a timeout. This would have been super-awesome if Ray scored more than one point during actual gameplay.
AJ's aggression in the post (a high-quality version of the Moving Picture of the Night).Again, AJ is slowly turning into a monster from another planet, and we need to get him even more touches in the post.
This absolutely gorgeous, beautiful, lovely, amazing Octeus/Hammons baseline pocket pass and slam. Really, if you watch only one of these videos, watch this one.
Robbie Hummel was at the game. Maybe Vince was taking notes.
The Bad:
THE WOES OF PURDUE'S POSTY ENTRY PASSING HAVE RETURNED Tonight was particularly bad, so I thought I'd bring back a 2013 favorite: videos putting Purdue's awful post-entry passes back to back to back to back. First one's a bad Octeus pass as Haas gets pretty good position. Second, Mathias with a super off-target pass to Haas as he's in the middle of fighting for position, and while Smotherman is crowding the strong side for some unknown reason. Finally, the piece de resistance, Kendall Stephens pulling up for a three then changing his mind and expecting Hammons to come up with the ball. Purdue was down 7 with 3 minutes left, had a few consecutives good possessions, and a bucket here would have been huge. Instead: alcohol.
Isaac Haas and (sometimes) AJ Hammons continually bringing the ball down to their hip after grabbing an entry pass. This is a particularly bad move when the defense crashes one or two perimeter defenders on the post-up. Hammons is finally starting to outgrow this, but Haas seems to have caught the bug. Hint: if you have as much surface area as the Golden Gate Bridge, you probably shouldn't need to dribble in the middle of the floor.
The Ugly:
23 Purdue turnovers.
17 Minnesota steals.
Only scoring 2 points in the first ten minutes of the second half.
Did I mention the 23 turnovers?
Only 5 free throw attempts all game.
Calls like this from the lovely officiating crew of Tim Eades, Earl Watson, and Kelly Pfeifer. Ok, this was another awful Purdue turnover. So the refs weren't the main contributors to the reason Purdue lost this game. But seriously…look at that and tell me it isn't a charge.
Moving Picture Thingy of the Night:
https://twitter.com/aneeshswamy/status/564165493318504449
AJ Hammons is still a freaking monster.
Tweet of the night:
This has nothing to do with the game, but it cheered me up so it wins.
https://twitter.com/AceAnbender/status/564185390102233088
 Featured image from Brad Rempel of USA Today Sports