Player Apathy Takes Over As Purdue Falls At Penn State, 79-68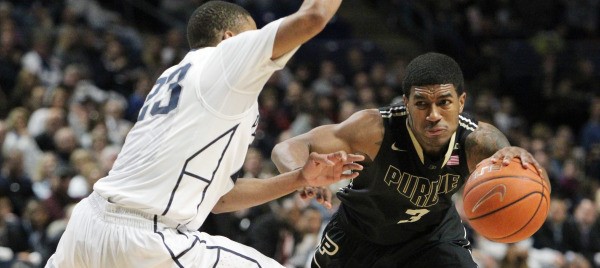 Hey! That sucked! Purdue travelled to the Bryce Jordan center and found a way to lose in familiarly frustrating fashion, 79-68. Both teams have three Big Ten wins, but seem to be moving in drastically different directions. The Nittany Lions suddenly looks dangerous on a three-game winning stream (including a win over #23 OSU), while the Boilermakers dropped their fourth consecutive game and a boat load of self-confidence.
Let's start with today. Sterling Carter made his way into the starting lineup for the first time in old gold and black, and started with a ferociousness that kicked Purdue's perimeter play into a gear they haven't reached in months. The Boilers hit their first SEVEN shots, with many of them coming like this:
http://youtube.com/watch?v=I6rvI8GRZ0w
More analysis after the break, including a semi-therapeutic rage explosion from yours truly. Yup, these Boilers finally broke me.
Penn State was playing lazy defense, and Purdue took advantage. The brothers Johnson were driving aggressively through the middle of the paint, attracted some weak-side help, and delivered pinpoint passes to the open cutter for layups. Easy money. The first few minutes of the game showcased a brilliant offensive fluidity that I haven't seen from Purdue since early-season cupcake games. Unfortunately, that team-oriented basketball bliss was isolated to the first four minutes of this game.
During that early run, AJ Hammons and Purdue's interior defense forced Penn State to take long jumpers by suboptimal shooters. Once Painter gave Hammons and the Johnsons a breather, however…everything fell apart. Penn State dropped into a zone and had our bench playing like a middle-school JV squad. Penn State went on a 12-0 run, shot the ball with NBA Jam-like fire, and had Purdue on their heels. Jay Simpson's trademarked matador post defense pretty much summarized this stretch:
After that beautiful start, the Johnsons came back in, and Purdue reverted back to aimlessly passing the ball around the perimeter. Most possessions ended in an awful unforced turnover, a terrible drive that gets blocked, or the worst shot selection of all time. I'll run more about our consistently terrible shot selection in a comprehensive video breakdown that (hopefully) runs on Tuesday, but this picture of RJ pulling up for a jumper in the second half says everything:
Purdue tried to aim some second-half punches at Penn State, but the Nittany Lions wouldn't give. After a few more instances of unconscionably terrible defense (this time, Kid Stephens was the guilty party) and awful shot selection, Coach Painter decided to call his fourth timeout of the half and tear his squad a new one. The only two who decided to responded, however, were AJ Hammons and Errick Peck.
http://youtube.com/watch?v=cFJ1gRxd8oU
After that point in the second half, AJ was an unstoppable monster on the offensive glass and Peck was hustling on every inch of the floor. While RJ, TJ, and Bryson Scott were settling for those God-forsaken floaters in the lane after driving with their heads down, Hammons found ways to clean up the mess and give Purdue a second wind. Smotherman chipped in at the end with this amazing hustleability (yeah, I'm angry so I get to make up words), but it wasn't enough.
Purdue lost. It was an all-around pathetic collapse by most of Purdue's perimeter 'leaders', and a particularly terrible last 30 minutes for Terone Johnson, Ronnie Johnson, Bryson Scott, Kendall Stephens, and post backup Jay Simpson.
SO WHERE DO WE GO FROM HERE?
Coach Painter got a little frustrated at his squad, channeling his inner DMX and clearly screaming that THIS IS NOT A F&#%ING GAME.
I understand frustrations directed at Coach Painter and the coaching/development staff. I really do. But, after this game…how long do we give players a pass? How long does Coach Painter get the brunt of the criticism, while his players play with such dispassion that it's easy to understand Sterling Carter's assertions of players not buying in to the system? How many times do we have to watch Ronnie Johnson and Bryson Scott drive blindly into the lane during crunch time, without so much as a glance at their teammates? How many times will it look like AJ Hammons is desperately trying to defend all five positions at once?
I get it…the onus is on Coach Painter to get some intensity out of these guys, but excitement and effort seems to come from only one or two players a game. Usually one post player and a pair of perimeter guys look locked in from tip off. Today, it was Hammons, Carter, and Peck. In our last win (two weeks ago, against Penn State) it was Smotherman and Stephens, with Hammons stepping up in crunch time. In our lone impressive Big Ten victory at Illinois, it was RJ and Hammons. I can't even remember the last time Purdue's roster showed a complete team effort.
THAT is why Coach Painter is still playing a 12 man rotation. Players have to step up and take the decision out of the staff's hands. No, at this point, it's on the players to make a conscious decision to have their teammates' backs and save this roster's season. I know J and Dowd don't agree, but that's my takeaway from this terrible effort. It's no longer about the tournament…it's about pride. The season isn't lost if the players rebound from this basketball valley and learn what it takes to survive the Big Ten gauntlet. If the Boilermakers finish out this season honoring Gene Keady's "Play Hard" moniker, leave every drop of energy on the floor, and still finish sub-.500…hell, I know I'll still be proud. But if I have to watch effort like that damn Jay Simpson gif above, I'd rather see the walk-ons start.
Purdue enters a 4-game murder's row: vs Minnesota, at OSU, vs Indiana, and vs Michigan State. I know the Paint Crew will be ready for those three home games…the real doubts should be directed towards the Boilermaker roster. Let me know what you all think in the comments...I know a lot of Coach Painter-directed anger is coming. Let's hear it (and any other thoughts).
Anyway. Enjoy the Super Bowl. I know I'll be drowning my sorrows in grilled meats and cold beverages.