Purdue basketball: TWENTY WORD PLAYER PREVIEWS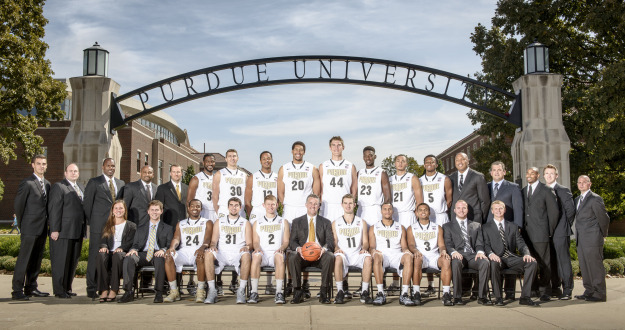 College basketball is back, and what better way to pump out #content for the short attention span public than twenty word player season previews! Most of the people who get paid to write in-depth Big Ten analysis don't even have Kendall Stephens in Purdue's starting lineup, so these can't possibly be worse than some others out there. Also, this seems like a good time to shamelessly plug THE PURDUE BASKETBALL BEAT PODCAST. I'll be joining the dashingly handsome duo of Michael and Andy for this biweekly podcast. You can subscribe on iTunes here.
OK LET'S DO THIS. Purdue plays Samford in Mackey Arena tonight at 7pm. The game will be streamed on BTN2Go, and will be replayed Saturday morning at 8am on BTN (at least, that's what my listings say).
(Hyphenated phrases count as one, because that's how MS Word counts them. Deal with it.)
Projected Depth Chart: [table id=2 /]
Returners:
AJ Hammons: Where AJ goes, Purdue goes. Will be in 2015 NBA draft, but won't be a lottery pick. Needs to dominate. [YEAR IN REVIEW] [MY FAVORITE VIDEO] [MY REACTION TO HIM STAYING]
Ray Davis: THE CAPTAIN. His leadership might outweigh basketball skills. Really needs a go-to offensive weapon, or he's benched in crunch time. [YEAR IN REVIEW] [MY FAVORITE GIF]
Kendall Stephens: THE KID. Sniper with sneaky NBA potential. Has talent to be an all-Big Ten wing, but will he step up? [YEAR IN REVIEW] [MY FAVORITE GIF]
Basil Smotherman: THE BASELINE ASSASSIN. Athleticism for days, hustling defensive wizard. But being gun-shy could push him behind offensively gifted freshman wings. [YEAR IN REVIEW] [MY FAVORITE VIDEO]
Bryson Scott: Defensive bulldog and bulldozer in transition, but forces drives and can't finish at rim. Will summer improvements change bad habits? [YEAR IN REVIEW] [MY FAVORITE GIF]
Newcomers:
Jon Octeus: New-guy and old-timer forced into a leadership role. Might start from day one. Strong scorer, calming floor presence, great fit.
Vince Edwards: *swoon* Been sold on him since 2012. Will start his entire Purdue career, fan favorite. An NBA player in 2018.
Isaac Haas: Thought biggest impact would be pushing AJ, but big boy ain't afraid to use his body. B10's best backup center?
PJ Thompson: Late commitment, a quintessential Purdue attitude. Smart, feisty, eager to learn. Point guard of the future. Great for Bryson's development.
Dakota Mathias: Not sold on him yet, but he's undeniably smart. Could pair with Stephens for lights-out shooting, creating space for bigs.
Jacquil Taylor: Biggest surprise of the preseason. Thought he'd certainly be redshirted, but might provide versatile forward depth. Offensively raw, defensively gifted.
Club Trillion members:
Jon McKeeman: EsPN thinks there are two of him. Apparently Purdue has a cloning machine. They cloned McKeeman instead of Hummel. Sigh.
Neal Beshears: A 6'6" walk-on is an invaluable practice resource. Will provide, dare I say it, senior leadership. Rewarded with a scholarship.
Anfernee Brown: My favorite non-Reggie Miller 90's NBA player was Penny Hardaway. So I'm automatically head over heels for Penny Brown.
Stephen Toyra: Got playing time due to Painter's disgust with scholarship players. Unexpected departures rewarded this Lafayette product with a well-deserved scholly.