Purdue limps into Big Ten season with a Gardner-Webb loss, 89-84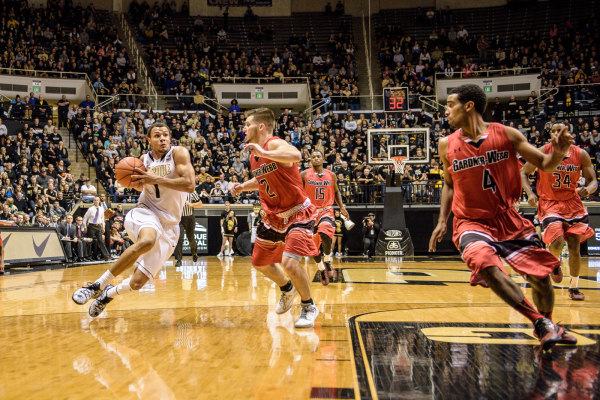 Starters: Jon Octeus, Ray Davis, Kendall Stephens, Vince Edwards, Isaac HaasFinishers: Bryson Scott, PJ Thompson, Dakota Mathias, Kendall Stephens, AJ Hammons
What happened?
In what was undoubtedly the most emotionally draining game of the season, Purdue dropped their fourth game in a row, this time losing at home to the Gardner-Webb Bulldogs 89-84.
If you don't read any further, I don't blame you. This was tough enough to live through once.
Purdue opened to a 19-6 lead seven minutes in to the game, with Ray Davis leading the pack with 8 quick hustle points and Vince filling the box score right off the bat.
Purdue opened with Isaac Haas in place of AJ Hammons, and was promptly benched 2 minutes into the game after picking up his first foul. That's fine; pull the ol' seven-footer-switcheroo, whatever. AJ came in, delivered ten solid quality minutes with some decent post moves and great passes out of the post. Midway through the first half, AJ started to look gassed and proceeded to inexplicably miss a few bunnies at the rim. Switcheroo, you say? Well, Haas came in, started eating glass like Godzilla, but his slow lateral movement on defense causes another quick foul. Like clockwork, the substitute buzzer rings and AJ comes in.
It's getting harder and harder to be a Matt Painter guy, but even I, the Painter whisperer, wholeheartedly disagree with this idiotic substitution pattern. Hammons and Haas have a rough time getting in rhythm during long uninterrupted stretches, let alone during two-minute alternating spurts. We also played some significant first-half minutes with both bigs on the bench, mostly the result of bad substitution management leaving both Hammons and Haas out of sync with the rest of the team.
Long lulls by the two focal-points of the team created some fairly predictable scoring valleys, and Gardner-Webb's Jerome Hill gladly filled the scoreboard silence. Do me a favor…take a scroll through the play-by-play of this game and count the number of times you see "Jerome Hill made layup/three pointer/jumper". Spoiler: you'll get sick and start to yell "FOR THE LOVE OF GOD, JUST PRESSURE HIM" at the screen. But alas, MF'ing Jerome Hill will still end up with 22 first half points off 9-12 shooting, and 3-4 from behind the arc.
The score was tied at 38 to end the half. The Bulldogs were getting uncontested rebounds and wide-open threes (see GIF central below). Pepto bottles were at the ready position.
Painter again opened the second half with Hammons on the bench, and Hill kept attacking the basket. Check some of the GIFs below…there was minimal perimeter resistance, no pressuring the ball handler, and the help was late. I really don't know whether these defensive breakdowns were schematic, communication, or effort-related, or maybe all of the above, but it was telling that Gardner-Webb wasn't the slightest bit afraid of Purdue's two seven-footers at the rim.
Though Gardner-Webb's Jarvis Davis and Tyler Strange joined Jerome Hill's offensive assault, Purdue fought back to keep it close. Basil Smotherman, in particular, was making the most of his minutes by hustling to deny his man the ball in the post, diving after rebounds, and (most importantly) making meaningful cuts on offense to produce some easy buckets. He did have one particularly awful long two point jumper, but nobody was perfect tonight.
Slowly but surely, a combination of disheartened Boilermakers and confident Bulldogs resulted in a double-digit deficit by our home team. Eventually, Gardner-Webb started hitting every partially-contested long bomb…which seems to be a familiar song over the past few weeks. With 9 minutes left, the Boilers were down 71-53, and it looked like the game was over. Hell, it looked like Painter would be fired right after the game, Burke would end the basketball program, Mackey would be demolished, and even the mere mention of the Baby Boilers would result in West Lafayette jail time.
Oh, we're done with the overreactions? Cool.
Yes, it was bad, the team looked lifeless, the Pepto and whiskey were flowing, and Painter went with the small lineup of Octeus/Thompson/Bryson/Davis/Smotherman to see if anything stuck. And, lo and behold, the team started to show some…dare I say it…guts.
Sidebar: Over the past year and a half, Bryson Scott has caused quite a schism among the Purdue fan base. Many felt like he should have been starting over Ronnie Johnson all last year, and others felt like he would pad his stats during garbage time of blowout losses. Either way, everyone agreed that he was a tenacious defender and a runaway train in the fast break (that would often turn the ball over, but still).
Long story short, if there were any questions as to Bryson's role on this roster, they were all answered during this six minute gut-check stretch. Bryson Scott damn near hit mini-Russell Westbrook levels of impact on both ends of the floor, at one point having the intestinal fortitude to score 8 of Purdue's 9 points to chip away at Gardner Webb's lead. What stood out: he was unafraid of attacking the rim (as usual) but went 9-10 from the line (*SWOON*). He forced way more than the 2 steals he was credited for, and injected new life into Mackey down the stretch. Octeus, Thompson, and Hammons hit some key buckets during this stretch as well, but there's no doubt that Bryson's Brysoning was the engine behind this spirited comeback.
Octeus took the attacking reigns as the clock ticked under a minute, and found his way in the middle of a few key plays (with thanks to some missed Gardner-Webb free throws) to bring Purdue to within 2 with 10 seconds left to play. Unfortunately, even Mackey Magic wasn't enough to dig Purdue out of the cavernous hole of that early second half and the Boilers fell short. 4 losses in 6 games, bookended by two unacceptable mid-major home failures. Not the best.
---------------------------------------------------------
BUT, as stupid as it sounds, that Bryson-fueled run gives this game a significantly different impact. A 20 point home loss to go along with the North Florida debacle effectively kills the season, and has us entering Big Ten season looking like an overwhelmed JV team.
That late run should remind this team that it has the talent and willpower to be undeterred by some of the roughest basketball in the country. Yes, we still lost, and going 8-5 with this non-conference schedule is unacceptable. But this is the part of the season that matters, and we're definitely not the only Big Ten team to show vulnerabilities this year. Though there are an infinite amount of reasons to chug your poison of choice, believe me when I say we're not alone in our misery.
This team still has the talent to get through a worse than expected Big Ten. The question, as always, comes down to Coach Painter and the efforts of the player leadership. If we see more instances of this team looking underprepared and failing to close games, a drastic change needs to be called.
The game was over when…
This game-tying shot rimmed out as time virtually expired:
The Good: (CLICK FOR GIFS BECAUSE I STILL LOVE YOU PEOPLE)
B R Y S O N. S C O T T. The unquestioned MVP of this game, and the possible savior of the season (if that is possible during a home loss to a mid-major). IF, if, if he can keep this up, maybe Purdue has a shot come Big Ten season.
Smotherman's activity on both ends of the court, especially moving with a purpose on offense. Basil was his usual pest self on defense, aggressively denying his man the ball in the post and producing some delightful steals/fast breaks. His play keeps improving as the season progresses, producing at least one ray of sunshine piercing through this cloud of awfulness.
It wasn't Purdue, but I thought Gardner Webb's Tyler Strange was their most important player. He was surgically picking apart Purdue's lazy rotations...if it were possible for me to rewatch this game as a neutral observer, I'd fawn over everything he pulled today.
The Bad:
Big. Ten. Network.
WHATEVER THE HELL HAPPENED ON THIS FREE THROW. Nobody boxed out, Edwards was floating in the middle of nowhere, Davis recovered to the wrong man, Octeus lost his assignment closing out on the ball, and the result was a wide open corner three. Good times.
Kendall Stephens had another rough night, going scoreless for the third time in his career (the other two being Rider and Butler last year). He even chucked up two airballed threes, and tweaked his ankle in the second half.
Isaac Haas post defense. He often picks up some of those frustrating fouls due to his footwork and lateral molasses-ness, and uses his tree trunk arms to try and make up ground.
The meltdown was predicated on a complete lack of perimeter defensive pressure, which is pretty depressing to say of a Purdue team. Here is one instance of a perimeter handoff that was executed with a stunning lack of defensive communication. Again, here's another case where the primary defender got burned and nobody rotated to help. But let's not isolate blame to the perimeter, and AJ Hammons was stone-footed on both. Yay.
The Ugly:
This late game possession by the otherwise-stellar Davis and Scott. This was one of the last meaningful possessions Purdue had, down by five with 40 seconds left. Bryson panicked after the near turnover and launched an ill-advised three instead of getting Hammons a look inside.
AJ going for the tip-back rebounds instead of up with two hands to grab the ball. It's been a long-standing habit of his that doesn't usually bug me, but tonight was rough. There were 6 rebound opportunities I counted where he could have easily ended Gardner-Webb's possession by grabbing the ball instead of tipping it back.
Vince's ankle sprain, which I can't talk about without getting emotional. He made a few short appearances after limping out, but none of any relevance. I wouldn't be surprised if he was held out for one game to heal up, as he is starting to look like a lynchpin for this mediocre offense. But if he misses more than a game…oh man where's the Pepto?
Tweets of the night:
I know we harp on this, but for real this time. THE BIG TEN NETWORK IS THE ABSOLUTE WORST.
.@therailroadtie AND the video is directly from the jumbotron. found out b/c missed most of a possession by a Puccini's ad. @BigTenNetwork

— Aneesh Ramaswamy (@aneeshswamy) December 22, 2014
@aneeshswamy @therailroadtie couple years ago during critical final seconds feed switched to a "MAKE NOISE" graphic b/c it was board feed. — Boiled Sports (@BoiledSports) December 23, 2014
@BoiledSports @therailroadtie LIKE THIS? DAMN YOU @BigTenNetwork pic.twitter.com/ENdR0AcEhW

— Aneesh Ramaswamy (@aneeshswamy) December 23, 2014
Shoutout to this as well:
Tell me this team doesn't care as Stephens and Taylor are shooting AFTER A GAME pic.twitter.com/gtJfixwpTk — Chris Jewell (@ChrisJewellISR) December 23, 2014
Featured image from Charles Jischke at PurdueSports.com