Ospreys swoop unexpectedly, steal Mackey Arena victory 73-70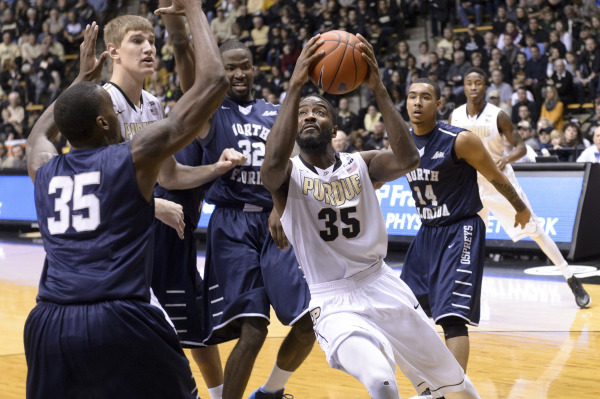 Starters: Jon Octeus, Ray Davis, Kendall Stephens, Vince Edwards, AJ HammonsFinishers: Jon Octeus, PJ Thompson, Dakota Mathias, Kendall Stephens, Isaac Haas
What happened? (NOTE: If you didn't get a chance to watch the game, I saved some GIFs in the Good/Bad/Ugly section just for you. Just. For. You.)
Purdue lost to the (Kenpom #193) University of North Florida Ospreys 73-70, in front of a pretty good Mackey Arena crowd, on a pay-to-watch online Big Ten Network stream, about 20 minutes after I was totally ready to write a postgame for a nonconference victory. There are plenty of reasons for the loss, but I choose to blame J, Boilerdowd, and zlionsfan for their basketball optimism during the post-IU Handsome Hour.
The end.
Pepto whiskey time.
Bye.
*pressing my earpiece*
I'm getting word that I have to write actual basketball thoughts. Fine, but know that I'm still blaming you, J.
If you watched the Boilermakers' last few victories, you saw a team that played hard and finished games with confidence, even though sloppy mistakes stuck with this team in spite a summer of heavy roster turnover.  Purdue opened the game without much energy, settling for a few half-hearted jumpers, pushing lazy passes, and generally having the look of a high-major team resting a little too idly on its laurels. In fact, the first Purdue points of the game came after 4 minutes and 17 seconds, on an Isaac Haas offensive rebound-dunk combo.
But once the Boilers got going, it seemed like the overpowering win was already in the books (and don't let anyone tell you they saw the loss coming before 3 minutes left in the game). Isaac Haas and AJ Hammons were absolutely dominant inside, taking advantage of an undersized and overwhelmed North Florida roster. Though Haas continued to be a clear step-down from Hammons defensively, he was so unbelievably aggressive with the ball that it didn't matter. The inside-out game was working so well that Romelo Banks, UNF's only center, ended the first half with 4 fouls. He would foul out 5 minutes into the second half, so you would think Purdue continued to attack the paint with their rotation of two enormous, very very good 7-footers.
The caveat here, though, was a few sneaky-killer fouls called on the big boys. Hammons and Haas both finished the first half with 2 fouls, which seemed to change the offensive plan for the remainder of the game. Take a look at the GIFs below…there was a concerted first-half effort to feed the big beasts and ride their dominance to a victory.
Before the final collapse, I really wanted to spotlight Coach Painter's creativity to get beautiful looks inside. It wasn't just the great entry passing, but the sequences that led up to that final pinpoint pass to a waiting Hammons/Haas deep in the paint. Well run off-ball screens for shooters UNF had to respect created extra space in the paint, allowing Hammons and Haas to combine for 22 points in the first half.
Those pesky fouls changed everything. Both bigs were tentative with the ball, and it seemed like Purdue lost the intensity it built so well when H-and-H were on fire. Haas also seemed much more self-conscious on defense, leading to several easy baskets by North Florida. It didn't help that UNF = were running some great actions to get Purdue's interior defender away from the basket….there were several times when a usually-disciplined Hammons was just a half-step out of position, and the Osprey's pounced with a beautiful pass to a perfect cutter.
But despite not being able to buy a perimeter bucket, Purdue kept control of the game. Kendall Stephens' playmaking and good-enough shooting, in particular, served as fuel to keep UNF at an arms-length. PJ Thompson and Bryson Scott's backcourt hustle forced enough mistakes that I never felt like Purdue would fumble this game away.
With 3 minutes left, PJ hit a jumper off a clean AJ down screen, increasing Purdue's lead to 7 and seemingly securing the game. At least, that's when Purdue stopped playing. Turnovers, dumb mistakes, turnovers, missed bad shots, missed good shots, turnovers, and a lack of defensive effort led to a 13-0 run by UNF.
It is at this point where I should acknowledge the fantastic game played by the Osprey's Demarcus Daniels (17 pts, 6-11 shooting), Dallas Moore (24 points, 5-8 from three), and Jalen Nesbitt (12 points, all in the second half). It seemed like the entirety of Purdue twitter thought UNF didn't have the fire power to take advantage of the Boilers' mistakes…until they did. Octeus did a fantastic job getting quick baskets when Purdue was trying to fight back, but UNF hit just enough free throws to seal the game.
---
I'm sure this will come later next week, but I completely and wholeheartedly disagree with the thoughts that this loss invalidates the wins against Missouri, BYU, and NC State. As I said after the Kansas State loss…we, as fans, shouldn't focus on the loss. Even the most talented teams lose focus and fumble a game here or there. The respect a team demands stems from the way they rebound from an unacceptable loss like this one.
North Florida, like Wofford in 2007 (loss) and Iona in 2011 (Robbie Hummel-induced win) and Oregon State in 2012 (loss) and Butler in 2013 (loss), is talented but not a tournament team. That means Purdue needs to win the rest of the nonconference slate, including a sweep of both Vandy and Notre Dame, to remain in the good graces of the tourney overlords. Personally, I'm not sure I see an ND win happening, and with only a win against Vandy Purdue will need 9 to 10 Big Ten wins to stay in the tournament conversation. We'll see how Hammons, Davis, Haas and co respond on Monday.
On a day when the New Jersey Institute of Technology beat #17 Michigan, the purported-dominance of the Big Ten wasn't quite on full display…especially a few hours after some impressive victories in the B10/ACC Challenge. Good times, good times.
I'm still not positive on what an Osprey is.
The game was over when…
…Jalen Nesbitt hit a free throw with 10 seconds left to stretch North Florida's lead to 4. Really, the dagger was delivered via a Dallas Moore three pointer with 54 seconds left, putting UNF up 66-62.
The Good: (as always, GIFs a'plenty)
The Bad:
Ray Davis' offensive game
The Big Ten Network putting four non-conference regular season games on a pay-to-watch online service after initially promising no such idiocy.
50% free throw shooting
14 turnovers
The Big Ten Network employing student announcers and lackluster camera work, which wouldn't be a big deal if they offered the online stream for free.
Long scoring droughts, which have been fairly apparent even over the last few victories
Haas in foul trouble because of poor defensive lateral quickness
Bryson still being in the habit of driving to the rim with his head down, seemingly without a plan.
Zone defense breakdowns like this, which was a result of improper communication from the people at the top fo the zone (in this case, Mathias and Thompson)
The Ugly:
The small lineup of Scott/Thompson/Stephens/Smotherman/Edwards Coach Painter put in just before halftime. Two minutes of no interior defending and zero chemistry pushed the Boilers into halftime.
Purdue's warmups this year. Not a fan.
The possession below.
Moving Picture Thingy of the Night:
Couldn't buy a bucket.
Tweet of the night:
https://twitter.com/DaveFurst/status/541330159908171777
Feature image from PurdueSports.com