RIP season: Purdue loses at Nebraska, 76-57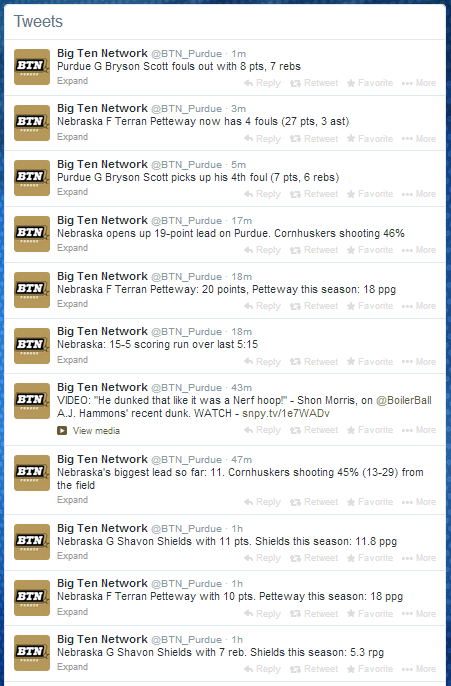 Remember when some jerk named Aneesh said Nebraska was an automatic win? Yeah, my bad. Purdue fell in Lincoln to the suddenly-surging Cornhuskers, 76-57. Nebraska has now won five straight in the Big Ten, and is flirting with a nice surprising tournament berth. Before I go on, let me give some major props to Nebraska's squad, let by Coach Tim Miles and his absolutely perfect Twitter account. Coach Miles deserves the B10 COY nod if he can take this band to the NCAA Tournament. Awesome job done by the Cornhuskers this year, particularly Terran Petteway, Shavon Shields, and Walter Pitchford in this game.
Now to the old gold and black side of things. I'm frustrated, annoyed, disappointed, angry, sad, flabbergasted, and resigned all at the same time. To cope, I spent way too much time on that photoshop above.
Notes, thoughts, and general expressions of sadness after the break.
I'm sitting here, this Word document tormenting me with its blinking cursor. "Write what you feel," it taunts. "Write what's in your heart." WELL I HAVE NOTHING IN MY HEART, WORD DOCUMENT. NOTHING LEFT. BLACKNESS. DARKNESS. DISPAIR. CURSE WORDS AND SOME ROBBIE HUMMEL/E'TWAUN MOORE-SHAPED HOLES.
Sigh.
Purdue started 3-16 from the field, Nebraska started 2-11. Twas a gloriously ugly Big Ten game to start, laced with good old-school Purdue defense and terrible new-school Purdue shot selection:

Most of Purdue's offense consisted of these long, contested jumpers early in the shot clock. I'm pretty sure I broke a pen in half watching that one above. Nebraska went on a 7-0 run that broke the game open, but Purdue seemed to be recovering at this point. Ray Davis, Bryson Scott, and Ronnie Johnson used this time to attack the rim, get to the free throw line, and…*gasp*! They made their free throws! Purdue finished the first half a perfect 12-12 from the free throw line, down 34-25 but still had some fight. Until this happened, just before the halftime buzzer:

The second half started, and Nebraska continued to maintain their ten point lead. Purdue's offense was rough, to say the least, and few bothered to recover or help on defense. Nebraska attacked the Boilers' lack of size inside when Hammons took a breather, and Shields and Pitchford punished perimeter defenders by hitting daggers when Purdue went under screens.
Then things really unraveled. Purdue went on a 7 minute field goal drought, started missing free throws, and let Nebraska build their lead to 54-37 with ten minutes to play. Instead of responding with a run, Basil Smotherman mindlessly goaltended after a whistled foul, RJ forced a bad three, and Nebraska did this:

I thought that was the official death of our season. Then Sterling Carter went down with a non-contact knee injury. Then I started yelling at the Basketball Gods like Jed Bartlet at the National Cathedral. Walk-ons finished the game, Purdue lost by 19, and all Boilermaker fans were sad. The end.
Some quick player notes:
- Ray Davis was great. He's definitely not a refined offensive player, but he played defense with a furiousness I haven't seen since LewJack, continually drove to the basket, gathered loose balls and haphazard rebounds, and found ways to contribute. He finished with
- AJ Hammons and Sterling Carter set that early defensive tone, which was fantastic to see. More than one Purdue writer commented that this was reminiscent of JaJuan Johnson-era defensive efforts.
http://youtube.com/watch?v=xFCPhM0_ooU
Unfortunately, Hammons was so cold offensively that Purdue couldn't put a dent in Nebraska's lead. Awful entry passes (WHAT A SURPRISE) compounded with AJ's poor positioning let to numerous empty shot attempts and careless turnovers. I mean…look how far he is from the block!


This was frustrating. Hammons finished 2-7 from the field, 6 points and 5 rebounds. I have no other words.
- Bryson Scott was the commander of inconsistency. One minute he would be active defensively, make great off-ball cuts, reset the offense when it's going nowhere, and make good drives to the basket. The next, he would dribble with his head down, launch a long jumper, badly force drives without drawing a foul, and lose his man in transition defense. As always, he was fantastic when we were down by roughly 50 points.


That open passing lane to a mismatched Hammons ended in a turnover. No words.
- Sterling Carter has a probable ACL/MCL injury. It was non-contact, driving to the rim while trying to coax Purdue into some sense of urgency or passion. Instead, he was given the Purdue curse.
I hate everything. No more words.
- Why won't Terone Johnson punish his defender in the post more often? He's not particularly tall, but he's build like a tank and can easily bully his way down low to his favorite turn-around floater. TJ shot 2-7 from the field, but hit all 5 of his free throws. Again…no words. For any of that.
- SOMEONE TELL JAY SIMPSON THAT HIS ONLY FIELD GOAL ATTEMPT SHOULDN'T BE AT THE FREE THROW LINE.
- The @BTN_Purdue twitter account apparently had a computer-stroke:
@BTN_Purdue tweeted 19 times during this game. It averages 0.05 insightful tweets per night.
Ok. I have no idea what this loss means, other than Purdue is a really bad basketball team away from Mackey Arena. (At home…we're just regular bad.) I don't know what this means for Matt Painter's future, other than his seat will be pretty flammable next year. I don't know what this means for Sterling Carter's long and winding basketball career, but I do know he put forth one hell of a performance against the Hoosiers, and that he'll always have a place in the Boilermaker family if he does get bad news later this week (fingers crossed it's just a sprain…but when has that ever worked). I don't know whether Purdue can steal a win vs Michigan, at Iowa, Wisconsin, vs Northwestern, or in the Big Ten tournament, but I do know it won't really change our post-season chances. I don't know if AJ Hammons goes pro this summer, but I do know his age is still an issue. I don't know why we keep making the same mistakes over and over again, but I do know that there's plenty of blame for both the coaching staff and the players. I don't even remember what my expectations were before the season started, other than not appearing as a "bad loss" on NEBRASKA'S NCAA RESUME:
Siiiiigh. Maybe someone else understands this situation perfectly, and your comments are welcome below, but I'm at a complete loss. All I can do is compile video of repeated mistakes and gifs that show glimpses of this roster's talent…then sigh as we limp to another 15 win season.
Welp, that got dark pretty quick. I'll leave you with two happy-Hammons gifs to make up for my morbid rantings:
Purdue hosts the Michigan Wolverines this Wednesday, February 26th. Bring a cup.