THE GIF REPORT: Purdue falls to Maryland, 69-60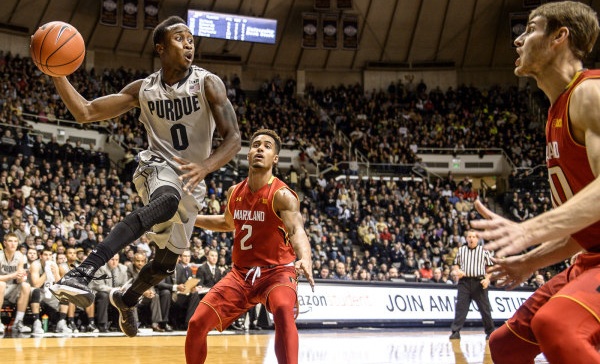 Starters: Jon Octeus, Ray Davis, Kendall Stephens, Vince Edwards, Isaac HaasFinishers: Jon Octeus, Dakota Mathias, Ray Davis, Vince Edwards, AJ Hammons
What happened?
Purdue fell to Maryland and the Big Ten zebras, 69-60.
I'll leave most of the post-game recap work for Boilerdowd, who was in Mackey Arena tonight. All I'll say is that if Purdue keeps playing this tough, the shots will fall and the good guys will pick up a few wins they're not supposed to have. Remember, as angry as you might be: Purdue is 2-2 in the Big Ten, and the only two losses were hard-fought games against two top-12 opponents. This team is every bit as good as we all thought they'd be…the only thing we're waiting for are the W's.
And while I'll say Maryland is absolutely not the 11st best team in the country, Jake Layman, Melo Trimble, Dez Wells and Richaud Pack are extremely talented and Mark Turgeon is a very good coach. The Terrapins have players who don't make too many mistakes, with the veteran Layman seemingly everywhere fighting for a Maryland win.
Now to the GIF report. The GIF report mostly features…well…GIFs. They're all linked. Have fun.
The game was over when…
…this awful goaltend was called.
dear Big Ten refs, this is not a goaltend. #Purdue https://t.co/9JbqLkgh9Y

— Aneesh Ramaswamy (@aneeshswamy) January 10, 2015
[Click here] for a higher resolution replay.
At that point, AJ Hammons had forced two turnovers by being super aggressive in his full court press, hit some clutch free throws, and Kendall Stephens hit a three to drop Maryland's lead to 4 with three minutes left. Then Maryland gets the exact cushion they need to keep the lead (thanks to a few missed Purdue shots), and Purdue gets a second straight L to a ranked opponent.
The Good: (GIFs in the links)
VINCE EDWARDS got off to a rocky start after some bad turnovers, but hit his groove as the game progressed. My favorite: Vince skying for the rebound, running the break, and pulling off a no-look dish to Ray Davis for a smooth layup and one. He also hit an absolutely massive shot-clock-buzzer-beating three in the second half, and followed it up with another floor-shaking three to cut Maryland's lead to 6. I know I always only see the good in Future President Vince Edwards, but his best is so fun that I can't help it.
EVERYTHING ABOUT THIS PLAY. Kid Stephens slips to the floor, finds the ball while falling to his knees, and delivers a picture-perfect bounce pass to Haas for the and-one slam.
Purdue often sent three players to crash the offensive glass. Here's a pic: Spoiler: AJ grabbed the offensive board and scored. This has been seen on and off during the Hammons era. It is especially effective when Purdue sends Jon Octeus and Basil Smotherman/Vince Edwards along with one of the bigs, especially against a zone. Maryland learned this the hard way.
Let me reiterate: Jon Octeus is really good at grabbing offensive rebounds.
THE GREAT WALL OF HAMMONS. AJ's patented weakside help block is still awesome to watch. I have no idea how people still fail to see a 7 foot behemoth lurking to swat that weak ish.
Jim Jackson is a really good color announcer. BTN should feature him more. Selfishly, they should feature him more during Purdue games.
The Bad:
Ok, fine. Vince going on an 0-7 shooting stretch when Purdue needed someone to step up was pretty brutal. A strong run spurred by Purdue's most versatile player could have sealed this game for the good guys.
I'm not blaming the refs for this loss. I hate paragraphs written by fans of the losing team going in on the refs. Purdue had plenty of chances to steal the game, and no single call can cause a loss. I'm just saying these officials are objectively awful at their jobs and should be ridiculed to no end.
Overpassing is still an issue, even for His Royal Highness Vince Edwards. There were at least three more times I counted that Purdue wings (the ones who can shoot!) pump-faked out of a beautiful three point shot, instead opting for a tough mid-range or contested inside look.
Hammons and Haas in foul trouble, limiting their play in the second half. We saw a long stretch of PJ Thompson/Octeus/Dakota Mathias/Ray Davis/Edwards, and it was super weird. There was no go-to option on offense, and Maryland's Evan Smotrycz easily grabbed a few offensive rebounds during this stretch. Not sure if this is on Hammons/Haas, Painter, or the refs, but either way it wasn't fun to watch.
The Ugly:
Ray Davis' shot is so inconsistent that teams back up and dare him to shoot. This is a different play: Ray shot that after being intentionally left wide open. Ray missed that after being intentionally wide open. Purdue's offense gets really muddled sometimes, but a huge reason for that is the need to play Ray Davis. He hurts spacing, entry passing lanes, and allows Maryland to play way off him and dare him to take a low percentage three. Well-coached teams that follow scouting reports will always back off him around the perimeter, and this needs to be fixed schematically if Ray is going to stay in the game.
Post turnovers. Still so many of them, especially during stretches where Purdue needs a bucket. This is not ideal.
Moving Picture Thingy of the Night:
AngryPainter.gif

— Hammer & Rails (@HammerAndRails) January 10, 2015
Tweet of the night:
The officiating in the big ten is a travesty

— Robbie Hummel (@RobbieHummel) January 10, 2015