Eagles Boil WBB, Prevent ACC Twofer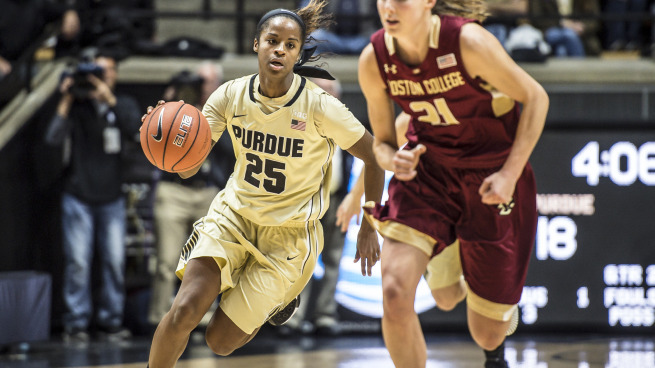 Coming off a tough Thanksgiving-week loss in a tournament final, perimeter defense, strong post play and timely threes proved to be the difference tonight ... but sadly it was Boston College providing all three of those, as Nicole Boudreau's second three of the night - one more than Purdue hit all game - gave the Eagles a last-minute, well-deserved 58-56 win over the Boilers in a game they led virtually the entire way. Boston College went on a run to start each of the first three quarters (8-2, 13-2, and 6-2), which meant the Good Gals spent most of the game chipping away at a BC lead rather than building one of their own. They never led by more than a point ... but they nearly kept that lead when it mattered most, as they took the lead five times in the final quarter, the last time on a shot by Wilson as the shot clock was expiring that put Purdue up 56-55 with 25 seconds to play. Unfortunately, the Eagles' superior passing worked Boudreau open for the game-winner, as Wilson was unable to get a shot off on the final possession.
Whoever scouted the Boilers deserves a raise, because BC shut down every aspect of Purdue's offense. Perimeter defense was excellent (Purdue shot just four threes), transition defense was excellent (only 6 fast-break points for the Boilers), half-court defense was excellent (only 8 assists on 20 buckets), and post defense was excellent (Nora Kiesler was 0-3, Torrie Thornton 2-6 with both FGs coming outside the paint, and Bree Horrocks didn't attempt a shot).
The one thing the Eagles didn't do so well was keep the Boilers off the line, as Purdue went 15-20 from the stripe (BC was 1-5). That was basically the only thing keeping Purdue in the game for so long, as possession after possession ended with a contested shot while BC ran screen after screen for easy buckets, shooting .667 in the first half. (That's not a typo.)
It's hard to blame Purdue's bigs for this, though, because 6-4 BC freshman Mariella Fasoula looked like a senior, leading everyone with 23 points (on 11-15 shooting, plus BC's only free throw) and 9 boards. The 18-year-old does have considerable experience despite her age, having played in Greece's Division 1 League as well as with their U-18 team (and she's also just made the national team), and it was readily apparent tonight. Fasoula completely shut down the taller Kiesler and drew a couple of frustration fouls on Horrocks, establishing superior low-post position over and over, showing quality ball control in the high post, and using her soft hands to reel in entry passes that led to unstoppable scoop shots.
Once again, Purdue's playcalling was suspect, as Dominique McBryde was the big chosen tonight to set high screens that didn't free up anyone for anything. In fact, the freshman found herself wide open on a number of occasions on the perimeter, but was apparently told not to shoot from there (I don't recall her once being pulled after passing on a shot), which meant too much 4-on-5 basketball. The Eagles deserve credit for a solid defensive effort, but the Boilers didn't do much to help themselves until they had a hole to dig out of. They need to get to the point where they can create shots and play solid D without having to be coming back from a deficit to do so.
Speaking of being pulled, Tiara Murphy entered the game just once, slipped yet again (someone get this woman new shoes) and left Martina Mosetti open for a three she nailed; after BC took a Bridget Perry miss and converted a transition layup, Ashley Morrissette came back in and Murphy was done for the night.
There were a few bright spots, though. Wilson had a team-high 18 on 8-11 shooting, Andreona Keys had 12 points and a team-high 8 rebounds, and Perry and Kiesler combined to go 9-10 from the line. Unfortunately, Fasoula and fellow big Katie Quandt were too strong inside to allow Purdue to continue to drive against the foul-happy guards; it might have been a different story if the Boilers had managed to draw a fourth foul on Mosetti, who picked up her third foul late in the third quarter. Instead, the Italian played 33 minutes and dished out 8 assists, one fewer than the entire Boiler team.
The other bright spot was the loud cheer that erupted when they announced that the volleyball team knocked off SMU in four sets tonight in Austin. The Boilers, effectively the 9 seed in that bracket (v-ball officially seeds only the top 16 teams, but we can figure out the rest), will face host Texas Saturday at 7 PM. While the third-ranked Longhorns will be the clear favorite, Purdue has some payback to deliver: their last NCAA trip to Austin might have produced an upset victory and a Final Four appearance if it hadn't been for the Angry Purdue-Knee-Hating Gods striking down senior setter Jaclyn Hart with the 2010 team up 19-13 in set 1. (Because the internet is an awesome place, you can watch the entire 2010 match online: set one, set two, set three, set four.) Seems like you might be able to watch Saturday's match live on ncaa.com, which I think I remember doing last year.
Things don't get any easier for Sharon Versyp's team, as Massey #10 Dayton comes to town Sunday, sporting a 6-1 record - their lone loss was to Stanford in the semis of the Gulf Coast Showcase. (Probably just as well they lost. It'd be odd to play the same team twice in a week.) Boston College returns home for cupcakes through the holiday season (including a game at local rival Northeastern) before opening ACC play in January against Virginia Tech and Florida State.
Feature image from Purdue Sports