Women's Hoops Fail to Impress Against Jacksonville State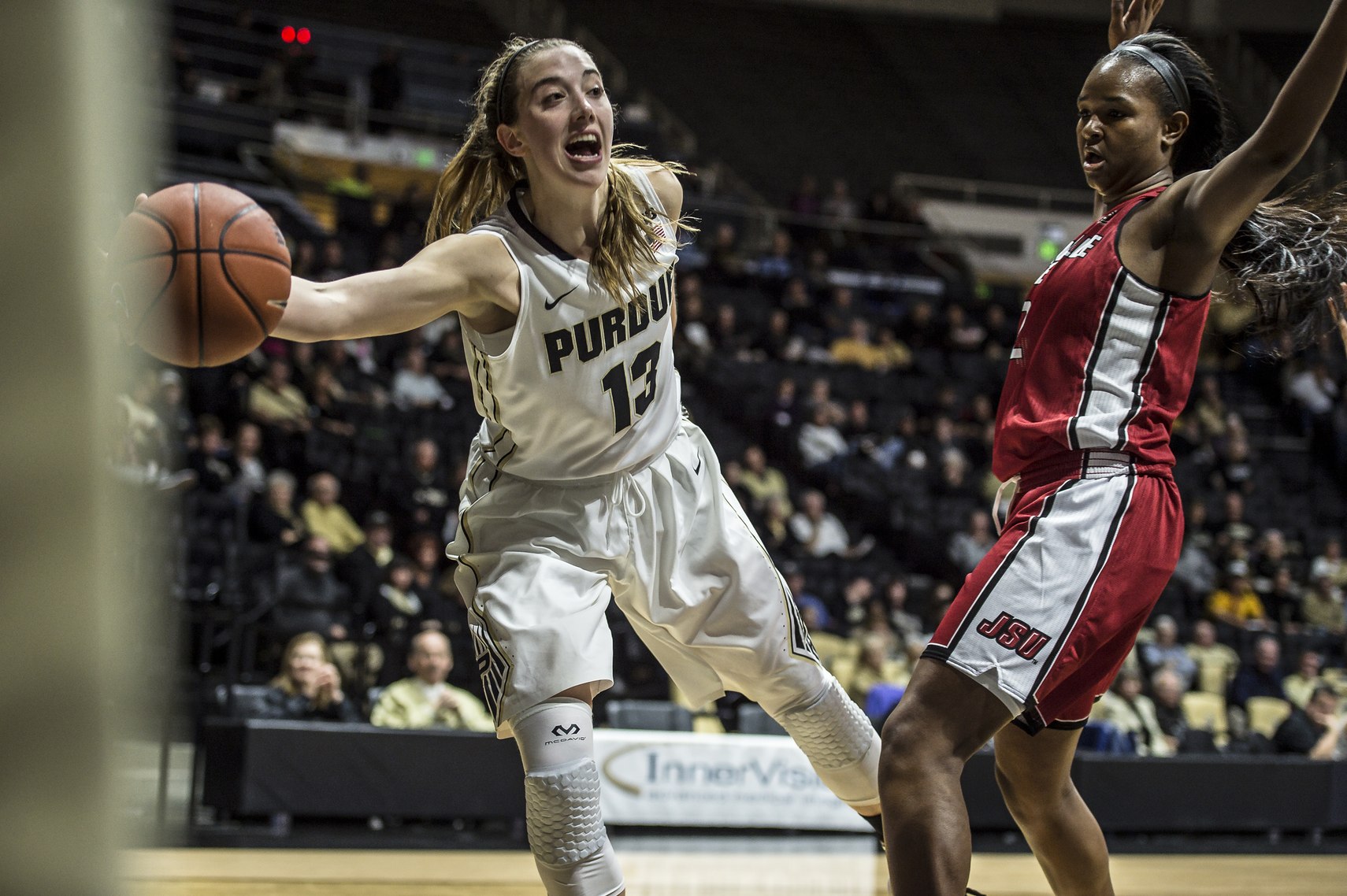 Like any good Boilermaker fan, I can never get enough disappointment in one season, so with volleyball slowly winding to a close and the smoke from football's tire fire threatening to eclipse any good thoughts about men's hoops, I figured I'd score some easy JPC points by getting women's basketball tickets this season. A friend and I walked into Mackey after an early volleyball match and checked out the club and courtside seats - they're nice and comfy, plus the cost for WBB is about 10% of MBB (well, at the club level; I think we know J isn't paying me enough to snag courtside seats), but I did want to give the normal seats a trial run first. After all, the last women's team I saw in person won a national title ... you know, the thing they hang banners for. I knew last season was at the other end of the spectrum, and that teams frequently are rusty in season openers, so I figured this would be a less impressive experience. I was not wrong. Like any good blogger, I was taking mental notes during the game, and like any old man, I forgot about half of what I was thinking on the way to Insomnia after the game (my grandmother used to put sugar on her tomatoes and she lived to be 100, so you health nuts can stick it), but here's what I do remember.
Women's hoopyball is a significant step up facility-wise from volleyball. (Sadly, that says more about Holloway than about Mackey.) The concession stands actually serve somewhat-healthy food (grilled chicken, yum), there are multiple options instead of a single stand, etc. Plus there are lights and smoke machines and stuff. And multiple scoreboards that still show the wrong players on the court. (SERIOUSLY. Why is that so hard? Nobody gets in the game without checking in first. The game stops until someone checks out. Everyone wears numbers. YOU HAVE ONE JOB.) And the visiting team doesn't change in a smaller locker room across the hall. However, the rows are still four feet apart, which makes getting up a challenge for people older than me (yes, there are four of them; I counted). Hey, Mackey is great for sound and proximity, but terrible in terms of the physical experience, at least in the commoners' sections. If I upgrade to the fancypants seats next year, I'll let you know how it goes.
As you saw if you follow me on Twitter, the old people in front of me stood up pretty much every time one should stand. IT WAS GREAT. Get these people volleyball tickets, stat. Randoms in my section (18; buying a single ticket always works well) were even clapping along with me and the band. (The Gold Mine was ... sparse.) AND a couple of people behind me were talking about the game the entire time. At volleyball, we're lucky if the people behind us know how many times you can touch the ball. (Hell, that's true for the announcers, too. While BTNStudent is generally better than BTN+ - I think the plus stands for LOL - the play-by-play guy for Sunday's match at Northwestern had to be reminded by the color woman that touches on a block don't count.)
Massey had the Boilers winning by 18; they won by 19. #analytics
If this was supposed to be a tuneup to build confidence, it did not happen that way. Aside from Bridget Perry (14 points, 10 boards, good play at both ends) and Andreona Keys (16 points, perfect from the field (7-7) and the line (2-2), including a MYBALL under the basket - check out Charles Jischke's excellent photo of the steal), the Boilers looked very much like the crappy Big 14 team they were last season. It took them two quarters to stop Jacksonville State from going baseline, and longer than that to figure out how to stop the Gamecocks from firing away from three. (Some were simply catch-and-shoot threes, but others were painfully uncontested.) On offense, nobody was hitting from long range (4-14), so they ended up passing up open looks, which meant JSU could stay with the cutters and not give up any inside shots. Non-Keys Boilers were 14-43 from two, which sounds just as bad as it looked.
Purdue also got whistled for a lot of fouls, which isn't unusual any time the NCAA jacks around with rules, enforcement or both, but it still suggests that at some point Coach Versyp really needed to explain to her players what was being called and what they needed to change. I don't think that happened.
The lack of adjustments on offense and slow adjustments on defense had me googling "sharon versyp contract" as soon as I got home. 12 months (buyout) if Burke gets the boot first, 24 if he remains. We can only hope.
Oh, and before I forget: Tiara Murphy hit the deck hard after tripping over a Jacksonville State foot (she might have been bumped, but we never saw a replay ... HMM), but got up, sat out briefly, and returned to the game later. Perry also took a hard foul and recovered quickly ... but the big question was April Wilson, who stumbled late at midcourt over a JSU foot (this one was definitely accidental) and seemed to hit her knee hard. She walked off slowly and did not return, no doubt for precautionary reasons. The offense looked even worse with Ashley Morrissette at the point, so if Wilson is out for any period of time ... let's not think about that just yet.
13-14 from the line as a team, though. Bree Horrocks missed one of two with :40 left. Bad teams that hit free throws can create problems for better ones; good teams that hit free throws can steal games from great teams. Except UConn. Beating #7 OSU by 44 in Columbus? ouch.
The nice thing is that at this rate, the rest of you WBB fans can come and watch whenever you like. I may end up stealing one of the comfy chairs by March. Do I mean sitting in one or taking it with me? Yes.
Also, it took me about seven clicks and four pages to find out how much parking costs for WBB. ($10 for the Ross-Ade lot. Thankfully, the rain slowed down by the time I got there, so I did my usual neighborhood parking and saved the cash for post-game cookies.) We give the athletic department a lot of heat for nickel-and-diming everything, and this is a great example of that. You've all seen the complete redesign that their site's undergone recently, but despite that, they still don't have all relevant information in one place that you can easily reach from multiple places. If you're taking the time to draw little tree-circles on a PDF, how about putting prices on it too? I'm fairly sure the Boiled Sports staff could run the department better (note: I'm referring to leadership here; there are plenty of others in the department doing the best work they possibly can), and that's knowing that the remote guys would insist on a road game in their neighborhoods every year. (I wouldn't do that. Well, maybe with volleyball. Basketball already comes to Indy.)
Also also, Big 14 refs suck. That is all.
Feature image from Purdue Sports