PREDICTO -- PURDUE VS IU PART 2: ELECTRIC BOOGALOO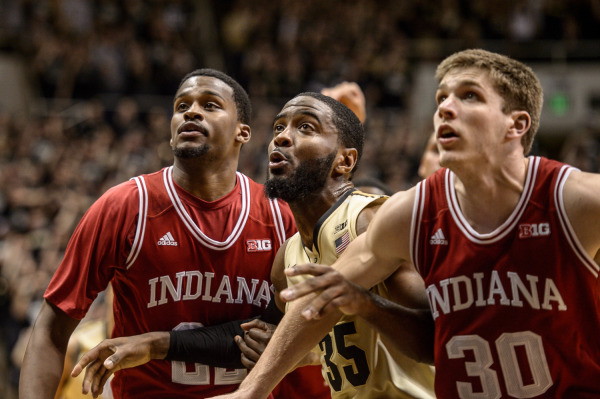 Purdue kicked IU in the teeth at Mackey Arena last month. It was super fun, and national writers praised the atmosphere in West Lafayette. Unfortunately for the Good Guys, Ass(embly) Hall will probably be just as insane. LET'S PREDICT THINGS.
General notes:
Good luck outhustling that Purdue team. If Gene Keady is at the helm, they're 100% grit and 300% grind.
PREDICTO TIME!
Aneesh "Tha Gawd" The Swamy
The Purdue-IU basketball rivalry has been…let's say, lacking in intensity recently. Ever since Knight was fired and Keady left/emotionally checked out, it's seemed like the Hoosiers and Boilermakers were just taking turns being terrible.
But even if you zoom out 30 years and look at the rivalry, you'd find a similar trend of parity. Since 1985, IU and Purdue have played 58 times; IU has won 30, Purdue 28. In fact, in the Matt Painter era, there's only really been one down-to-the-wire game: February 2010, when the #7 Boilermakers squeaked out a win in Bloomington 78-75. Though we as fans remember the classic buzzer-beaters, history says that a blowout is much more likely.
That's not a great sign for Purdue. The guys below will talk more specifically about this year's game, and how it seems like the teams are complete opposites (IU built around blistering perimeter shooting, while Purdue has two semi-truck sized humans in the paint), and how Assembly Hall isn't a great place for road teams.
But first, let's just take a step back and look at the current Big Ten standings:
As crazy as it seemed after Purdue's discouraging nonconference slate, the Hoosiers and Boilermakers are in the middle of a crowded battle for second in the Big Ten. Both teams are fighting for spots in the NCAA tournament (the boys in black need to fight a little more than the dudes in crimson). Neither team has shown long stretches of dominance this season, but both are undoubtedly talented rosters that seem to be hitting their strides as conference play comes to a close. And, if they make the tournament, both teams could be popular matchup-based upset picks against higher seeded teams.
Let's enjoy the first truly meaningful Purdue-IU game since March of 2012 (when IU was #18 and a Robbie Hummel-fueled Boilermakers were pissed off at the world), and cross our fingers for the first Assembly Hall victory since February 2011 (when Purdue was #8, and the headline was "JaJuan Johnson leads Purdue to fifth straight win").
It's good to have the rivalry mean something again.
(As for tonight's game? I'll play the part of the optimist, and say Ray Davis, Vince Edwards, and AJ Hammons have monster games that perfectly exploit IU's weaknesses. BTFU, IU sucks.)
Purdue 81
IU 77
---
Michael "Probably Finishing His Arm Sleeve Tattoo Right Now" Henry
This rivalry is so weird lately. It's truly hard to say which program holds the upper hand at this point. It's interesting to see the programs evolve in such opposite directions, led by their polar opposite coaches. Matt Painter in such an old-school guy I'm surprised he doesn't sport a crew-cut and openly declare that no player of his will have facial hair. Tom Crean is kind of manic/insane, and one of those guys that you start to think might be severely under-rated as a coach, until he does something so dumb you're left wondering exactly how does he stack up to his peers. I wouldn't want to be cornered by him at a party, but he sure knows how to spot under-recruited freak athlete wings. Troy Williams is the latest in that line. IU has had its share of unbelievable athletes lately, but Williams might be the best. Don't let the fact that he has the face of a 40-year old trick you. That dude can straight get up. He can be a real monster on the offensive glass in particular; those second-chance points will just kill a team. If he had a decent handle and a jump shot there's no way he'd be back next year.
Fortunately for IU they have Yogi Ferrell, and James Blackmon Jr (also known as the best freshmen in the Big 10, non-D'Angelo Russell division). Both of those guys have flaws. Yogi can get into hero ball mode at times, and he's not a constant effort guy on defense, but he does have the best handles in the B1G, and hero mode does sometimes work for him because he can be good enough to pull it off. JBJ's biggest skill is his shooting; if he gets hold you might as well pronounce time of death.
And that's what scares me the most. The Hall of Calls features much friendlier rims for IU's shooters than Mackey did. You can't expect them to hit only five three pointers like they did a month ago. So the question is, how do you stop them when they're hot?
You slow the game down. You don't let them get out in transition, and you nip any runs they make in the bud as soon as possible. They don't need a lot of time to run off eight or 10 straight. You can't let them dictate the flow of the game. Fortunately, Purdue has AJ Hammons and Isaac Haas, two guys that IU simply can't match up with, even with Hanner Perea back.
I think IU's best lineup is still Collin Hartman at the five. Spread Purdue out and shoot them out of the gym. I don't think that's how Crean sees is though. It sounds like he may try to stick his best size out there and see what happens. If that's what he does, then Purdue needs to take advantage. Get some fouls called on IU's bigs early, stay out of foul trouble themselves, and keep IU to under 30 points in the half and you're on your way to a win. Fail to do that, and they could put a hurt on you.
It's hard to pick against IU in Assembly Hall, especially after IU has appeared to right the ship. But I think Purdue can get this one, so I'll call it close. IU squeaks out a close one, 75-68.
---
Zlionsfan (currently training to become a backup dancer for Missy Elliott's upcoming tour)
Like Eastern Washington, Indiana has a high-tempo, high-output offense ... and an RNG for "defense". Also like the Eagles, IU's defense has regularly rolled bad numbers at home this season. In conference play, they've won by 3, 3, 19, 8, 3, and 19. (No, this doesn't mean Indiana's going to win by 13. I think.) The 19s are not Penn State or Rutgers, which probably explains Indiana as well as anyone can.
The one problem on offense that you'll see from Indiana is shots being blocked. 11.9% of Hoosier shots end up in the BS category, 312th in DI. As you may be aware, the Good Guys have a gentleman who is perfectly equipped to take advantage of that weakness, and in the earlier meeting, he certainly did. A.J. blocked a shot about every three minutes or so, and given Indiana's accuracy when they do get shots up - 51.7/41.7/72.9 - it's easy to draw a connection between those blocks and the eventual margin of victory.
To pull off the sweep, the Boilers will need to repeat the two things they excelled at in Mackey: shot-blocking (see above) and two-point accuracy. Purdue was 23 for 32 inside the arc; 71.9% is a really good number to see when the other team has an efficient offense, and A.J. barely reached double figures himself. (That may also have been because Crean had his guys fouling about the last 10 minutes of the game, or so it seemed. You can't get your bigs the ball when the other team is fouling on the inbounds play.) Take good shots, both inside and outside, hit your free throws, and redirect enough shots into those fancy banners they have (watch the dust), and Purdue can come away with a marquee road win.
As much as Purdue can use a road win to finish up its resume for NCAA purposes, there's still more pressure on Indiana to win this one. A team with bad defense can't afford to draw a hot offensive team, which means Indiana has to stay above the 8 line to have any chance at a Sweet 16 appearance. Drop this game, or the Iowa or MSU games in March, and Indiana could be one-and-done for the first time in the Crean era.
I don't think they will. But I think it'll be closer than the Star wants it to be. (They've probably got the IU victory headline written already.)
Indiana 81
Purdue 77
---
J Money (currently skinny dipping in his backyard pool filled with chocolate fudge)
There's a natural assumption that games like this typically go the home team's way. And yes, it does feel like these two teams are close enough that home court might make the difference. However, the basic principles haven't changed. Purdue still has a big man situation that IU has no answer for as well as perimeter defense that has resulted in quite a few opponents shooting very poorly against the Boilers, including vaunted IU.
To me, it's pretty simple. If Painter follows the same game plan and Kendall Stephens looks as alive as he did vs Nebraska, I like the Boilers' chances. I tend to think IU will shoot a lot better at home than the ice display they put on in Mackey, and if that happens they're certainly able to win this game.
If both teams do what they do well, it should be a great game...and both teams do seem to be doing their things of late. I'll give the tiebreaker to IU and say that home cooking will push them over the edge. As much as Purdue has improved this season, I'm not sure I can yet see them sweeping a quality opponent in the Big Ten.
IU 74
Purdue 70
---
BoilerDowd (Ed. Note: Please excuse the massive length of BoilerDowd's…post. He loves this rivalry, and has a tendency to write 10,000 words at a time. But, I promise, the words are worth it. You're gonna need about 3 hours to read the whole thing. Ready? Ok. Don't say I didn't warn you.)
Painter had a great game plan, and His boys executed it in West Lafayette to perfection. Nearly everything went their way and IU was barely a speed bump.
It'll be tougher at Ass Hall for a myriad of reasons. The fight is worth something...and winning isn't imperative for the good guys to make the tourney. BUT if they win one of these road games and hold home court, I believe they're in.
I'm not saying it's not winnable, but with two teams that are in the same league, my nod goes to the home team. If Purdue is to stay close, it'll be up to Stephens and Edwards.
IU 78
Purdue 70
Featured image from PurdueSports.com.