Defense Rests: Boilers Check Knights, 92-85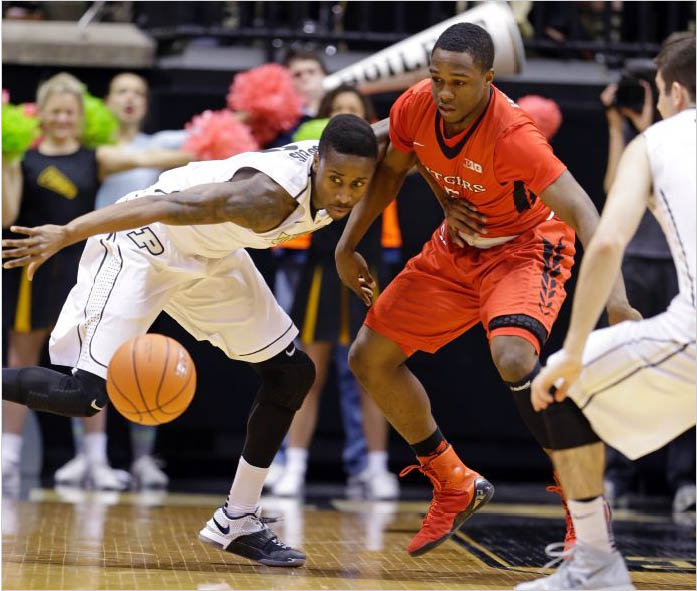 photo credit: AP Photo/Michael Conroy If you tuned in Thursday night to watch Purdue crush Rutgers to send the Big Tenteen a message on a night that yet another top team fell (Michigan State in East Lansing, courtesy of Minnesota, an especially bad loss given how the Gophers have played in conference play) ... you didn't get that game. Purdue's offense was solid against a Rutgers defense that would be pretty good in any other conference, but the defense. Oh, the defense.
Rutgers scored 55 points. In the second half. That was more than they scored in 13 games this season. They hit 28 free throws. They came close to outrebounding the Boilers (Purdue held the advantage, 38-34). They forced 12 turnovers. None of this speaks well to the performance the Good Guys put on in Mackey.
The offense was definitely present. Six players hit double figures, led by Basil Smotherman (no, really!) with 17. Rapheal Davis posted another double-double, 16 and 10, and needed just 3 more assists to get one of those things that you hear people talking about but never really see that often in college ball. 16/10/7 is an outstanding line, and if Purdue had put forth a similar effort on the defensive end, I'd have been happy with this game ... but they didn't. (As I write this, I note that Utah leads Arizona State at halftime, 41-9. That's what I'm talking about.)
For pretty much the entire game, the Boilers kept a hand on little Rutgers' head, never letting the Scarlet Knights close enough to threaten (maybe for a second or two at the end, but no more), but also never pulling far enough away that the game was surely out of reach. It's perhaps understandable, given the five-game stretch Purdue finishes the season with, but it's not the way I wanted to see them lead into the Ohio State game Sunday.
Let us not speak of this again. Off to Columbus and a shot at locking down a bye to Friday and maybe even putting pressure on Maryland for second place. The Boilers will go in with a four-game winning streak, tied for the current longest streak with Maryland and Northwestern(!). Ohio State comes in 3-3 in their last six, with wins over Nebraska, Penn State, and Rutgers. The analytics say OSU by 8, but I think it will be closer ... as long as Purdue plays better than they did tonight.
19-9. Tied for second. Choo choo.