It Begins!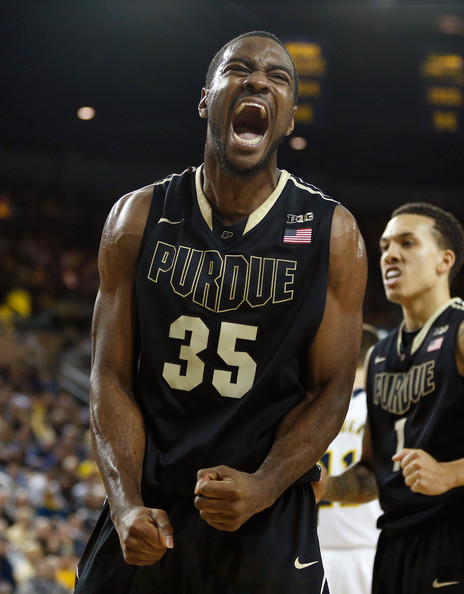 The start of basketball season has made me as giddy as a schoolgirl. A lot has happened between the end of last season and the start of this one. Almost all of that has been positive, and for a program that has spent the last couple of years struggling, there's some hope that this season will be different. Tempering any excitement is the knowledge that for the third consecutive season the team is young. Matt Painter has talked at great length about the importance of getting old. Although the importance of senior leadership is debatable (as we did on the first episode of the Basketball Beat podcast), it's undoubtedly beneficial to have consistency year-in and year-out. Returning players are the anchors by which teams are rooted. Those guys presumably know the system, know Matt Painter's expectations, and hopefully know what it takes to win. They don't have to be the team's best players, but they do set the tone - for good or bad - for the new additions.
From last year's team Purdue loses a number of familiar names: Terone Johnson, Ronnie Johnson, Errick Peck, Sterling Carter, Jay Simpson, and Travis Carroll. They combined to start 86 games (more than the returnees), played 3,358 minutes (more than the returnees), and scored 1155 points (just two points fewer than the returnees) last season, and that level of production headed out the door means there are a lot of holes to fill.
Fortunately, it's my opinion that Matt Painter has pulled in one of his best and most well-balanced classes. Five players, one at each position (if we project Jacquil Taylor to eventually cement himself as a 4, and not a 5 like he was recruited to be). Each of those guys has the ability to contribute this season, which is good, because Purdue will need them to if there's any hope of having a good season.
We've been over this each of the last few seasons, but outside of the top-10 or so recruits and a few outliers otherwise, freshmen typically struggle to maintain any sort of productive consistency throughout the season. Good games will be followed by bad ones, and a series of invisible games will be sprinkled in-between. A balanced class, coupled with the fact that none of the freshman will be expected (out of necessity) to start right away hopefully will allow this team to ride out the normal freshman struggles.
Aiding in that is the super-late addition of 5th year senior Jon Octeus. It was a long road for Octeus becoming a Boilermaker, and it's quite the good fortune that he fell in Matt Painter's lap. Projected as one of the better returning players to the Mountain West Conference, Octeus left Colorado State for UCLA, only to encounter some problems with his admission into his desired graduate program. Once he become available Purdue was able to get him on campus and enrolled in the same graduate program Sterling Carter was in last season, and on the basketball squad. Octeus can play either guard spot, but look for him to make the biggest contribution at the point guard. Right now, the starting job there seems to be Bryson Scott's to lose (another guard who can play either position), but Octeus will certainly push him (as evident by his 10 assist game in the second scrimmage of the pre-season). Even if Scott is able to hold onto the starting position, Octeus can either play alongside him and in relief of him. Regardless, there are no bad options there, and for a team that has struggled to find the right people to control the backcourt, that is a welcome sign.
Who knows how the season will end up. I'm cautiously hoping that Purdue will be able to win at least 18 games, with a shot at the NCAA Tournament bubble. At this point, I'm not sure if I'm being unrealistic or too cautious, but everything out of West Lafayette this summer has been positive.
Now is a good time to bring up Purdue's best player - AJ Hammons - as the season will go as he goes. He has all the tools to be a dominant player, and has shown stretches in the past two years of being that guy, an All-Conference player and eventual 1st round NBA draft pick, but the night-in, night-out production hasn't been there. Part of that is he's still developing as a player, part of that is also he's been playing around some guys who seemed hesitant to focus the offense on him. Early indicators seem to suggest that everyone on the team is on the same page as far as making sure the big fella eats, but that will have to be proven on the court. But with a new energy around the team, a slimmer, more athletic build, and a talented big in Isaac Haas to push him both in practice and in games, we could potentially be seeing a breakout season this year from the 3rd year senior. If that happens, I have all the confidence that a consequence of that happening will be both that he leaves early for the NBA, and Purdue will have had a successful season.
With both the football and men's basketball programs stuck in the middle of rebuilding, it can be depressing to get invested in either squad. But the football team is undeniably better this year, and the men's basketball team seems poised to turn a corner too. I can't wait. Boiler up.