Purdue-Cincinnati: So How Are You Feeling?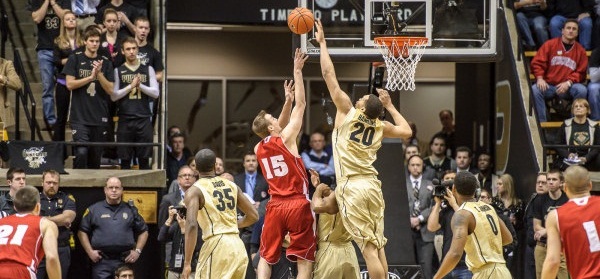 With a little over 29 hours to go before Purdue takes the floor against Cincinnati in Louisville, how are you feeling? It's been a while since we got to experience those Christmas Eve butterflies of not only the NCAA tournament starting (yes, it doesn't really start until Thursday, no matter what the stooges at the NCAA and CBS want to tell you about these play-in games) but of our Boilers participating in it. It really does change it up, doesn't it? Without Purdue, you're likely watching because you may love college basketball and the downright overdose of it over these four days is nirvana. Or you're watching because bracket pools are a form of gambling that you love.
But with Purdue in it, you still do those things… but if you're like us, you schedule your availability as much around Purdue's game as possible. And obviously that game takes on a different vibe for us – every other game your rooting interest is either gambling-based or "Hey, I'd love to see Steve Alford lose"-based, but the Purdue games becomes, well, like any other Purdue game. Where we wind up potentially drinking during and afterwards and ask "Why, god, why am I a Purdue fan?"
I hope there will be Boiler fans making the pilgrimage to Louisville to show some support, both because the team deserves it and to shut up people like Washburn who questioned Purdue fans loyalty when they didn't show up in enough droves in his measure to the Big Ten Tournament. I also imagine Cinci fans will travel over – though I don't know how well they travel these days – to see their team.
Ah, yes, their team. If you missed it, check out Mike's thorough review of Cinci basketball (makes me wonder if Mike moonlights at a Bearcat site) and be sure to stay for his entertaining back-and-forth with a Cincinnati whack-a-doo whose education level seems to be on par with your typical YouTube commenter.
I won't spend my time doing what Mike already did, not only because he already did it, but also because I am not statistically inclined. However, I'm here to tell you why you may or may not want to be anxious prior to this game.
We've made a few remarks about potentially facing Kentucky in Round 2 (assuming they can advance), and naturally there are always a few sticks-in-the-mud who tell us "Let's worry about Cincinnati." Well, yes, of course. But we're not the coaches. And I was thrilled to see that in every video posted on Sunday night, when asked about their tourney positioning, every player and Coach Painter only talked about Cincinnati. I would certainly have acknowledged UK being there looming, but none of them did… and I don't think that was an act. Athletes really do focus on just the next opponent, because they know better than anyone that the following game – particularly in single elimination – doesn't matter until you win this one. So I think we're fine there – the guys are focusing in the right place. They want to win a single game and I have no doubt they're going to be appropriately prepared for Cincinnati.
As for fans looking ahead, obviously if Purdue can't beat the Bearcats, it becomes moot – not only because they'll have lost, but because if you can't beat a team that can't score, you surely want no part of Kentucky. A team that loses to Cincinnati would get positively bludgeoned by the Wildcats. So let's just say that and move along.
Purdue has a first round winning streak that dates back to when Boilerdowd and I were in high school. That's right, the last time Purdue lost a first round game was in 1993, when Boilerdowd had flowing locks of hair and I was a spindly 80 lbs lighter than I am right now. Ah, memories. (Of course, with the NCAA's moronic insistence on calling the first round the "Second Round," Purdue's streak of not losing in the first round will continue on at least until the day they have to play in the "First Four Which is Actually Eight" in Dayton someday. Or until we just expand this thing out to 96 teams and have a regular "First Round" again.)
Anyway, does that first-game win streak have any bearing on tomorrow's game? Of course not. But if you believe coaches and programs know how to do things, you can at least hang your hat on the fact that Matt Painter typically doesn't lose in the first round. In fact, his only first-round NCAA tourney loss was in his only year at SIU, a one-point heartbreaker to Alabama after his team stormed back in the second half after sleepwalking through the first (huh, sounds familiar).
As has been noted, Cinci has trouble scoring, quite frankly. They have a decent big man in Octavius Ellis, but some claim he wears down and won't be able to slow AJ Hammons. Purdue, of course, continues to have the absurd luxury of having two 7+ footers to shuffle in and out which will hopefully hasten the wearing down of Ellis. Ellis is also their leading scorer at just 10 points per game, so getting him tired and/or in foul trouble has lots of benefits for the Boilers. He's been hotter of late, scoring in double figures in six of the Bearcats' final eight games, including 20 vs UCF and 19 vs Memphis.
Mike's preview got into more advanced (and likely more telling) statistics, but for those of you who like to look at the basics, check out this comparison:
| | | | | | |
| --- | --- | --- | --- | --- | --- |
| Team | FG % | FT % | 3P% | PPG | RPG |
| Cincinnati | .453 | .674 | .333 | 62 | 34 |
| Purdue | .453 | .685 | .335 | 70 | 36 |
Whoohoo! A team Purdue  is better than from the line! This of course has the makings of one of those games that makes coaches and fans of fundamentals cry as the FTs clank left and right in crunch time. Of course, those who like fundamentals also often like good defense and both teams comply with that. And you're probably thinking that Purdue must absolutely own Cinci in terms of defensive-minded things like blocks, steals and not committing turnovers. Let's take a look.
| | | | |
| --- | --- | --- | --- |
| Team | Blocks | Steals | Turnovers committed |
| Cincinnati | 174 | 210 | 409 |
| Purdue | 176 | 180 | 432 |
Ruh-roh. Cinci takes better care of the ball, steals it more and blocks just as efficiently. But do they block against other seven-footers? But hey, we knew defense was their calling card. How else could a team win 22 games scoring just 62 points per contest?
Here's what it comes down to in my estimation, and this is why I feel as though Purdue should win this game. Barring someone on the Bearcats having an out-of-their-mind game, Purdue should hold this team to 55-65 points. And if Purdue can't beat this team in that scenario, then they don't deserve their shot at Kentucky anyway. Drink your bourbon and move on.
Regardless, it's great to be back in the tourney and having these conversations. Now let me go get my rocks glass ready.