Boilers Lose at MSU 24-21, But Inch Towards Progress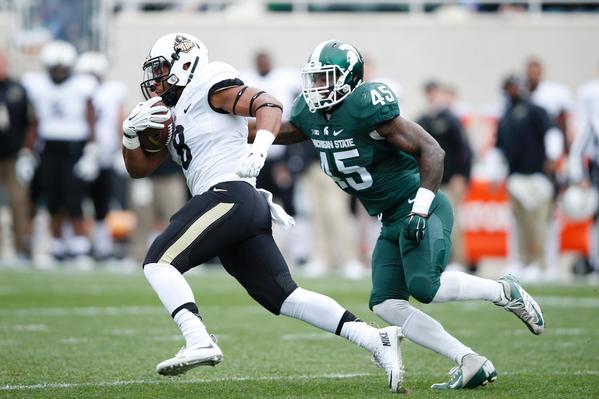 At halftime of today's game, Purdue fans on twitter were commenting on finding other things to do for the rest of the day and on being apathetic. However, it shined a light on something for me – and that is, Purdue fans are the very opposite of apathetic. Purdue fans care, man. We all do. We try to delude ourselves and say we don't care and we won't let losing bother us, but we all do. And we were still watching in the second half, probably because – bizarrely – many of us realized this game wasn't truly over yet. Purdue committed another dumb personal foul penalty and turned the ball over twice on pretty sloppy fumbles, both leading to MSU scores. And yet it was "only" 21-0. Now, sure, when was the last Purdue team who you could reasonably expect to mount a comeback after being behind by three touchdowns? Maybe the 2000 team, which did just that sort of thing? I'm not trying to suggest this team has anything in common with the 2000 team… but David Blough, Markell Jones and the boys very nearly pulled it off today. And, sure, those of you who don't want to see positives might toss up the "moral victories" joke again….and who could blame you? But I see this one a bit differently.
For what seems like years now we've been asking…pleading…begging…for Purdue football to show us something. For them to come to play, no matter the opponent. No matter how bad things look. No matter how much the odds might be stacked against them. To believe. In one another and in what they're doing. We've said more than once that if Purdue loses a game where they clearly just don't have the horses – but they compete and make us proud – that we can at least stomach it. Today, we got our "wish," if you can call it that. Purdue did not roll over. Purdue did not quit. Be still my heart, it almost appeared as though Purdue made halftime adjustments. Maybe they just stopped making dumb mistakes and took care of the football. Regardless, things changed in the second half and your Boilermakers just beat the #2 team in the nation in the second half – on their field – by a score of 21-3. Put that in your pipe and smoke it, as a high school teacher of mine used to say.
What Went Well:
Obviously, we talk here about Markell Jones. The freshman went bonkers against one of the best defenses he will face, rushing for 157 yards on 22 carries (7.1 ypc) and two TDs, including one for 68 yards. DJ Knox had two carries – no other RB had any. Not much else to say – he was great and it's exciting to know he's got a lot of time left in Black and Gold.
David Blough didn't have a great day on the stat sheet, but he also didn't allow MSU's defense to ruin him. His one INT was late in the first half and was a throw deep into MSU territory on fourth down that basically was the same as a punt. Through the final drive, Blough was trying to go through his progressions, he was avoiding rushes, he was scampering for first downs when necessary. Even the final play of the game, with a Spartan LB about to crush him, Blough's 4th down pass was on target and it took a strong defensive play by the MSU secondary to break up the pass to Greg Phillips.
The defense truly looked like a bend-but-don't-break unit today, particularly in the second half, forcing a very conservative MSU offense into a number of fourth down punts and FG attempts. Connor Cook was only 13/19 for 139 yards and a single TD toss. Toss in a shaky FG game on the Spartan's side of the field and Purdue had the breaks they needed to mount a comeback.
Purdue eliminated their FG issues -- by not attempting any.
What Didn't Go As Well:
While I think the defense showed something today, they still had some serious trouble stopping the run. Even as it became apparent that MSU wasn't going to do much else, they still ran, ran and ran some more. The Spartans ran for 267 yards and averaged 5.7 ypc.
The turnover battle went in MSU's favor, 3-0. Purdue found a few minor breaks and definitely controlled the second half, but it's exceedingly hard to be -3 on the TO differential and win. Purdue nearly did it. But how nice would a Frankie Williams pick-6 have been?
The time of possession – MSU controlled it, 37:24 to 22:36. This is what comes of a team having a strong running attack, as MSU did. However, again, turnovers and time of possession are just such huge indicators of success. MSU didn't do a whole lot well today, but they controlled the ball and didn't give it up. Often enough to win. It was today.
Where To Go From Here:
Suddenly, despite being 1-4 (0-1), there may be a glimmer of hope. Sure, with John Shoop still calling the plays, there will be frustrations. But does the Minnesota game suddenly seem like it's back in play? It surely does, at least as we sit here on Saturday afternoon.
Even the most optimistic Purdue football fans were having a hard time seeing how Purdue was going to find 2 or 3 more victories this season so that it doesn't wind up feeling like a step backwards. Essentially, they need to "steal" one of the games they shouldn't expect to win. They almost managed to do it today against one of the best teams in the country. If the incremental progress continues, a breakthrough may be coming.