Boilers Fade in Columbus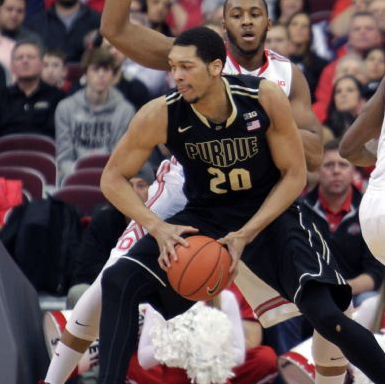 How Bad is it? Will Hammons ankle injury hamper him in the final two regular season games?
Is he that good?
Yes, D'Angelo Russell is one of the best players in America.
Still on the bubble?
Boilers miss golden opportunity in Columbus to shore up NCAA tourney birth.
aOSU has been a house of horrors for Purdue as long as I can remember. So honestly, I didn't think winning was even an option coming into it. Really really good Purdue teams have gone there and had their clocks cleaned…so the place makes me shudder. But make no mistake, Purdue is an awful matchup for this year's Buckeye squad as they have no real answer to Purdue's size.
Similarly, Purdue has no answer for D'Angelo Russell…but who does? If he wants to score, he pretty much does…regardless of whom is guarding him.
Tonight, Purdue fought through a slow start before fighting to an even game…THEN, magic happened: The three ball returned to the land of black and gold. Purdue took good shots in rhythm from long range while playing tough defense…and the result was probably the best ten minute span in a first half of this season against a team not coached by The Forehead.  Purdue was up by 12; 35-23 at the half…and many Purdue fans forgot that we were still watching our boys in Columbus.
Ohio State, in spite of not being ranked, is a team that can score in bunches, has two or three NBA athletes on the starting five and (as I referenced above) one of those guys is a legit player of the year candidate. I've always marveled at Matta's ability to bring in talent…but the fact that he has a POY candidate nearly every other season is just incredible. Players like that gloss over a ton of woes…woes like not having a legitimate big man…woes like having a bunch of players who simply don't even try to rebound during stretches of the game. But you can't argue with Matta's results.
I used to think he was simply a more-consisten version of Tom Crean. Good recruiter, but lousy in-game coach. I recognized my flawed thinking a few years ago when I just looked at their record in the conference and consistency. Matta is a good coach- he showed it tonight by shielding Russell from his fifth foul for about 7 minutes by going offense/defense with him. Another thing that he's very good at is working officials. If you don't think that's an important part of the game, you've been watching Painter too long.
Matta, like Izzo, Ryan and many other good coaches controls what the officials see by constantly communicating with them…and the foul count tonight showed his mastery, especially in the second half. Purdue had 23 PFs to aOSU's 18…and the 'Nuts shot 35 free throws while Purdue only shot 13. Sure, part of that is college basketball's slant toward the home team…but Matta is a master at that.
Yes, the foul count hurt Purdue…Our Boilers hurt themselves more by not taking advantage of the freebies. Purdue shot just over 53% from the line…aOSU scored 25 points from the line while shooting over 71%. To win games on the road, good teams take advantage of any factor they can…Purdue really didn't do that at all in the closing 10 minutes.
AJ Hammons was once again brilliant, scoring 16 points, pulling down 6 boards and blocking 3 shots in just 25 minutes. He rolled his ankle late in the second half…toughed through it, but couldn't really establish position in the blocks after the injury, nor finish as we've come to expect him to in the last few months. His understudy, Haas, had 4 points and 7 rebounds in 15 minutes…but made noise while playing.
Edwards returned from a concussion with a quiet game in which the stats don't really convey they type of game he played. In 15 minutes off of the bench, he played solidly, but fouled out…That said, he was always around big plays during the run in the first half.
RayDay had 15 points and 4 rebounds in a game that Painter wanted him to be a hero. With Purdue down just two points and about 20 seconds left in the game, Matty called on Davis to drive and tie the game to send it to overtime. He made a good drive, but didn't complete the transaction and the game was effectively sealed.
Maybe I'm the only one who cringes when Painter is on the marker board drawing up plays late in the game…But I wanted to see this: Stephens, Davis, Mathias, Octeus and Hammons in the game. Mathias taking it out, finding Prime or Davis, swinging it to Stephens only to finally hit Mathias for one look at a three and an attempt to leave with the win in regulation. Instead, Purdue rushed the possession, came away with nothing and lost the game.
But that wasn't why Purdue lost. Purdue lost because they kind of game this one away. Purdue didn't take advantage of their size advantage enough in the second half, didn't capitalize from the free throw line, and didn't play gritty enough to win on the road. They lost the rebounding battle, which they needed to win to control the clock…and allowed aOSU's scorers to get to the rim too often. Losing 65-61 is a solid moral victory…But I'm pretty sure a moral victory isn't something anyone on Purdue's bench (nor in the fanbase, at this point) is pleased with.
A win would have all but secured a trip to the NCAA tournament…and according to guys who guess about the tournament for their living, Purdue is still on the bubble.
If they handle their business, and just beat Illinois, they'll have 20 wins…12 of those in the BT…will probably finish fourth in the conference…and that's not enough to some in the media. It hasn't ever happened that a 12 win BT team didn't make the tourney in the 64/68 team era…it won't happen this year either.
Purdue's Composite Computer Ranking (CCR) that I've been putting together for a few years, stands at 46. I've added the BPI to the RPI, Pomeroy and Sagarin to come up with this number…And while the number 46 isn't really ideal, it's good enough for Purdue to be dancing in a few weeks…if they simply beat the team that they're supposed to beat…at home.
For the record, I really like the MSU match-up. This isn't Sparty from the previous seasons. RayDay can contain Valentine and MSU won't be able to stop Hammons…Plus I think Octeus has another special game or two in him as a Boiler as his too short Purdue career draws to a close. Dawson continues to be a tough match-up for Purdue's forwards…but for the first time in a few years, I don't think MSU can out-tough Purdue….and hope Dawson can be silenced as Purdue simply owes him one.
On Wednesday, Purdue travels to East Lansing to play at 8:00 pm. In spite of back-to-back losses, one of those coming at the hands of Minnesota, and the same amount of wins (19) as Purdue overall and one fewer win in conference, tournament guessers have MSU as a lock to be in the dance. Purdue will effectively punch their ticket with a road win at MSU…Finish the job at hand, boys.