Do Not Tell Me "It Can't Be Done"
Whenever we lament the state of Purdue football, someone almost always tries to educate us on our lot in life as Purdue fans. They point out that the facilities are limited, the stadium is among the smallest in the Big Ten, it's a tough place to recruit, there isn't a history of winning, etc., and so forth, lather, rinse repeat. In the end, it can be summed up with "We're just Purdue."
Well, as we've said before here, we reject that out of hand. For one thing, Purdue has competed, and in different eras. The 1960s Purdue teams were a force, culminating in a Rose Bowl win over USC. Then, of course, there was the Tiller resurgence in the late 1990s into the early oughts, where Drew Brees and others carried the Boilermakers to the Rose Bowl once again. And less highly-thought-of, of course, was the short era right after that, when Purdue was now considered a major player and high-potential guys would gladly attend. The door was open and the mantra of being the cradle of quarterbacks was reignited -- guys like Kyle Orton stepped in and the pieces seemed to be falling into place. We all know what happened next and it's not worth re-hashing once again... but the point here is that, while the windows can be tighter and harder to open, it can be done.
And that's the issue for me. I'm tired of being told it can't be done or hearing about the limitations our school faces. Limitations only get legs when people begin to rely on them as excuses for a lack of success. This applies anywhere in life, not just in college athletics. There are stories about people overcoming incredible odds all the time and the consistent theme is always rooted in two factors: hard work and perseverance. If you work harder than others and you never stop trying, good things will eventually happen. It's not a complicated formula.
Morgan Burke and the athletic department at Purdue are happy with staying profitable -- it has never been worth it to them to wade into the deep end of the pool and shoot the moon. That would take more money, more risk, etc., and why do that when you're comfortable in the black?
And for anyone who points to the successes they've recently (last 15 years) enjoyed, let's recap once again.
Burke got lucky with Joe Tiller. Tiller wasn't a young, up-and-comer and as Bdowd reminded you all, Burke wanted Bob Davie. Tiller had enough energy left to go hard for a while and he had the cowboy swagger that is absolutely necessary to succeed at a place like Purdue on the metaphorically uneven field that is football.
Burke got very lucky with Matt Painter. Painter, for those who have forgotten, was hired as the associate head coach and successor to Gene Keady in 2004 at the age of 34. Matt had one season as a head coach at any level before coming to Purdue. Granted, it was a 25-5 season at Southern Illinois, a top 15 ranking and an NCAA Tourney appearance season, but it was one season from a very young coach all the same. Most of us look at Painter as the right guy for Purdue basketball now, but it's easy to see how this could have gone the way of Todd Lickliter, for example.
Burke got it wrong with Danny Hope. I think it's fair to say that now, as we've seen four years of middling to excruciating football out of the Hope regime. We've been complaining about the same missteps and inconsistency for four years now. It's fair to give a guy the chance to right the ship, but he's done nothing of the sort and only punched more holes in the hull. But the point of this post isn't to rehash the Danny Hope era.
Back on the theme of not wanting to hear it anymore, let's look at five programs who frankly have the same excuses that Purdue does (or similar ones) and yet find a way to produce success. Nobody here is suggesting that Purdue should be competing for the national title every year -- but how about a ten win season every 10-15 years? How about strings of 7-to-9 win seasons, which suggest you're knocking on the door and with a break here or there might bust through to a BCS bowl game?
The following programs are examples of what Purdue could be doing.
Boilerdowd likes to say that I love Rutgers because I live near the school and occasionally attend games. What can I say? I'm a sucker for awesome campus food and lukewarm fan support of a college football team?
But Rutgers is an afterthought in the minds of most NJ sports fans. Their stadium -- which was renovated in 2011 and is a great place to watch a game -- only holds 52,000 (up from 41,000). And they have almost zero football "tradition," in terms of success on the field. Rutgers went 0-11 in 1997. They went 1-11 in 2002. But then Greg Schiano began building something and just three years later, they were in their first bowl game in 27 years. A year later they won 11 games and rose as high as #7 in the nation. Starting with that 2006 season, Rutgers has won at least eight games in six of seven seasons (2010 was the lone hiccup, at 4-8), at least nine games in four of them and if they win one more this year (they're 9-1), they'll have won double digits twice in that span and are likely to get to a BCS bowl game this year. Sure, sure, it's the faltering Big East, I get it -- but I don't care how you get there... you still need to win the games on your schedule.
Yes, we had the Broncos forced upon us for years as the little engine that could and the small-time program that could play with the big boys. For all the fun that could sometimes provide, Boise's success probably did more harm than good with regard to things like the BCS. Supporters of the idiotic end to CFB's season pointed to Boise State as evidence that everyone did indeed get a fair shake. It's nonsense, of course, as Boise has most certainly not gotten a fair shake or a legit chance to dethrone the big guys. When they have gotten such an opportunity, they've cashed in, winning two BCS bowl games (the Fiesta Bowl in '06 and '09).
There is no way Boise has more in the way of opportunity than Purdue. It's Idaho, plus the recruiting ground they are near is also shared with Pac 12 programs like Oregon, Oregon State, Washington, USC, UCLA, Stanford, etc. Bronco Stadium only holds 37,000. Oh, and hey, it's freaking Idaho.
Yet despite all of this, the Broncs have held onto Chris Petersen and are about to have their seventh straight double-digit win season, 10th in their last 11 season and 12th in their last 14 years. I don't care where you play -- that is reeeedonkulous. They have 15 losses in the last eleven years. The point of all this? Success can happen.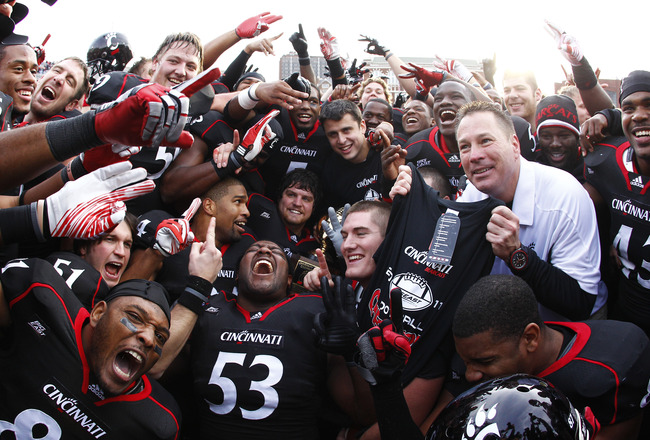 You want something a little closer to home and the midwest? How about Cincinnati? They have below-average facilities according to everything we read, their stadium (Nippert) holds 34,000 and bills itself as the "Wrigley Field of college football" (which maybe means they have drunken fans who like a poor product, I guess?), and they of course have to recruit in the same state as O$U. Yet they just keep winning.
Entering 2012, the Bearcats have won double-digit games four of the previous five seasons. They're 7-3 in 2012 with two games remaining plus their bowl, so ten wins is actually still possible. They've also done all this despite having three different coaches since 2006, as they're becoming a popular team to poach from. With their facilities and conference alignment, it's unlikely that Cinci can make themselves any more appealing for a coach to remain at for more of a career. Yet again, they win games. Crazy!
Let's hit even closer to our hearts. The Wildcats are no football powerhouse, to be sure. There are some who feel they've never truly fit in the Big Ten, what with their snooty, private school image, low enrollment (around 8,000) and smallest-in-the-Big-Ten football stadium (47,000). And yet, Coach "Fitz" has the Wildcats knocking on the door of a -- brace yourself -- ten win season. They are 8-3 this year with Illinois and a bowl game remaining. Sure, they turn back into the Mildcats come bowl season (haven't won a bowl in over 60 years), but they fact remains, they're seemingly always bowl eligible anymore (six straight years and nine of the last ten) and Fitzgerald has won at least eight games three times in his seven seasons. Not incredible, I realize, but not shabby, either.
Fitzgerald is a good comparison in another way, too, in that he has only had one bad season in Evanston, which was his first one, when he went 4-8. Every single other season he's had has been a bowl eligible season. Legendary success? No. But putting them in a position where a few breaks gets them into a conference title game or a top tier bowl? It certainly improves the odds, let's leave it at that.
My final example is the Cardinal, a proud school with high academic standards that has managed to become a power player in the Pac 12. Standford has had a lot of mediocrity in their history -- more than Purdue, some might conclude. And yet, with the right coach (Jim Harbaugh), they quickly built a program that not only wins, it wins huge.
Stanford is about to have its third straight double-digit win season, assuming they can either beat UCLA or their bowl opponent. They're also going to play their fifth top-15 team this season, and they've already beaten #1 (Oregon, last weekend), #2 (USC, September 15) and #13 (Oregon State, two weeks ago), while very nearly beating current #1 Notre Dame in South Bend on October 13. That, my friends, is a program on the rise.
--------------------------------------------------------
In closing, I'd like to say once again that I do not want to hear it cannot be done. It can be done, my fellow Boilermakers. It can and it should be done. I realize these aren't all perfect apples-to-apples comparisons -- that's why I provided five of them. These are programs that for whatever reason have the odds stacked against them in today's college football landscape, yet find creative ways to be successful -- some to extreme levels that even dreamy fans probably didn't dream of.
At Purdue, we want swagger back. We want excitement back. We want players and coaches who want to be here and who aren't interested in excuses. We want to see effort, preparation and creativity. You provide those ingredients and the fans will show -- as they have before -- that they will come into Ross-Ade and make even that marginal stadium a true home field advantage.
Make it happen, Purdue. We're all ready.