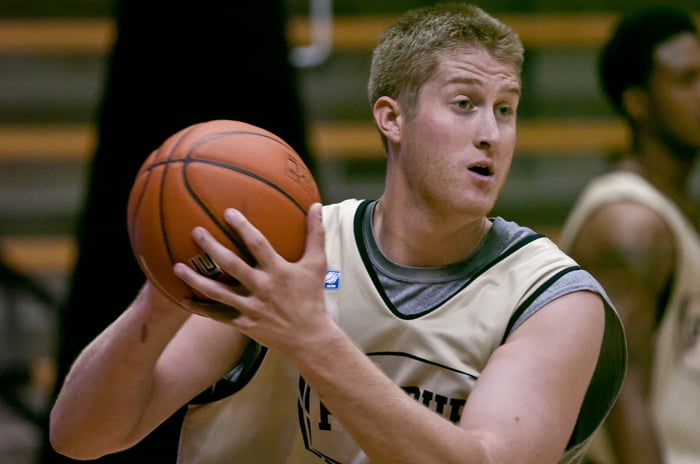 The Boilermakers played bipolar halves tonight against the North Carolina-Wilmington Seahawks. Purdue went into the half with a 28-29 lead following a late Terone buzzer beater.

In the second half the Matt Painter halftime talk must have prevailed again.  The defense was sharper, the fouls were less crucial and the Boilermakers were actually running an offense, strange I know. Matty's boys were able to hold UNCW to just 12 second half points to win 66-40.

The first half was a definite struggle.

Purdue started off hot opening up a 15-4 lead early, then the Seahawks started making baskets. It's obvious he is still tweaking his line-ups and trying to find what's best for the team.

Coming out of the half the Boilermakers and the Mackey Arena crowd were greeted with a technical on Jacob Lawson.  Unlike the MSG screwing, this one looked legit, although I haven't seen a replay of it. That was the first time the crowd really got into it inside Mackey, note the students did not have tickets to this one.  Lucky for the three blind mice, they called a similar call on UNCW for swinging his elbows at DJ.  That's when the Boilers started rolling.

Let's start with the positives.

Travis Carroll played like a division one player tonight.  Although he made a lot of defensive mistakes, he had 10 points going 4-4 from the field and four boards, some productive minutes for a guy that hasn't shown much promise.

Terone was wet from three again in this one.  He was 3-3 from range scoring 19 points, 4 rebounds, 2 assists and a steal.  He was the life of the offense all night.  His driving was productive and you can tell this team is going to look to him to put the points on the board on a consistent basis.

Raphael Davis only played 8 minutes in this one but made the most of it scoring six points and didn't miss from the field or the stripe. I would like to see him get more involved offensively, especially when Anthony Johnson isn't being productive.

A big positive of the night was from the stripe.  So far this season the Boilermakers are shooting 58 percent from the line.  Tonight they shot 83 percent from the charity stripe.  If this can stay continue to improve, we are likely to win some of those close games.

Now a few improvements that need to be made in order to be successful.

First off, Purdue needs to discover who they are.  They need to come up with how they are going to play ball and decide what they are going to be.

Turnovers need to be limited, but this will come in time.

Hammons is just a freshman, so I will cut him some slack.  I really like what I see from him, but I just wish he would realize how tall he actually is.  Sometimes I think he forgets he's a 7'0" monster in the paint.  He only pulled down five boards tonight.  He also needs to work on moving his feet defensively, but this isn't just for Hammons this is for all the big guys.  The big men are definitely the weakness of the team right now, other than Hale and Lawson who have both shown flashes of brilliance this season, Purdue hasn't seen a consistent big man yet. I'm just worried come B1G season our 5 spot is going to get handled on the block.

One thing this team is lacking is a three point shooter.  Sure, DJ Byrd has been known to light it up from beyond the arc, but once again tonight he had a quiet showing and made all but 3 of his 10 points tonight from the charity stripe. This season the Boilermakers are only shooting 25 percent from beyond the arc.  Either they need to quit taking so many threes or start hitting.  4-13 from beyond the arc isn't going to get it done usually.

Overall this team is still growing and developing and I still believe they will make some noise within the conference again this season.  They have all the makings of a high caliber squad, it's just going to take time to mesh and get into a rhythm.  Once this team comes together and discovers who they are, watch out!