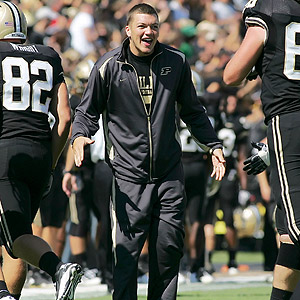 The Purdue Boilermaker football players laid it all out on the field today in a close 20 to 17 effort.
The Boilers never stopped fighting but like so many times before, came up just short in
South Bend
.
Robert Marve didn't get the start but was the difference in the game that kept the Boilers in it.
Marve was 11-18 for 119 yards and a touchdown pass.
Marve was the one moving the offense until going down with an injury at the end of the game, details still not known on his status.
Terbush went 8-19 for 79 yards, one touchdown and threw two interceptions, one of which was during a late Hail Mary attempt.
Unfortunately the story of this loss isn't going to be how great Notre Dame is, but how horrible some of the coaching decisions were for the Boilermakers.
After finishing the half with a 13 play 58 yard touchdown drive to tie the game, Robert Marve was benched in favor for Caleb Terbush whose best first half drive was a 13 play 58 yard drive that ended in a punt.
The fact of the matter is, Marve was leading the team and had the momentum, why bench him now?
It was a questionable decision that very well could have changed the entire landscape of the game. Sometimes I feel like Purdue has a coach that doesn't think about anything but his game plan.
Sure, the game plan is something to follow, but if something new is working, why change it?
It's like banging your head against a sharp point multiple times and saying, "Next time this isn't going to bleed, I'm going with my game plan."
Danny Hope has no idea what is going on out on the field and I'm beginning to think it might be time for him to go.
Does he deserve another chance? Probably, but after countless numbers of dumb decisions, what's the point of even "Hoping" anymore?
------------------------------------------------------------------ 
Complete coverage of Purdue-Notre Dame coming this evening.