HAMMONS BULLIES PENN STATE, THE BOILERS ARE BACK IN MARCH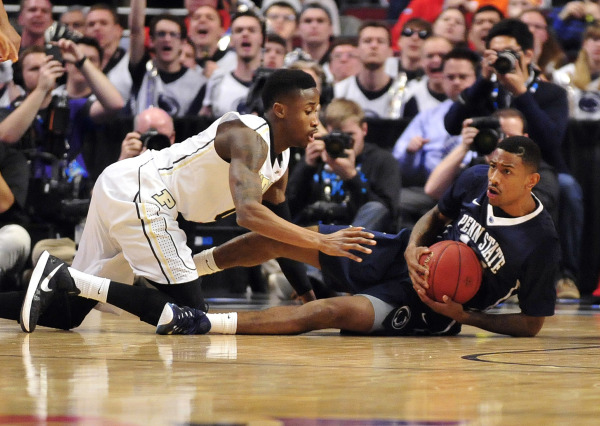 Starters: Jon Octeus, Dakota Mathias, Ray Davis, Vince Edwards, AJ HammonsFinishers: Rebounding, Passing, Defense, Shooting, BEASTING.
What happened?
RYAN. KERRIGAN. IS. GOING. TO. BE. IN. SHARKNADO. 3.
NOTHING ELSE MATTERS.
H O L Y  H E L L .
Oh, you're here for the basketball game. Huh. Ok then.
Purdue beat the Penn State Fightin' DJ Newbills in the third round of the Big Ten Tourney, 64-59. In natural Boilermaker fashion, it was a heart-straining come from behind victory that (hopefully) locked Purdue's spot in the NCAA Tournament…and a matchup with Wisconsin in the Big Ten Tournament semifinals on Saturday at noon CST.
---
I'll recap the actual game stuff in the Good/Bad/Ugly. But there are way more important (non-Sharknado) things to talk about right now.
1090.
One thousand ninety days. Two years, eleven months, and twenty three days. 155 weeks, 26,160 hours, 1,569,600 minutes, 94,176,000 seconds.
That's how long it's been since March 18, 2012. That's how long it's been since our Boilermakers were a nationally relevant basketball team.
From March 18, 2012 until, officially, March 13, 2015, the Boilermakers were barely a blip on the radar. If national media would ever talk about Purdue, it would be to gloss over how they wish AJ Hammons cared more about basketball, or how Matt Painter got lucky with the Baby Boilers and wasn't a great coach, or how Purdue's entire coaching staff missed on a handful of high-profile recruits.
1090 days since Robbie Hummel almost willed Purdue to an upset of the eventual runner-up Kansas Jayhawks.
The Boilermakers were 8-5 on December 30, 2014, and it looked like a) AJ Hammons would never get to play a meaningful game in March, and b) Matt Painter needed to polish his CV up. The pitchforks were out, and for good reason. Disappointing losses against Kansas State and Vanderbilt and mind-numbingly awful home losses against North Florida and Gardner-Webb threatened to send Purdue into a basketball apocalypse, and it didn't seem like the Good Guys had what it took to become a positive national story.
Fast forward three months, and the Boilermakers are sitting 21-11 heading into the Big Ten Tournament Semifinals. Rapheal Davis was named the Big Ten Defensive Player of the Year, with AJ Hammons the runner up. Hammons made All-Big Ten Second Team, with Davis and Jon Octeus getting honorable mentions. Their calling card is defense and post play. Players are diving in to press row for loose balls. They're as close to a tournament lock as you can get.
And, despite the heart attacks, it's unbelievably easy to fall in love with this team.
AJ Hammons carried this team to their first Big Ten Tourney win since 2012, and the first semifinals appearance since 2010. Matt Painter's job is safe. And Purdue is back to playing meaningful games in March.
This is the best.
The game was over when…
...a Ray Davis free throw gave Purdue a 5 point lead with 3 seconds left. But, looking back on it, the Mathias-to-Hammons lob I have GIF'd below was the killer.
The Good:
AJ Hammons was an absolute monster tonight. 23 points on 7-10 shooting, 9-11 from the free throw line, 9 rebounds, 4 blocks and only 1 turnover and 1 foul. AJ dominated the paint on both ends of the floor, and altered more shots at the rim than I could count. He had a few moments where he could have gotten deeper post position or fought for rebounds a little more, but bah humbug. AJ is the freaking best. I'll never be accused of overlooking AJ while he's playing in a Purdue jersey, especially while he's pulling stuff like this:
DJ Newbill was an incredible college player, and it's a true pity that we never got to see him unleashed during March Madness. That dude has an unbelievably quick release, great ball-handling skills, has good court vision, and can put a team on his shoulders with ease. It was amazing to watch him for three years at Penn State, and I hope the Nittany Lions fans appreciated him enough while he was in State College. 19 points on 6-18 shooting, 3-5 from three, 4-6 from the line, 4 rebounds, 3 assists and 1 steal in his final collegiate appearance. Check out the picture below to see how he willed Penn State to the brink of a win…he's incredible, and I'll miss watching him play college ball.
The chemistry between AJ Hammons and Dakota Mathias is real and incredible.
Purdue's 13-0 run, from the 9 minute mark in the second half until there were 40 seconds left to play. The defensive rotations were great, and the offensive focus was back to being sharp. DJ Newbill almost stole the game back in the final 40 seconds, but this run was the entire victory.
The annual "Let's praise Vince Edwards' one good half" bullet point is back! Today it was the second half, where Vince had 7 points, 3-4 from the field, 2 rebounds, 2 assists, and 1 block in 18 second half minutes. Not a ton of impact in any one category, but his presence was felt everywhere. He was decent defensively (though he got absolutely burned a few times), but AJ and Vince were instrumental during Purdue's comeback run.
Jon Octeus crashing the offensive glass. Like I've been saying all season, he's clearly being told to crash hard every time any shot goes up in any situation. With 4 minutes left, Purdue was up 5 and forced Penn State's third and final turnover of the night. Ray Davis got a very good three point look (set up by AJ), but missed. Octeus snagged the offensive board, and Purdue wasted 30 more valuable seconds before Mathias missed a three. Guess who grabbed the rebound? Doc Oc, with his eight arms and robotic legs. Octeus Prime would go on to ice the game from the free throw line, and continues to be the saving grace for this Purdue season (and Matty's job!).
This set:
The Bad:
Twitter. Especially when AJ Hammons is carrying this team to the Big Ten Tourney semifinals and people constantly complain about the few times he's in the wrong spots. This team is fun. AJ is awesome. Get over yourself. *end rant*
Purdue, as a team, came up with zero steals and only forced Penn State into 3 total turnovers. Purdue clamped down during the middle of the second half and went on a 13-0 run, but the defense showed up and keyed the sequence to win this game.
SPOTTING THE OPPOSING TEAM A HUGE LEAD. Does this team want to kill me? We all might want to have our cardiologists know when Purdue is playing these single elimination games, just so that they have defibrillators ready.
The Ugly:
Purdue's first half offensively. Players not named Hammons went 5-17 from the field, with Ray Davis being the only other player to show up (and he was an foul trouble pretty early in the half). The Boilers can't afford a bad stretch like this against Wisconsin, or any other tourney team for that matter.
My face, after Ross Travis did this to AJ Hammons:
Purdue's bench today. Check out the box score below. Haas was neutral at best, and Kendall wasn't as bad as his line looks…but he wasn't good, either. The only silver lining to The Kid's play today was his only field goal: a three right before halftime, that cut Penn State's lead to 5 and was a huge emotional boost heading into halftime. Basil gave a few good defensive minutes against Newbill and Geno Thorpe, but was a non-factor everywhere else.
Moving Picture Thingy of the Night:
RIP, press row: http://t.co/k7lpvJKcw0 https://t.co/XwiUNDFsJj

— Land-Grant Holy Land (@Landgrant33) March 13, 2015
(RIP Gregg Doyel)
It was an emotional final exit for D.J. Newbill. Good luck to one of my favorite #B1G players. http://t.co/9iNRA8bV5o

— Brent Yarina (@BTNBrentYarina) March 13, 2015
(DJ Newbill is the best.)
Tweet of the night:
A thousand words. Incredible photos from the AP. pic.twitter.com/V78MjWXRFz

— Garrett Ross (@garrett_ross) March 13, 2015
The Captains.