Sometimes You Get Lucky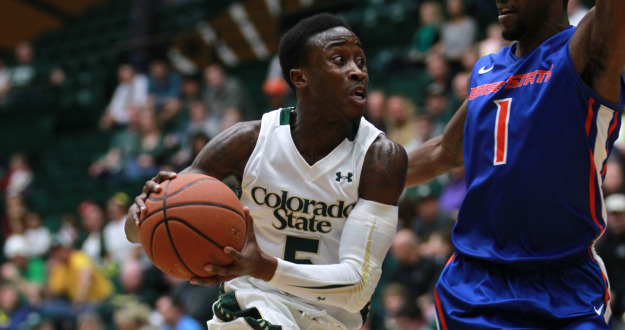 There's a lot to be excited about with this year's Purdue team. AJ Hammons is back and poised to become the focal point of both the offense and the defense. Last year's freshmen have matured into sophomore leaders. The incoming freshman class is talented and hard-working. A difficult situation was jettisoned. Yet of course, there were plenty of questions that accompanied that positivity. The two main causes for caution were 1.) Can AJ Hammons bring it every game, every time down the court, and 2.) Who is going to play point guard for Purdue?
While #1 remains to be proven, the answer for #2 was answered in part Wednesday when Colorado State combo guard Jon Octeus announced that he was enrolling at Purdue, and would be eligible immediately to play. A talented player at a position of need fell right into Purdue's lap at the last possible second. Can't script it better than that.
It can't be overemphasized how important the point guard position is going to be this season. Purdue has struggled since the departure of Lewis Jackson with getting the right personnel in that position. Ronnie Johnson was thrust into the role of starting point guard as a freshman, which was more a function of necessity than anything else. He wasn't ready, but Matt Painter had no choice. The Ronnie Johnson experiment lasted two years before his beneficial-on-both-sides parting last spring.
Which left returning sophomore Bryson Scott and incoming freshman PJ Thompson as the point guards on the roster. Both are 4-year contributor-type talents, but both had yet to prove that they could be that floor general. Scott proved his defensive prowess last year, as he lead Purdue in steals and was generally a pain-in-the-ass on defense, but under duress last year he often reverted to a style of play reminiscent of his high school days - putting his head down and attacking the basket, come hell or high water. While he can at times be effective doing that, Purdue can't. He's acknowledged that this is a learning process for him, and while one would be wise to put their faith in one of the hardest workers on Purdue's roster, it's a question that hasn't been definitively answered yet. Thompson was a late addition to the Purdue squad last spring; his physical traits (lack of size and athleticism) caused many high majors to take a pass on offering him, but his secondary basketball characteristics (leadership, attitude) combined with a set of skills that were unfairly overlooked made him a smart offer for Painter and his staff. He's the type of player who will win some games for Purdue over the next four years, but relying on true freshmen is usually a losing bet.
Which is why getting Jon Octeus is such a significant move. Right off the bat, you're getting a guy at a leadership position who has a great deal of basketball experience. Perhaps just as importantly, he has NCAA Tournament experience, having played for Colorado State when they knocked off Missouri before eventually losing to #1 seed Louisville during the 2012-13 season. Last season Octeus averaged 13.4 points, 2.3 assists, and only 1.2 turnovers a game, while playing 33.6 minutes a game. That's one whole turnover less a game averaged than Purdue's starting point guard last season.
The biggest concern with transfers - especially late additions like Octeus - is always how the new personality is going to fit within an existing locker room environment. From all accounts, Octeus is a mature, intelligent player who should be an asset to the team's chemistry - when he left Colorado State, he former head coach released a statement saying, in part, "More than just a talented player, he is a leader and a person of character." I'm absolutely confident that understanding his personality and character was an important part of the vetting process for Purdue's staff. 
The fact that he was even available was due to his admission to a graduate program at UCLA falling through. He announced that he was leaving Colorado State on June 2nd, and on June 27th, it was announced that he would be attending UCLA. A whole 80 days later UCLA notified him that the graduate program to which he had applied had denied his admission, leaving him high and dry in the middle of September with no school to attend and the season right around the corner. Some have express concern that we're admitting a student that couldn't get in elsewhere, but you have to remember that graduate programs work much differently than admission to a university as an undergraduate. Each graduate program sets its own standards for admission, and if he didn't meet the requirements, then they could deny him (and graduate programs work with the athletic department far less on issues like this). I'm confident that Purdue was able to work with Octeus to find the right graduate program for him while keeping their academic integrity intact.
It's so late into the preseason that I strongly doubt that we'll see Octeus in the starting line up in November. However, he was projected to be one of the best returning point guards in the Mountain West Conference for a reason, and it wouldn't be unrealistic to expect to see him starting by the beginning of Big 10 season. It took Sterling Carter a while to get up to speed at Purdue last year, but once he did, he was a great contributor until his ACL injury sidelined him for the rest of the season. I don't think it's unreasonable to expect to see the same trajectory with Octeus.
All in all, this is a great pick up for Matt Painter and his staff, with the potential to make a huge impact, provided Octeus is able to come up to speed on Purdue's system and he meshes well with him teammates. Welcome to the family, Jon.