The players have sounded unanimous in their buying in and excitement around Coach Hazell's ethic, approach, and direction. Camp gets going now and I am hopeful that the players continue to buy in even if things get a little harder. It's always easy to be excited by what a guy says and the new materials he puts up on the walls in the football offices, but when he begins to demand more from you on the field, well, that's when the men are separated from those who don't want to work hard.
Sean Morrison has an article up today on some of the storylines going into camp for the Boilers and Hazell and it's right on the money.
More on what to think about going into camp, after the jump...
QBs
The quarterback battle is one we're excited to watch, just as Coach Hazell sounds to be. And I know I will be supportive of either guy. We made no secret of the fact that we preferred Robert Marve as the starter from the moment he stepped onto Purdue's campus (and hurt his ACL in that step - *rim shot*). We never were anti-Caleb guys, but we didn't think he gave the Boilers as good a chance of winning. Regardless, though, as you all know, we were pulling out what little hair we have left as Danny Hope and Gary Nord endlessly and aimlessly shuffled quarterbacks in and out. In fact, the shuffles was so maddening, it often felt as though they were doing to troll us all. You ever play a video football game with a ten year old and he does stuff like changing quarterbacks in the middle of a series or just to be annoying? Yeah, that was the previous regime.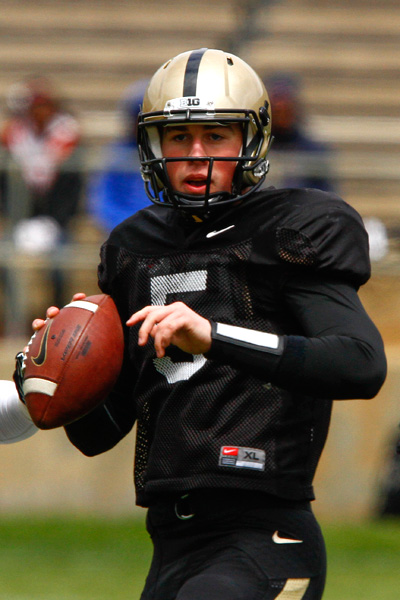 Coach Hazell has stated flatly that there will not be a "rotating door" at QB. This makes me want to hug him.
What there will be, though, is an honest to goodness competition. Maybe one of the guys is already further ahead in the lead -- but why let him think that? Why not let the young guy push the old stalwart? Or let the experienced leader keep lighting a fire under the ass of the upstart kid? I have zero problem with this -- this is the perfect time to be doing that. And as Coach Hazell said, two weeks before the Cinci game, we'll have a starter named. Hallelujah.
There are also reports that both Etling and Henry really are big fans of OC John Shoop and that they've already improved from his tutelage in the spring. I know there are Bears fans out there who hold the Bears' struggles from ten years ago against Shoop, but remember that this is a guy with NFL experience coaching college kids. And if they're reacting well to him, that's also a good thing. Also? He's not angry Gary Nord.
Injuries
Sure, injuries bit the Boilers hard in the last couple of years of Danny Hope's tenure, but that's always a risk. And when you're a Purdue or a Northwestern, for example, instead of an Ohio State or a Michigan, injuries hurt a lot more.
Remember that at a place like Columbus, the second and third string guys are no worse than 3 and 4 star level recruits. A guy gets hurt and you plug in the next guy like the football factory that it is. At Purdue, the 3 and 4 star guys need to play up a level in the Big Ten and they need to stay healthy, because if they get hurt, you're starting wideouts at RB and having a linebacker play QB. Less than ideal, shall we say.
Purdue's success with Drew Brees and Kyle Orton was because those guys and the men around them played above their expected talent level and they all stayed healthy. It's not that Purdue doesn't have the talent to compete in the Big Ten -- they absolutely do and they did under Danny Hope. It's getting all those guys to maximize what they have in the tank and to avoid bad breaks, like 16 ACL tears in a season. That sort of thing.
Defense Needs to Lead
Marginal offensive teams can be conference contenders. Look at the 2002 Ohio State team that won the national title. They were remarkably pedestrian on the offensive side of the ball, but had a good defense and a timely offense. Now, I'm not suggesting a national title is in the offing. This isn't Hammer & Rails, after all.
What I'm saying is that the defense absolutely has to lead. Whether it's Rob Henry or Danny Etling at QB (or Appleby, for that matter), it's not going to be an explosive offense. Let's just be honest about that. Rob Henry is capable of moving the offense but he's not a guy who's going to expose secondaries by throwing for 400 yards and four scores. And even though Etling may ultimately have the tools to do things like that, he's a freshman, so it's not reasonable to expect it.
No, what we need to see as Purdue fans is the defense clamp down. And it's reasonable to expect, too. This is an experienced unit led by guys like Bruce Gaston and Ricardo Allen. If Ricardo were to ever become a national presence, this is the season to do it. He's a senior, he's experienced and if he becomes that guy then the Boilermakers will be surprising some people.
Focus
Reducing mental errors and a lack of focus is something I'm already confident that Coach Hazell will do. Danny Hope's last two teams went 6-6 each year but gave away several games due to their inability to close and, frankly, just by being careless. Really, this was something that happened from the very start with Hope, going back to the 2009 games against Oregon and Notre Dame. We detailed before all the giveaways and Hope-ish games. If you eliminate even half of those collapses and shoes-tied-together trip-and-falls, and Danny Hope is still your coach. So hey, be careful what you wish for.
Coach Hazell is a smart man and has clearly seen that these are issues. He spoke with Rittenberg last week and continued to strengthen our support of him and his approach. He talked about the importance of not turning the ball over, playing "smart" and "know when to pull off when it's time to pull off." I think that's an interesting choice of words and not your typical media day cliche -- I take it to mean he's talking about being smart and not forcing things. Not trying to thread the needle in the end zone in triple coverage, that sort of thing. That, of course, means playing without desperation and having the confidence that your D can make a stop and your O can get back into position again. I dare say we did not have such confidence in this squad in recent years. (Incidentally, you could also tell Rittenberg and Hazell go back a bit from when Hazell was an assistant at OSU. Nice give and take between them.)
"We're all hungry to be successful at Purdue." -- Darrell Hazell
That's a good thing to hear and it's a lot better than being told to temper expectations or that we're going to build something. Sure, both of those things might be appropriate for 2013, but why not just take it on and admit what we all know? We're all hungry. Players, coaches, students and alumni.
More to come. Stay hungry.