Badgers edge out Boilers, 62-55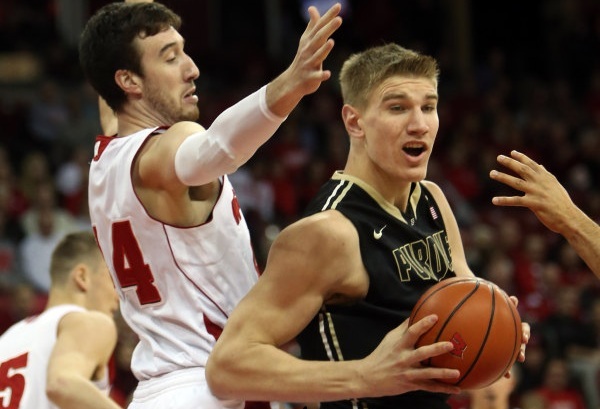 Starters: Jon Octeus, Ray Davis, Kendall Stephens, Vince Edwards, Isaac HaasFinishers: Jon Octeus, Ray Davis, Kendall Stephens, Vince Edwards, AJ Hammons
What happened?
Like clockwork, Matt Painter got his team ready to play for the away Wisconsin game…only it wasn't enough, as Purdue fell to Wisconsin in the Kohl Center, 62-55.
So, I'm not going to lie, I definitely thought this would be an absolute blowout. Wisconsin has some extremely deadly shooters, and Purdue…let's just say we're not stellar at staying home on perimeter shooters. Wisconsin has an All-American big in Frank Kaminsky, and Purdue's bigs struggle defensively when they're taken out of the paint. Wisconsin has the best defensive rebounding percentage in the country (grabbing 81% of the available DRBs), possibly neutralizing Purdue's very good offensive rebounding rate (37%, 18th in the country).
This really had all the makings of a perimeter-oriented blowout. But Matty brought some creativity to Madison.
The most unexpected part of the game plan was the way Purdue attacked Frank "The MF'ing Tank" Kaminsky. Instead of overpowering him with one of Purdue's bigs (and running the risk of being burned along the perimeter), Purdue almost exclusively had Vince Edwards or Basil Smotherman draped on Frank. He tried to maximize the height advantage by nearly exclusively working out of the post, but Vince would aggressively deny the entry pass (either by fronting him or using his length). And the instant Frank found himself with the ball, two strong-side perimeter defenders would crash down and make life tough.
This strategy freed up AJ Hammons and Isaac Haas to guard Nigel Hayes, a very underrated contributor for the Badgers. He feeds off energy plays, has a real talents getting looks at the rim, knows how to get to the free throw line, and is incredibly strong for his 6'7" frame. Today, he was held to 7 points on 1-5 shooting, so that part of the plan worked.
It was also a very quiet night for potential lottery pick Sam Dekker, who had Ray Davis to deal with for most of the night. 6 points on 2-7 shooting...chalk that up as a mini-victory, as some aggressive shading as Dekker rolled off some off-ball screens denied him even touching the ball. But he did score his 1,000th career point like this, so...uhh...maybe he wins.
Unfortunately for Purdue, Josh Gasser and Traevon Jackson picked up the slack, combining for 28 points while shooting 9-15 from the field. They have been great for Wisconsin in the past, but now that this team is in the spotlight, I think the whole country is going to learn that these stellar role players are vital to what keeps the Badgers rolling.
On Purdue's end, it was a solid night from both bigs, who established themselves early. But, as ridiculous as it might sound, I don't think 17 shots was enough between Hammons and Haas. It takes a lot of energy to run a creative play producing an effective post-entry pass, and Purdue seemed to get tired of that in the second half (12 combined shots in the first half, 5 in the second). I really do think that's where this game slipped away, and you really hope Purdue brings that thought back to Mackey Arena when they play Maryland.
What's that? You think they can beat Maryland, the by-default second best team in the Big Ten? ME TOO LET'S DO THIS UPSET SPECIAL AJ AND ISAAC COMBINE FOR 69 POINTS AND 69 REBOUNDS.
SEE YOU ON SATURDAY.
The game was over when…
…Traevon Jackson hit a cold-blooded free throw line jumper with 1:50 to play, putting Wisconsin up 49-56. Purdue was forced to play the foul game, and couldn't get Stephens free for a clean three point look. Wisky made their free throws because they're the 4th best team in the country, and iced the game.
The Good: (No GIF session today…real life is getting in the way of important stuff, like basketball)
Frank Kaminsky. The Tank is so good. The Tank is so fun to watch. The Tank is where basketball is evolving…extremely skilled big men with a shooter's touch, great rebounding instincts, plus-defender, and the ability to will a crunch-time basket through the hoop. Even though he was initially slowed by Purdue's aggressive defense, he somehow still ended up with 21 points on only 9 shots, while also blocking the everloving life out of Haas with 3 minutes to play. Mark my words…somehow, he'll have a stellar season but Wisconsin won't get through Kentucky or Duke, he'll slip in the draft because of some workout nonsense, the other 29 NBA teams will fall asleep and somehow he'll end up on the Spurs. This is destiny. (That, or the Spurs East picks him up. I'm looking at you, Atlanta.)
HAMMONS AND HAAS, MAKING STRONG MOVES ON THE BLOCK. AJ's touch faded as the game went on, but they opened the game going right at Frank. The first half was a lot of fun for Purdue fans, as we saw our two beasts unafraid of the (possibly) best collegiate player in the country.
His Royal Highness Vince Edwards, with the best 4 point, 5 rebound, 4 assist game you'll see. He remains Purdue's most versatile player, evidenced by his defense on Frank all night, hustling for some play-extending offensive rebounds, two hockey-assists (that I counted), and some great three point looks that went halfway in but rattled out. I know I'm biased, and I know he was a non-factor down the stretch…but I chalk this up more to scheme than his "assertiveness" or whatever. Seriously, how do we not run the non-AJ/Haas offense exclusively though Vince? I want a starting lineup of Vince, Vince, Vince, Stephens, and Hammons. With Davis and Haas as the only subs. And another Vince.
Octeus' 8 rebounds and (kind of garbage-time fueled) 15 points on 7-9 shooting.
This interview with AJ before the game. Seriously, watch that and tell me that dude is a "head case", or "lazy" or "stupid" or whatever else people want to label him. He's smiling the whole time, is quick to admit his faults, knows where he has to grow, and loves talking about his teammates. AJ is the best.
The Bad:
Copy editor needed at #BTN. @BoiledSports #BoilerUp pic.twitter.com/NaljuJCZXo

— Elise Brown (@browne61) January 8, 2015
There were some really costly perimeter defensive lapses that allowed Wisconsin to build some momentum, particularly when Purdue was just starting to pull away.
Seth Davis. Seth freaking Davis.
AJ's foul with 1 second left in the first half. Those two free points gave Wisconsin the lead going in to halftime.
That one flagrant, seemingly every single game, where Haas stays high while posting up and his defender will go low to leverage him off the block. Instead of going lower, Haas will swing his tree-trunk elbows and clock someone in the head. The fact that tonight's flagrant wasn't really malicious is beside the point…this would be eliminated if Haas learned from his first dozen mistakes posted up lower.
It really didn't matter at all, but Octeus attacking the rim with 8 seconds to play after Traevon Jackson missed two free throws really bugged me, especially when Purdue was down 7. There's 8 seconds left to play, don't waste 7 of them driving to the hoop! Just chuck up a shot! And get off my lawn!
Wisconsin's bench.  
 The Ugly:
Isaac Haas started again, which isn't "ugly" as much as it is "weird". Don't get me wrong…Haas had a pretty good game today, particularly on the offensive end (11 points on 5/7 shooting). There are few people in the world with his combination of size, strength, and touch on the offensive end of the floor (and I'm including NBA players too). It's just…well, frankly, AJ has been just as good offensively, and is leagues ahead of Haas at defending the rim. The thing is, AJ is caught in somewhat of a catch-22. If he struggles off the bench, he deserves to come off the bench. But if AJ thrives, like he has for the last eight games, the coaching staff thinks that's just where he is best. I'm not really sure if starting even matters to AJ, considering he's still getting slightly more minutes than Haas and getting crunch-time minutes, but it's still a curious decision to me.
The free throw disparity. Let's talk about this. Purdue only shot 7 free throws all game (made 3 of 'em, so…yeah), while Wisconsin went 25-31 and essentially won the game from the line. The thing is, I'm not buying this whole "Madison whistle" thing. Wisconsin only allows 12.5 free throw attempts per game, the second-stingiest in the country. (And that was before tonight…I'm sure they'll grab the top spot once the numbers go through). Even last year, Wisconsin allowed only 15.2 FTA per game, again second fewest in the country. Meanwhile, Purdue allows 20.5 free throw attempts per game. Even after adjusting for Wisconsin's traditionally slow pace, the Badgers sit at 19.5 FTA/100 possessions, while Purdue is at 29.4 FTA/100 possessions. Though they had a few calls go their way in the first half, Wisconsin is just really good at defending without fouling and has been for the better part of four years now.
Apparently something about Bryson Scott has been ugly, as he's been on the DNP-CD list for two straight games now (and played a pretty ugly game against Minnesota before that). The Gardner-Webb semi-comeback seems like forever ago, where it looked like Bryson would send PJ Thompson to the bench until October 2015. Unfortunately, it looks like that's more likely for Bryson now. (DNP-CD = Did Not Play, Coach's Decision.) (duh)
Kendall Stephens with a bum ankle. This sucks, I want my gunner back.
Dakota Mathias trying to fill that Kid Stephens void. It's not working.
Moving Picture Thingy of the Night:
ISAAC AND AJ MATCHING DUNK ALERT.
Isaac Haas slams down a @BoilerBall dunk early in the second half against Wisconsin. http://t.co/zhFgG5EY7x

— Purdue on BTN (@BTN_Purdue) January 8, 2015
A.J. Hammons throws down a @BoilerBall dunk late in the game against Wisconsin. http://t.co/2jeGEA1O4e

— Purdue on BTN (@BTN_Purdue) January 8, 2015
Having two really good seven-footers is super fun.  
Winner of the Bobby Knight Look-Alike Contest:
apparently Wisconsin employs Bobby Knight as a trumpet player. who knew. pic.twitter.com/JEkvwPcyzc

— Aneesh Ramaswamy (@aneeshswamy) January 8, 2015
Tweet of the night:
Kind of scary to think where Purdue would be without late addition Jon Octeus. Definitely 0-3 in Big Ten play. He's been awesome.

— Beneath The Paint (@BeneathThePaint) January 8, 2015