'Makers Maul Michigan Men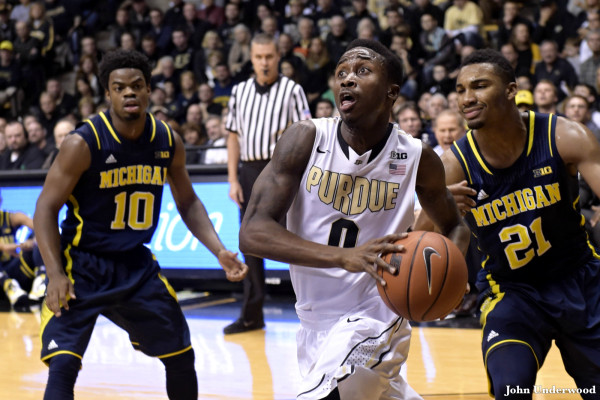 Surely Mr. Dickens won't mind an appropriation of a certain work of his, as it may be the best way to describe what happened on Saturday. Indeed, it was the best of times, it was the worst of times. Certainly a tale of two (halves).
From what has been thus far a winter of despair has reignited thoughts of a spring of hope. Purdue looked so good so early, perhaps too good, and certainly too early. The sluggish and inconsistent starts to the season by the likes of AJ Hammons and Kendall Stephens was ok; they were still contributing, but the newcomers were more than picking up the slack. It was, however, when things began regression to the mean that Purdue took its hits. Vandy was a 50/50 game, Notre Dame was a penciled-in loss, and Gardner-Webb was an embarrassment. The sweet start to the season gave way to a bitter taste in ones mouth after those three losses. What was this team to do?
Seth Davis - a commentator that generally speaking I'm not the biggest fan of - published his "Stock Report" column recently, where he takes a bunch of teams and does a Buy/Sell/Trade analysis with them. Surprisingly, one of those teams was Purdue, and surprisingly, his call was to buy. Davis might be a smirking blue-blood butt kisser, but he pays the bills by being an expert on college basketball.
That comment by Davis put some things in perspective regarding Purdue. The Boilers have been in the dumps for the last couple of years. The only thing worse than losing is feeling like you're never going to win again, and the last two incarnations of Purdue basketball didn't provide much hope in that regard. The last two seasons could best be likened to a kick in the nads for Purdue fans. So when Purdue went through a rough stretch in December, it was quite easy to go to a negative place.
But this team is really different; I truly believe that. I don't know how many more games they'll win this year, and it'll take a huge effort (along with some huge upsets) to get this team into the NCAA Tournament conversation. But what we've seen over the last few games is a singular focus; a will that won't allow the team to fold when things get tough. Something that pushes these young men to take some hits and fire back stronger, and more consistently. Last year at this time we were treated with an annoying / aggravating style of play (dribble, dribble, dribble, launch a terrible 20-footer, sulk). There was no reason to think things would get any better.
It all comes back to if you're not going to win, at least make your fans think that'll change in the future. Time will tell if winning becomes the new normal for the men's basketball team, but I'm fairly confident that hope is back.
---
Which brings us to the Michigan game. Purdue's opponents have been killing the Boilermakers from behind the 3-point line, and in the first half, Michigan was no exception. The second half was a much different story. Including a garbage buzzer beater, UM was 2-9 from distance in the second half, after going 6-11 in the first half. Some of that has to do with poor defense by Purdue; over-helping, mishandling screens, etc... but sometimes you just gotta acknowledge that the other team is hitting, and ride it out. And Purdue rode it out. Some of the leakier tendencies tightened up after halftime, and Michigan went cold. Purdue took advantage, before finally taking control and winning 64-51.
Things now get much harder for Purdue. The Boilers face Wisconsin, then Maryland, before facing Penn State, Illinois and Iowa ahead of the first match-up against IU. Fortunately, Purdue has nothing but positive momentum right now, and if they can challenge Wisky and Maryland and keep their composure, it should bode well for the rest of the season.
The NCAA Tournament is a long-shot, but if they are to have a chance, they gotta get to 20 wins, which means they have to finish 12-6 in the Big Ten. Here's how I see their best chance of hitting that mark:
Probably Losses (can go 0-5)
@Wisconsin Maryland @Indiana Ohio State @Ohio State
50/50 Games (need to go 8-1)
(W) Minnesota (W) Michigan @Illinois Iowa Indiana @Minnesota Nebraska @Michigan State Illinois
Must Win (need to go 4-0)
@Penn State @Northwestern @Rutgers Rutgers
On an non-Purdue note, longtime ESPN anchor Stuart Scott died today, following a seven year fight with cancer. Go read this excellent, touching tribute (and watch the videos) for him put together by ESPN. Cancer sucks, and I'm very sad to see him go.
Featured image from John Underwood