Spartans make it rain, beat Boilers 94-79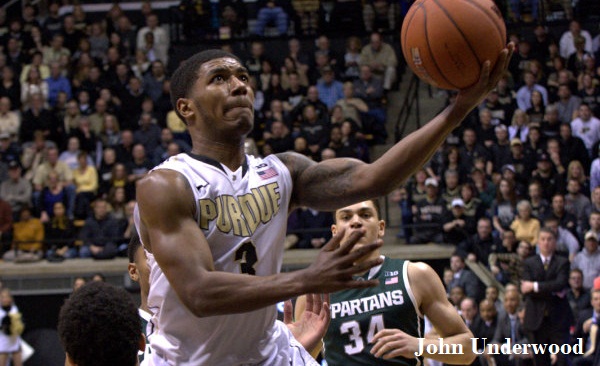 Michigan State hit an otherworldly, NBA Jam-esque hot streak from beyond the arc to beat Purdue in Mackey Arena, with a final score of 94-79. Before we look at the individual performances, let's take a look at a few numbers after the break.
13-19 (68%)
Michigan State's three point shooting in the first half of play. The first half. FIRST HALF.
1
The number of non-three pointers the Spartans hit in the first half. They attempted 3 two point field goals.
19 and 15
First half point totals by expected-2014 first round draft picks Gary Harris and Adreian Payne, respectively.
11:08
AJ Hammons sat for the final 11 minutes and 8 seconds of the first half.
11
Purdue was down by 11 at halftime. Remarkable, when you consider the previous numbers. The deficit was workable largely thanks to Kid Stephens' 15 first half points (3 three pointers and 6 free throws).
2
Number of #1 overall NBA picks honored by Purdue in the last week. Major props to Joe Barry Carroll and Glenn Robinson aka the original BIG DOG. Very well deserved.
7
The number of poor closeouts by Ray Davis and Bryson Scott on MSU's perimeter shooters (well, I only counted 7). Thankfully they weren't all made, but those two were particularly egregious perimeter defenders today.
9-10
Ray Davis' free throw shooting makes and attempts, mostly from relentlessly attacking the basket or finding himself in great passing lanes (RJ was great tonight) and getting fouled in the restricted area. Great offensive game by Ray D.
1-7
Terone Johnson's field goal shooting. Pair that with 1-3 from the line…yikes.
30
Days between TJ's last two made free throws. I love you, TJ, I still do…and I might be the only one……but good lord man.
25 and 23
Final point totals by expected-2014 first round draft picks Gary Harris and Adreian Payne, respectively.
39
Total points by Gary Harris and Travis Trice, both sons of Purdue basketball players.
49%, 50%
Purdue's shooting percentages tonight, from the field and from beyond the arc. Both numbers are well above the Boilers' average percentages, and any one of us would consider this a successful night at face value. 24-49 from the field, 7-14 from three, that's usually good enough to keep a Big Ten game close.
94
Total Michigan State points.
52
Total Michigan State shots. For those who aren't basketball nerds: that's an absurd shooting efficiency.
58%, 53%
Michigan State's shooting percentages from the field and from three point land, respectively. The Spartans finished 17-32 from beyond the arc.
10
Rows of empty seats seen at the top of the Paint Crew. Maybe this number is off (I'm only getting this off tweets/texts from inside Mackey)…but if it's not, it's the most disappointing number of the night. Feel free to correct this number if I'm wrong in the comments below.
As you could see, Purdue was fairly lucky to keep the game close for as long as they did. Tom Izzo was stunned at their first half barrage of three pointers, and though I'd like to say it was an anomaly, I can't shake off the fact that the Boilers did a very poor job contesting three point looks. Michigan State was constantly screening and flaring out beyond the arc, using pro-style movement to get three point looks. That might have been overkill, however, as Purdue seemed to allow shooters to rise up without raising a hand to contest. I tried to count the number of "hand down, man down" references on my Twitter timeline, but they flew by quicker than Gary Harris' shooting stroke.
Adreian Payne, as suspected, was an awful matchup for Purdue's lack of mobility in the frontcourt. Coach Painter started with both Jay Simpson and Hammons for the first time all year, and I'm sure it was in anticipation of Payne's skillset. Unfortunately for the home crowd, Payne took advantage of both defenders' weak suits. He swept across the perimeter while Hammons had his assignment, dragging Purdue's defensive anchor outside the paint and launching minimally-contested threes at a remarkable clip. When Simpson was on him, Payne bullied his way down low, taking advantage of the referees swallowing their whistles and Jay's mediocre-at-best defensive instincts. Payne made Purdue pay, and might use this game as his NBA audition tape to showcase his offensive versatility. Dominant performance in only 22 minutes of play.
Purdue's dual-big lineup of Simpson and Hammons was a little clunky to my eye, and it seemed to reduce the space Hammons had to work with, but there is some promise lurking beneath those choppy waves. If Simpson can hit that off-the-curl free throw line jumper with a little more consistency, he can be a devastating weapon to pair with AJ. Simpson has natural footwork in the post, great passing abilities, and a visually pleasing shooting stroke, so we could see this lineup a little more if he can stay on the court. And that, as always, is predicated on defensive production…which is where Simpson continues to be so unbelievably frustrating. I don't know how many more times I can compare his defensive footwork to a moose fording a river.
A few more quick hits:
Kid Stephens played his best game as a Boilermaker, finishing with 19 points on 4-5 from beyond the arc, didn't launch any stupid shots, used his length on defense to snag 3 steals, and sank 7-8 free throws. Great night for The Kid, and I hope we see this shooting a little more consistently.
RJ was on point. 17 points, 4 assists on 7-14 shooting. I feel like I'm glossing over his performance by putting it way down here…but he was great. Aggressive, attacked the basket, and only took three stupid shots (he made two of them, which contributes to the generally positive feelings I'm expressing right now). Next step: consistency.
AJ Hammons was sleepy, mostly due to first half foul trouble taking him out of the game. But still…very sleepy. Especially on the glass.
Bryson Scott was…..meh. Really meh. So meh. I might even be giving him too much credit with those meh's.
I'm not too crushed at this loss, mostly because we continued to fight in the face of otherworldly MSU shooting and we saw great things from RJ and Stephens. That, and I'm not sure there was a team in the country that could beat the Spartans when they're shooting like this…especially when they get Branden Dawson back. Purdue drops to 15-11, 5-8 in the Big Ten, and 8th in the Big Ten standings. Our final 5 games are @Neb, vsMich, @Iowa, @Wisky, vsNW. I only see one, mayyybe two wins left. Let's hope our guys can pull off a few surprises.
Purdue's next game is at Nebraskaa on Sunday, February 23 at 4:15pm. Nebraska has suddenly turned into a plucky, confident bunch who have won 6 of their last 7 games…don't even think about counting that as an automatic win anymore.