This is how a West Coast transfer cements himself in Purdue history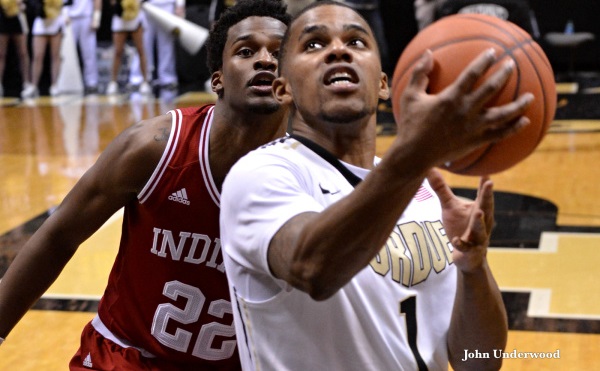 http://youtube.com/watch?v=Vw_l3FqRgVA
Sterling Carter wasn't highly recruited out of Franklin High School in Seattle, Washington. ESPN scouts graded him at 74/100, good for 245th at his position and not ranked in the Northwest region, or in the state of Washington. Rivals didn't even bother rating him.
He only received scholarships from the University of the Pacific, Eastern Washington, Montana, and Portland State.
Carter chose Pacific, where he was glued to the bench for his freshman year. He transferred to the University of Seattle, was eligible immediately, and was productive right away. His 2010-2011 season produced averages of 13.8 ppg, 3.3 rpg, and 1.9 apg in 27 minutes per game.
In 2011-2012, Carter's minutes were reduced to 22mpg. His averages dipped, all fairly proportional to his minute reduction. He was still producing at the same rate, but wasn't given the chance.
In 2012-2013, his minutes were reduced to 18mpg. His averages continued to dip. Seattle's Head Coach Cameron Dollar seemed to lose confidence in Carter, for some undisclosed reasons.
Carter graduated from the University of Seattle in 2013, but had another year of eligibility remaining. He was not welcome back. Again, undisclosed basketball reasons.
Again: Carter was clearly Seattle's most talented player. And they didn't want him back.
Fortunately, Matt Painter invited him to West Lafayette. Apparently he wasn't good enough for the mighty Seattle Redhawks, but was plenty fine for the Big Ten.
This past Saturday, Sterling Carter played in his first and only IU/Purdue rivalry game. He's not from the Midwest, like Errick Peck. He has no reason to understand the deeply-rooted Hoosier/Boilermaker basketball history.
19 points on 6-8 shooting. 5-6 from three, 2-2 free throws. 3 rebounds. 2 assists. 1 steal. Endless energy in 18 minutes of play. The heart and soul behind Purdue's 82-64 victory, and a season-long leader of this team.
That, my friends, is how you cement your place in basketball's heartland. Sterling Carter has his signature basketball moment, and will forever have a place in the Purdue family.
Not too shabby for a two-time cast-off. Carter's story goes to show how wrong basketball 'experts' can be sometimes. Now, if only Purdue can find a way to get him three more years of eligibility…….