The Great Purdue eBay Adventure
Hi. It's been a while, and I've missed you all dearly. This summer has brought some basketball and football recruiting news, demolished seats in Ross-Ade, the construction of a backyard patio setup in the south end zone, pictures of 7-foot centers looking hilariously massive, a quarterback contest that seemed to be won by default, a super entertaining alumni basketball game (marking 2011 World Champion Brian Cardinal's glorious return to the court), awful grass, and the addition of Michael Henry and all of his handsome glory to this fine establishment. Oh...and I decided to go back to grad school. I'll give you some hints: tremendous history of being decidedly mediocre, they might play Matty's squad in Hawaii this fall, gold in their uniforms, and they're known for letdowns when stuff gets real. *sigh* So, with all that to pick from, what do I decide to write about?
eBay. Duh.
Inspired by my favorite Bill Simmons running post over at Grantland, I decided to procrastinate real work by publishing my monthly scour of eBay's vault for vintage Purdue-related awesomeness. Here's what I found:
(All links are on the pictures.)
AWESOME JACKETS
1940's O'Shea Purdue Black Letter Sweater (M)

Amazing. Huge block P, an unnecessary amount of buttons, pockets, the perfect amount of Purdue Grandpa. I'm counting on one of you medium-sized humans to swipe up this gem.
80's Purdue Satin Jacket (WOW) (S)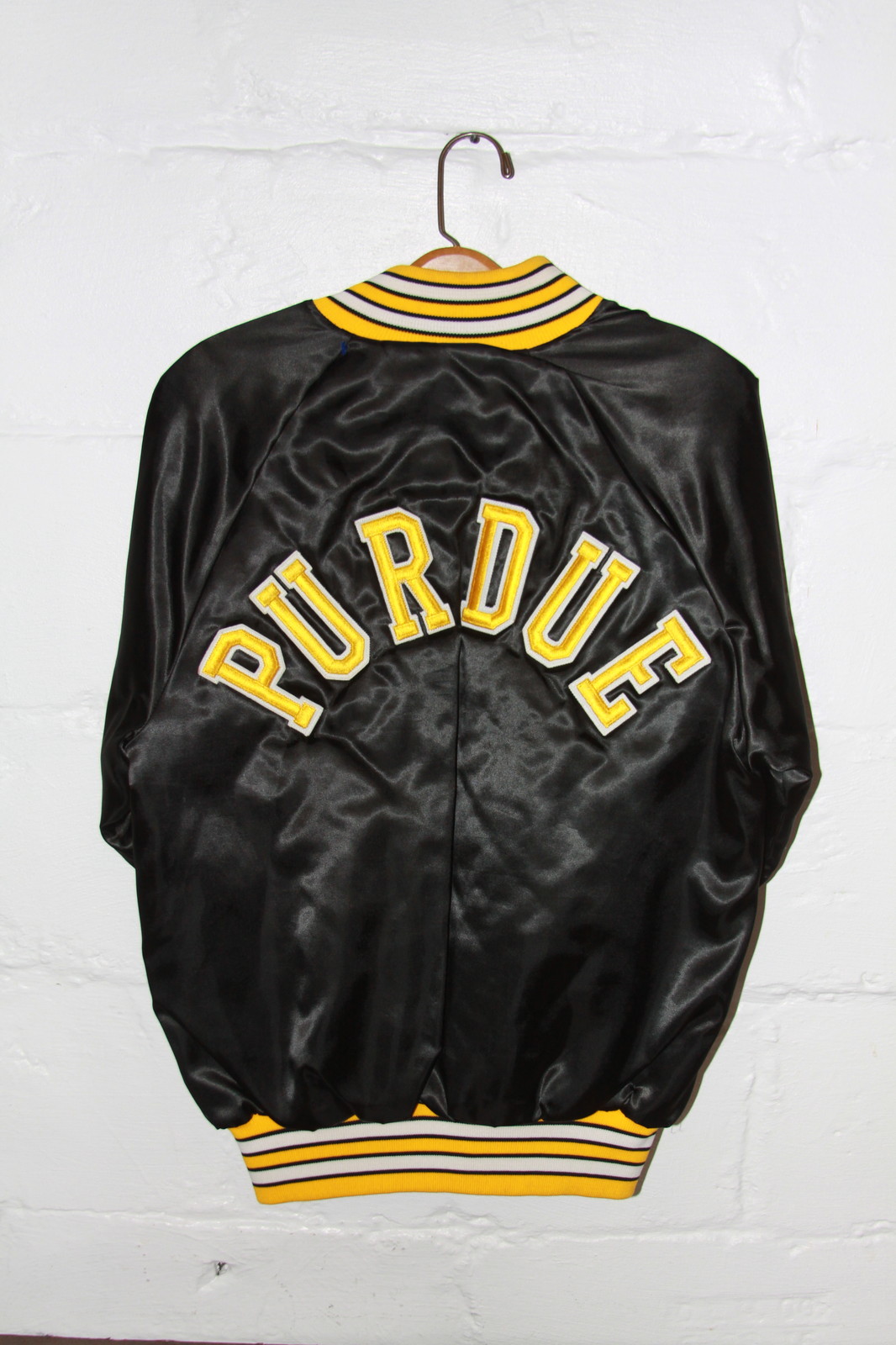 It takes balls to put "WOW" in the title to your post. But this is totally justified. It looks like it's lived in a basement for decades. Set this jacket free, for the love of everything. Set it free.
Vintage University of Purdue Agriculture Nylon Hartwell Jacket (L)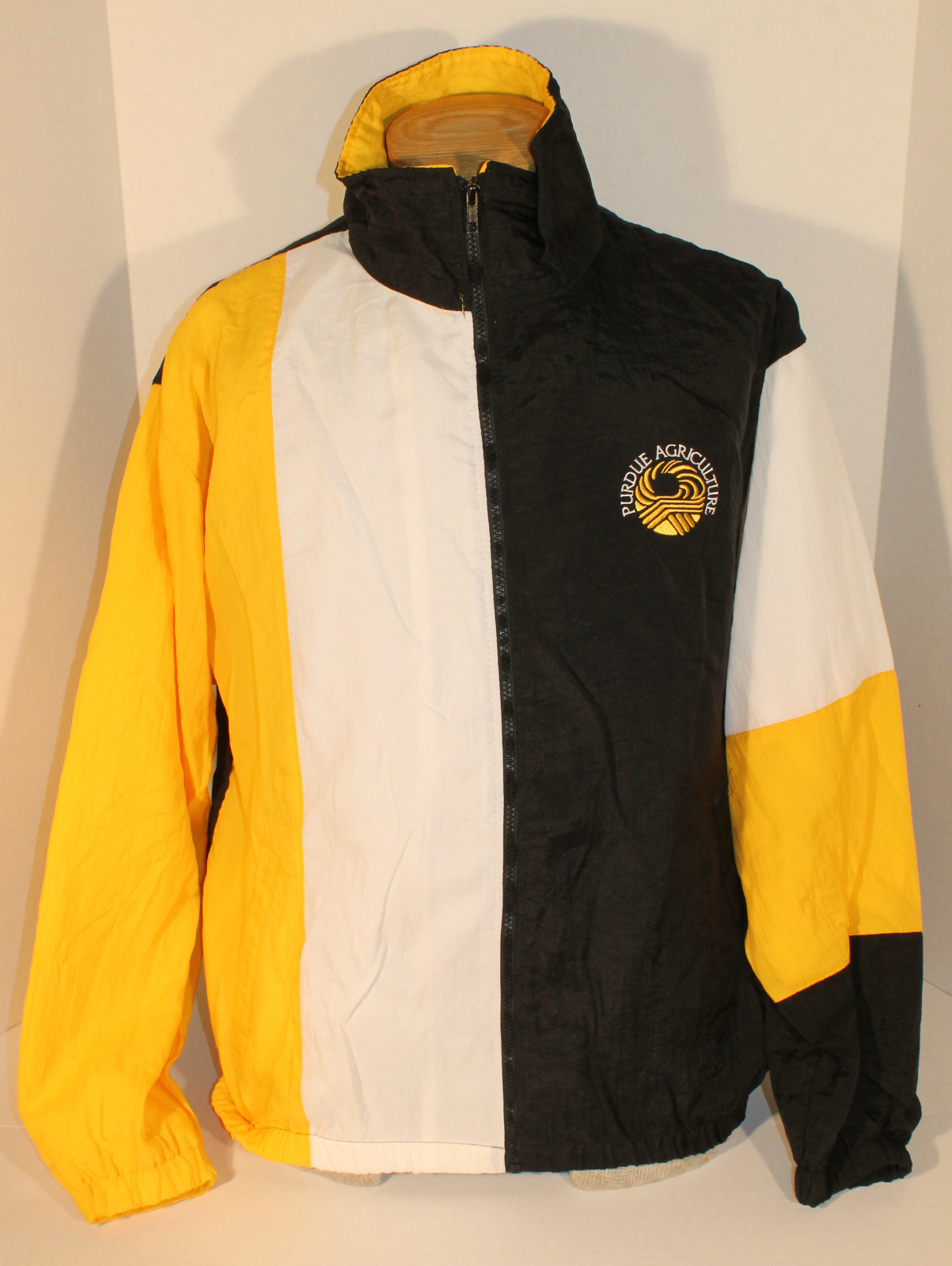 1) Labelled "University of Purdue". You know the seller is legit.
2) Purdue Ag. Giddyup.
3) That neck.
4) THE JACKET LOOKS LIKE A FLAG FOR THE UNITED STATES OF PURDUE.
Vintage Purdue Boilermakers Starter Jacket (L)

MY GOD YES. This is everything. This is my wildest dream. This is my ambition in life. Snow, rain, or wind? This Starter jacket. Look fresh while staying dry? This jacket. Paper or plastic? This jacket. I mean, look at the back.

HOW ARE YOU NOT RAPIDLY CLICKING BUY IF YOU'RE A LARGE INDIVIDUAL? You make bad life decisions, that's how.
UNINTENTIONALLY HILARIOUS
Lot of 14 Purdue buttons

The Good: Give the ball to Leroy. Lion fountain Homecoming 1968. SOCK IT TO 'EM.
The Bad: ...Blacken the Buckeyes? I'll pass on the smidgeon of racialness alongside my irrational fandom. Prove it? Why are you blue? Why does your 'P' look like a suicidal game of Snake? WHY ARE YOU SO GENERIC?
The Ugly: How pissed would you be if you went to grab your hard-earned button on gameday of an OSU game and it ended up being in blood red, highlighting the bloodbath of the previous year? What kind of board meeting settled on "We should totally remind fans that we're terrible, just splash 'REVENGE' on there and it'll be all good". I'd much rather have an extra "I'm For Purdue" tiny button so I could have one for each nipple.
Wait, what?
1978 Iowa Hawkeyes vs Purdue Homecoming Pin

Winner of the following awards: Best Anti-Purdue Merchandise, Best Use of Rhymes, Best Dual Color Scheme, Best Use of Forearms, and Best Old-School Mascot. Just a fantastic piece of history that could be yours for roughly a trillion dollars.
Purdue Clean/Dirty Dishwasher Magnet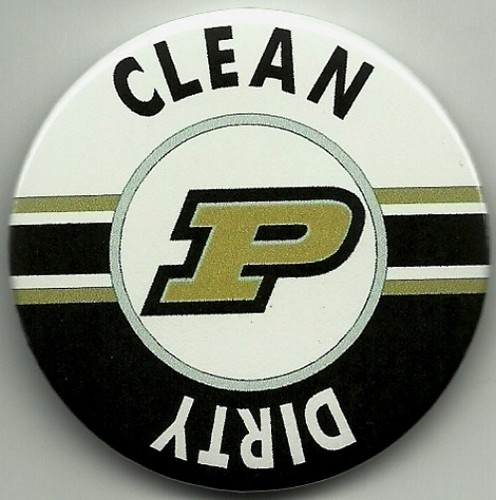 *sigh*
Dirty. It's always dirty, no matter how high your expectations become.
Special features: permanent dish streaks, loses every bucket that needs cleaning, leaks soap on the floor so you can slip and tear your ACL.
1913 Wisconsin Football Lick Purdue Card

Yeaaaaah, I'm not sure I want to remember 1912. Especially if it involves Bo Ryan, because I think he turned 65 that year.
Congrats on never sleeping, as your mind becomes consumed by Lickin' Bo Ryan. Welcome to my last three hours.
THE AMAZING RANDOM MEMORABILIA
Purdue Metal Train 27" Replica

It sold before I could get this post up, but I don't care. It's amazing, and the back is a storage basket. Perfect for coasters, remotes, or your pot stash.
1974 Purdue Basketball 7Up Bottle

You don't want to know how close I came to buying this.
Purdue University Vintage 50's Era Picnic Hamper

Fun fact: Yogi Bear was an Aero & Astro major.
This picnic basket has a removable tray, and Pete is wearing what appears to be a Purdue-branded gold bullion on his head. Because Pete goes hard.
1955 Purdue Boilermakers Football Schedule Matchcover


I promise I'll never make another Morgan Burke joke if he starts releasing the football and basketball schedules on the inside of matchsleeve covers.
Purdue Budweiser Neon Bar Sign (Free Shipping!!!)

What are you waiting for??? I'LL TAKE A DOZEN.
THE CREW NECK COLLECTION, BECAUSE CREW NECKS ARE GODS GIFT TO MANKIND
Vintage Purdue Knit Sweater w/Embroidered Name (XL)

Spoiler alert: you're bidding against me for this one. It's the greatest thing I've ever laid my eyes on. A Boiled Sports perma-ban if you outbid me.
(YES I HAVE THAT POWER THIS SWEATSHIRT MAKES ME LORD OF THE INTERWEBS)
Two Purdue Crew Necks featuring Laurel Wreaths (2XL and XL)
No crew neck is complete without a wreath. I'd buy both of these if I didn't already have four identical sweatshirts in my closet. My wallet wishes that was a joke.
Vintage 90s Purdue Boilermakers Tultex Crew Neck RARE (L)

I don't know who Tultex is, but he just put old-school Pete in Windows 95 Tiled Wallpaper mode, so I'm all in. #Tultex2016 #RARETULTEX
Vintage Purdue Boilermakers Crewneck (M)

3-PEAT. THREE PETES. 100% AMAZING. Big Dog. Zo. Brantley. BRAD. Austin. Foster. Mat Ten Dam. What arguments need to be made?
Purdue Boilermakers Crable Sportswear Crew Neck RARE (L)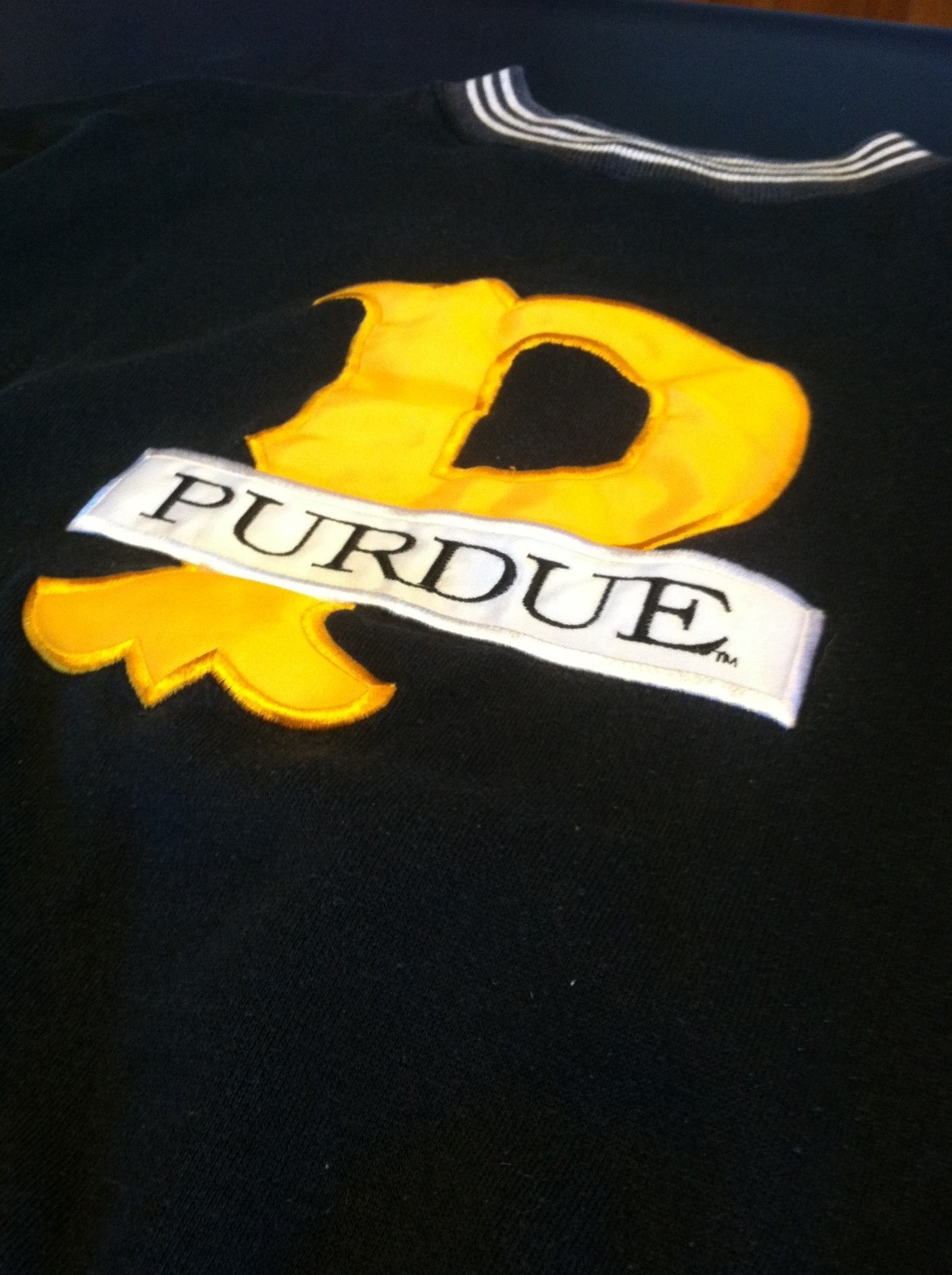 My backup plan, just in case one of you jerks buys my favorite knitted Purdue sweater above. This embroidered script P needs to be worn on campus again. It's too beautiful to be stuck in a storage unit.
JERSEYS AND PLAYER STUFF
Vintage 60's Champion Purdue #69 Trashed Football T-Shirt Jersey (L)

(So many jokes) (Too many jokes) (Don't want to get fired a week into the new gig)
Purdue Vintage Champion CARL LANDRY Purdue Sweatshirt Jersey (XL)

When an individual's love for Purdue reaches critical mass, they instantly transform into Carl Landry. It's science, so you should be good.
Vintage 90s Purdue Sewn Hockey Jersey T-shirt (M)

Hockey gear, best gear. I've never seen Purdue hockey gear on these streets, so you'd better grab it before it's gone. it also reps the Purdue griffin seal, which is totally underrated.
Vintage 1989 Purdue 3/4 Sleeve Football Jersey Style Shirt (L)

I need every part of this. I need the big 89 on the front, I need the nonchalant Purdue up top, I need that dirty gold, I need the 3/4 sleeves. This will be in my closet.
Vintage Purdue NCAA Basketball Jersey (M)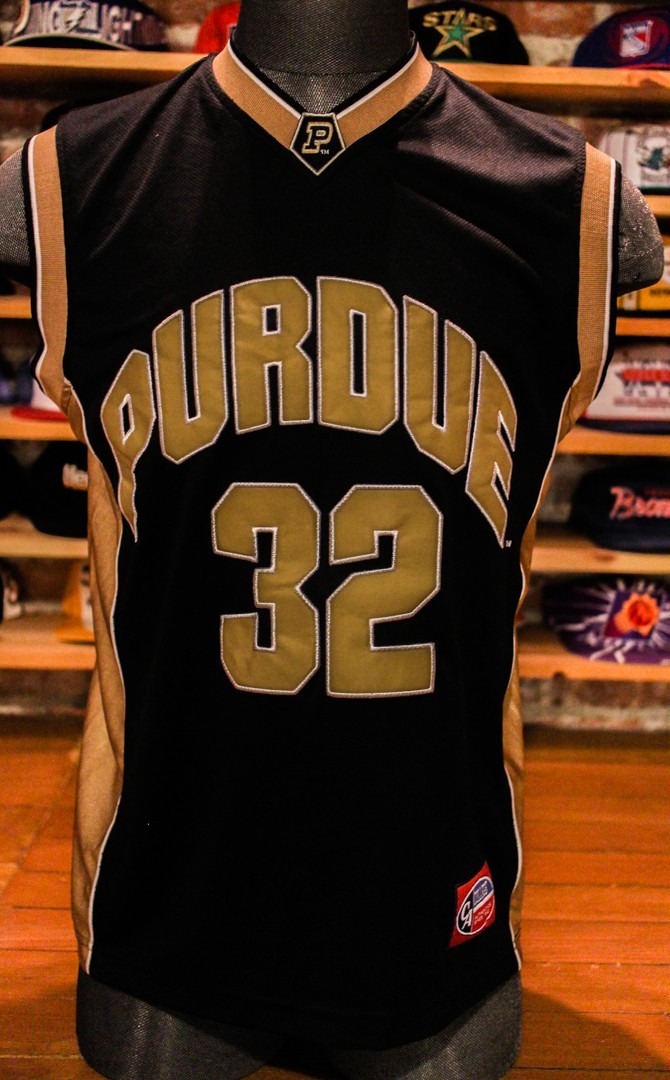 Are you a recent Purdue convert, but ashamed of your OSU/IU/ND past? Buy this jersey, learn everything about Jimmy Oliver and strut around with your guns out. Nobody will ever question your loyalty, and you'll be glowing like an angel in black and gold.
PAINTINGS I WANT TO HANG ABOVE MY BED
Oh, great, I'm crying.
(Now is when you go buy some stuff. You're welcome, crazy eBay sellers.)