Appleby v. Etling Winner?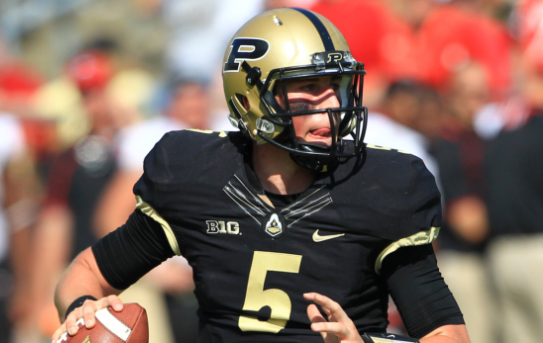 You all know by now that Etling was named the starter yesterday by Shoop/Hazell...I don't have a huge problem with it, but am not sure this was ever a competition. Perhaps the word competition isn't quite right...it was really just a test. This test was put in place to see if the incumbent starter could be knocked off by overwhelming evidence and force by the backup, and according to everyone who saw practices this fall, he just wasn't. You know that I really like Appleby...and my bias goes back a few years. I met he and Anthrop before they were officially Purdue students and they treated my son well...Months later, I met #12 again and he convinced me that he remembered my boy and I...and a few more times at practices last year. So I have been rooting for him to be the starter...just so we could see what he'd do with the keys of the car for a few years.
Etling hasn't really done anything to lose his starting role...but from what I've seen, he's not an overwhelmingly-better QB than Appleby. Appleby seems to be more accurate, but has a longer delivery and holds onto the ball a bit longer...and Etling might be better on the move. So, it makes sense that Etling would get the nod with the OLine still a unit surrounded by the scaffolding of the building project that's trying to fortify the unit.
After Appleby got the news that he lost the battle again, he handled it like I thought he would- with class...more than I could've mustered at 19 or 20 years old, for sure. And, maybe most noteworthy, he's still a Boilermaker. Again, I'm not sure I still would be at this point...and unlike AA, I was raised a Purdue fan.
On one hand, the odds are long that Appleby will earn the starting QB role while at Purdue now. On the other, he's one blindside shot to Etling from being the guy. But that said, in spite of having little time (nor protection) to do his job last season, Etling was silly-durable in 2013.
Etling wasn't the reason Purdue only had one win last year...he's not getting, nor does he deserve that blame. He's tough, has a great arm, is athletic and seems to be growing into the leadership role quite nicely. Also, like Appleby, he's at Purdue for a good reason- he just really wanted to play in God's country. His cousin Joe liked playing in the gold and black and he sold him on the idea...as did Hope and finally Hazell in the closing weeks before signing day. I like Danny Etling too...just haven't talked to him as much.
As Purdue fans, we're ready to not see what we saw last season...a team that was down 14-0 in the first quarter time and again...a team that looked like boys competing against grown-a** men time and again. I don't think any fan (except for Travis, maybe) has delusions that Purdue belongs in a bowl game at the end of the season, at this point. Granted, nothing is impossible, but our expectations are tempered, at best, by what we saw just a year ago.
I'm rooting for Etling to succeed since he's our Boilers' QB again...I'm looking forward to watching his connection with Yancey mature into a combo like Brees/Daniels or Orton/Stubblefield...it can happen.
So who really won the battle between Etling and Appleby? Stats say it should have been Appleby, the eyeball test say it should have been Etling...but really, the winner was Purdue's football program because both of these players have provided an example of how a positional battle should be waged. Both continue to compete and believe they should be starting...and publicly, neither has given an inkling of indication that they have disdain for their competition nor the judges who decide the winner. If nothing else, they've set a precedent in this young coaching staff's time on campus that could be pointed at in a few seasons as a building block for something much better than we've seen thus far. We all hope so anyway.