2015 Purdue Basketball Preview: Dakota Mathias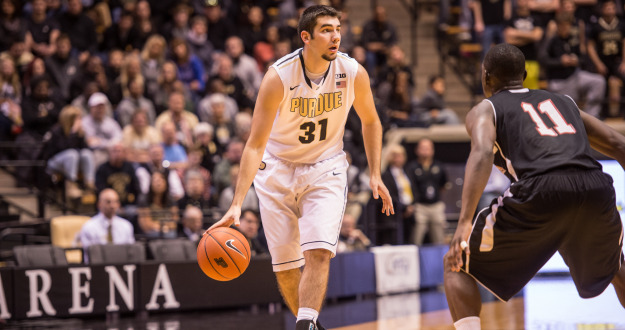 [Click here to see the rest of the 2015 player preview posts.] 2014-2015 Season Reflection
The sharpshooting, 6'5" shooting guard was the first member of Coach Matt Painter's 2014 recruiting class, committing at a time when Purdue's need for shooting was never more apparent. Dakota Mathias' reputation was as a solid three-star recruit from Elida, Ohio, and expectations were he would contribute right away as a shooter and an extremely high basketball IQ player, with limitations on the defensive end.
Coach Painter was practically gushing over Mathias' elite-level passing from the instant Mathias got through his first Purdue practice, which led people to start talking about him as a point guard option. Remember, these were the dark days after Ronnie Johnson transferred out, but before Our Lord and Savior Jon Octeus came to campus.
However, persistent illnesses (turning out to be fairly significant sinus infection issues) kept his training and conditioning behind. Fan expectations remained high, but production looked to suffer due to his lack of playing time early in the season. Getting 15 minutes per game during the nonconference slate gave the coaching staff a few glimpses of his potential (4 assists off the bench against IUPUI, 9 points and 5 rebounds on 43% shooting against Grambling State, 10 points and 2 steals in his first start vs Arkansas State), but his overall field goal percentage remained around 33% and he shot only 28% from three in December.
Mathias' playing time early in the season was largely as part of a lackluster wing rotation that could not get the job done, as Purdue finished a pedestrian nonconference slate with 5 losses. By the time Big Ten play started and Purdue started rolling, Mathias was entrenched in the starting lineup, averaging 22 minutes per game and gaining Coach Painter's favor over Stephens.
(Oddly enough, Mathias and Stephens both played exactly 440 minutes during conference play. But I think giving the freshman Mathias the start constitutes earning some sort of trust from Coach Painter.)
Nobody has really pointed out Mathias' subpar shooting during Big Ten play, but last year was pretty mediocre for a "sharpshooting" wing. His three point shooting tailed off when he started going up against bigger defenders in conference play (27% in January and February). But the end of the Big Ten slate, plus postseason play, is when Mathias stepped up. Like PJ Thompson, Dakota seemed to get over that freshman wall while developing crucial chemistry with his also-young teammates.
In general, his offensive performances were very inconsistent (particularly inside the arc), and that can hopefully be chalked up to being a freshman. Mathias broke double digit points in only five games, shooting under 34% from the field 22 times (out of 34 games), and under 30% from three point range 19 times. He would make up for this cold shooting spell, however, with some great playmaking and distribution streaks.
Now…"Point-Mathias" is a thing I've been really resistant to all summer, and arose when it became clear (yet again) that Purdue needed another point guard option with floor-spacing capabilities. This was further emphasized after Caleb Swanigan's commitment, putting two massive post players on the floor during crunch time.
Personally, I'd much rather see Ray Davis make that point guard transition, but Mathias might be the more viable option given his existing court vision and is ahead of Davis in every ball-handling aspect.
https://vine.co/v/eLKmJtBAuwH
Watch Mathias grab the long rebound and run that break. He takes a slight hesitation step at the arc, which opponents respect (perhaps unjustly). Mathias immediately attacks the paint (even though he's not a great finisher at the rim) because he knows it forces a 3-on-2 fast break situation and gives Octeus an easy layup. Given his vision, it isn't unreasonable that he saw Smotherman open on the wing as well.
Despite these successes, I think Mathias is best utilized off the ball. His type of passing gets minimized as a primary ball-handler in Painter's offense, and his off-ball cuts are often really smart and extremely effective.
https://vine.co/v/OTLLJb9MnlH
https://vine.co/v/OPOOrQFtB6K
With Mathias attacking around Hammons/Haas screens, Biggie and Vince delivering those passes from the high post, and the potential Mathias-to-the-center lobs as the help closes in…oh man oh man oh man.
Again, I'm not against point-Mathias because he's particularly bad at dribbling the ball. I'm against it because getting him the ball rolling off a screen and immediately in triple-threat position with an off-balance defender maximizes all of Mathias' talents.
That being said, he does a good job distributing the ball in half-court sets. It sort of takes away Mathias' potential as a shooter, but he might be the best on the roster at getting assists to players inside the arc. Look at his GIFs of the year section, both against Penn State, and you'll begin to see why.
Defensively was a little lacking, even though he gambled in passing lanes to get a few steals. To me, Mathias wasn't glaringly out of position too many times, but he either got bodied by bigger players or juked by more nimble players. I don't expect him to be as aggressive this year, and improving agility while retaining these defensive instincts could help Mathias become a positive in a team-defense scheme.
https://vine.co/v/eLKqLVMbdHm
Undisputed Strength: Court vision. (I'm not willing to put shooting here just yet.)
Biggest Weakness: Lateral quickness, particularly within man defense.
GIF/Vine/moving picture of the year:
https://vine.co/v/O9tPXW3h3Iw
https://vine.co/v/O9t9dU6PB5Y
Both lobs in half-court sets from Mathias to Hammons, both in the opening Big Ten Tournament game against Penn State, both made me jump out of my chair, both have me feeling better that point-Mathias could work out.
Nickname: We need something. He was way too nondescript for a natural nickname, so maybe calling him El Chupacabra or something can spice up his game a little bit.
Predicted Statline:
| | | | | | | | | |
| --- | --- | --- | --- | --- | --- | --- | --- | --- |
|   | Minutes | Points | Rebounds | Assists | Steals | Blocks | Turnovers | Fouls |
| Last year | 19.62 | 4.82 | 2.12 | 1.38 | 0.50 | 0.09 | 0.76 | 1.71 |
| This year | 18 | 5.85 | 1.35 | 1.40 | 0.23 | 0 | 0.90 | 1.58 |
| Team projections | 200 | 73.43 | 38.58 | 15.41 | 5.51 | 6.53 | 11.96 | 19.21 |
CLICK HERE to see projections for everyone on the team.
Methods: Projected each player's stats per 40 minutes (loosely based on increases/decreases from last year), scaled to my projected minutes per game.
Assumptions: Nobody (read: Cline and Smotherman) redshirts, and the team totals are as stated. Parenthetical numbers are where those team totals would have ranked in 2014-2015. Remember, last year's team was 10 players deep, this year's team could be 13 players deep.
Again, he started the season getting fewer minutes off the bench, but grew into Painter's favorite and split time evenly with Stephens. He hit the wall offensively during the meat of Big Ten season, particularly when it came to his shooting percentages.
Increased ball handling leads people to think he'll have higher assists, but even if he does play a point guard-ish role I think he will have a lot of hockey assists (that don't show up in the box score). Increased turnovers per game are indicative of a higher usage rate, not because I think he'll be making worse decisions.
There is a potential for Mathias to step in and see a few more shots per game, particularly from behind the arc, but he's really got to become more consistent. I think he sees a small bump in minutes due to Smotherman's redshirt, but I don't see him breaking 20 per game. Kendall Stephens, in my projections, takes a massive step forward, making some of these numbers (and a slight minutes decrease) a little lower than most Purdue fans are anticipating. We might see a little bit of a sophomore slump, and if I had to pick one wing to break out I'd go with Kid Stephens.
Defensively, I think steals go down as he becomes a more conservative man-to-man defender…especially if he draws point guards in defensive assignments. I actually think that's where his biggest downfall will be this year: staying in front of quicker guards, as opposed when he was matched up with slower wings last year.
Mathias had surgery to help his sinus infection problems this offseason, so hopefully won't bother him going forward. We saw his conditioning improve slowly as the year went on, and a lot of his defensive faults could be solved by an increase in athleticism.
Unsolicited BS Advice for 2015-2016:
Oh Dakota, the favorite child of Knucklehead Central and Purdue Twitter. Work on your agility, speed, and athleticism, as physical shortcomings will keep you off the court more than any mental pitfalls.
Offensively, in addition to making shots (that I think will eventually fall), keep a focus on developing your fantastic court vision. That's what could make you a special player, particularly if you look to facilitate for other teammates. Take the open shot if you have it. If those shots don't fall, though, the breakout candidate Stephens (and the freshman who looks ready in Cline) will eat up your minutes.
But, most importantly…you need to be ok with a smaller role than anticipated (and that many will clamor for). Success comes when everyone fills their lane at the best of their abilities, and your success could catapult this teamin to the top 05.
BEST/WORST: Remember, this is the top and bottom of the spectrum. The most likely scenario is somewhere in the middle. (Worst case scenarios come with a complimentary side of ACL tears.)
Best case: Mathias dominates this year, stepping in at point guard easily for 10-15 minutes per game. PJ and Johnny Hill (who don't provide shooting or spacing around the bigs) only split 25-30 minutes per game, and minimize any floor-spacing issues this roster faced last year. Dakota averages 38% from beyond the arc, the jump that Stephens saw from freshman to sophomore seasons, and averages over 3 assists per game. He has a nose for setting teammates up, and becomes the de-facto combo guard starting next year alongside PJ or Carsen Edwards...giving a suddenly-dangerous Purdue the ability to run plays with up to three primary ball-handlers (either point guard, plus Mathias and Edwards). The combination of Mathias-Stephens-Edwards-Swanigan-Haas becomes Purdue's 2017 closing lineup, and the combination of floor-spacing, unselfishness, versatility, and experience leads the team deep within the tournament.
After a successful senior captainship, Mathias rides steady production and elite efficiency (along with his 6'6" frame) to an early second round NBA draft selection, where he becomes the perfect piece off the bench for Alvin Gentry's New Orleans Pelicans, fueled by the best player in the world, Anthony Davis. Mathias becomes a favorite down in Nawlins, as his little-known talent of tuba playing (which was how he overcame respiratory illnesses) shines in the French Quarter. The city thinks he's a Manning brother, and generations of hipster NBA fans point to Dakota as "always my favorite player, and the entire reason Anthony Davis got all those rings, didn't you even watch the games man?"
Worst case: Sinus and respiratory infections eat away at Mathias' athleticism and conditioning, preventing any summer-driven improvements in a crucial year. He loses minutes to Stephens (who averages close to 28 minutes per game and 11 shots per game, sinking 6 and averaging 16 points per game). Ryan Cline, the freshman everyone thought would redshirt, decided to play the year because Painter was afraid he couldn't count on Mathias to be available. Cline continued his unbelievably great summer to play 18 minutes per game (he's given all of Smotherman's redshirt minutes, and cuts deeply into Mathias' allocation) and scores at an absurd efficiency level with a true shooting percentage of 68%. Mathias never gets the opportunity to develop his ball-handling abilities, and never regains Coach Painter's trust.
By his senior year, he doesn't see the playing time he needs open up, and graduates early to transfer to Dayton. Archie Miller, being a beautiful basketball wizard, reads the wonderful GBI Forum archives from 2015 and gets the idea to use Mathias exclusively at point guard, where he thrives and leads the Flyers to another Cinderella Elite Eight run. Miller uses this to bolster his high-major qualifications, and when Indiana fires Tom Crean (after handing out NIT Round of 32 rings) the Hoosiers break the bank to bring Archie to town. The fit is perfect, and Indiana regains its stature as a Blue Blood of college basketball, while Mathias uses his shooting and ball-handling to have a solid career in Europe. He eventually becomes the coaching successor-in-waiting at IU, because of course he does.
Feature Image from PurdueSports.com