2015 Purdue Basketball Preview: PJ Thompson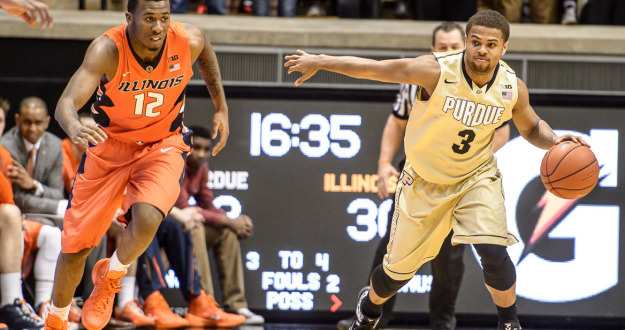 [Click here to see the rest of the 2015 player preview posts.] 2014-2015 Season Reflection
When compared to most normal commitments (and not, let's say, the October graduate transfer of an absolutely perfect point guard, or the commitment of a 6'10" rebounding machine nicknamed Biggie) PJ Thompson's addition to Matt Painter's 2014 recruiting class came pretty late. But, by March 11, 2014, it was clear to the coaching staff that entrenched starter Ronnie Johnson either needed more competition or he had already started looking at other schools.
Five days later, news broke that Ronnie Johnson had decided to transfer and had been granted a release from his scholarship.
Almost exactly a year later, on March 30, 2015, Bryson Scott (in the Purdue basketball family since November 2010) had been granted his scholarship release due to a lack of available playing time.
The way-too-quick end of Jon Octeus' Purdue career (which included saving Coach Painter's job with his play from January to March) meant that there was only one man left standing at the point guard position: 2014 recruiting afterthought PJ Thompson.
Point guard has been somewhat of a tumultuous position under Coach Painter, to say the least. We can pretty easily split the experiences into three categories:
Happy four-year career: Keaton Grant, Lewis Jackson
Clashed, transferred out: Nate Minnoy, Kelsey Barlow, Ronnie Johnson, Bryson Scott
Transferred in, short good stint: Bryant Dillon, Tarrance Crump (post-DUI), Sterling Carter, Jon Octeus
The "transfer in" route has been the most successful, with only two cases (Grant and LewJack) of a sustained level of success under Painter. PJ looks to be the third member of that exclusive club, and it doesn't look like he's going away any time soon.
Frankly, Painter is incredibly lucky that this kid was so under-recruited out of high school (or, depending on the story, held out on committing to another school at Painter's behest). You can point to his lack of size (one of Keaton's strengths) or lack of speed/athleticism (LewJack's route to success), but PJ might be the first "pure point guard" at Painter's disposal that relies on his decision making and court vision to produce.
Last year, PJ started off with very good non-conference play, backing up Jon Octeus as the primary point guard with 1.6 assists and 3 points per game on 34% shooting in 18.5 minutes per game. Very passable numbers, which actually downplay the impact he had on the court.
Take the example below:
This was in the season opening game against Samford. PJ started with a good cut to the ball which created a passing lane for Basil Smotherman after the double team hit. As a refreshing change-of-pace when compared to other saucy Purdue point guards of the recent past, PJ pump-faked on an open three point look, forced the wing defender to close, and kicked to a wide-open Scott for an easy corner three.
Listen, if a two-star recruit has the basketball IQ to make this play in his first collegiate game, any halfway decent training staff can craft his body to match Big Ten athleticism. I could watch this play over and over again…PJ is beautiful, man.
Here's a slightly more exciting example of what PJ can do with his apparent 'lack-of-athleticism':
Again, PJ utilizes a pump-fake while wide open (Ryne Smith would be proud), and exploits his very good handles to weave into a crowded lane. He then somehow finds a passing lane to hit The Baseline Assassin for what should have been a layup and-one.
This was in his third collegiate game.
I'm pretty on record as being infatuated by the guy that started over PJ, and really do think Octeus' play saved this program from a potentially disastrous timeline. Without Octeus, Ray Davis, and AJ Hammons stepping up during Big Ten season, I really do think Coach Painter wouldn't have been the coach of this 2015-2016 Boilermaker squad, and Biggie would have been in Spartan green.
PJ, during this time, hit the inevitable freshman wall and his play struggled. His field goal percentage dipped (24% in only 100 minutes of January/February play), and this team would have mightily struggled if he was its starting point guard.
March brought PJ a mini-recovery, as he was instrumental in Purdue's regular season finale against Illinois (7 points on 2/3 shooting, 2 assists, 3 steals, 2 rebounds in 14 minutes), and looked poised in some short postseason minutes. Combine his end-of-season comfort with reports that he's been the most impressive point guard on the roster, and I think PJ has a solid grip on beginning the season as Coach Painter's starting point guard.
Undisputed Strength: Getting teammates involved, playmaking and point-guarding in general. And having a nose for steals.
Biggest Weakness: Shooting consistency, which could be a killer to his minutes if not improved.
GIF/Vine/moving picture of the year:
PJ steal, then running a 2v2 fast break ending with a lookaway pass for an easy layup? I'll take a season full of those, please.
Nickname: PJ Party? Mighty Mouse? We've got to get some better options, people.
Predicted Statline:
| | | | | | | | | |
| --- | --- | --- | --- | --- | --- | --- | --- | --- |
|   | Minutes | Points | Rebounds | Assists | Steals | Blocks | Turnovers | Fouls |
| Last year | 13.57 | 2.40 | 0.93 | 1.10 | 0.70 | 0.03 | 0.63 | 1.30 |
| This year | 14 | 3.15 | 0.53 | 1.58 | 0.70 | 0.01 | 0.70 | 1.23 |
| Team projections | 200 | 73.43 | 38.58 | 15.41 | 5.51 | 6.53 | 11.96 | 19.21 |
CLICK HERE to see projections for everyone on the team.
Methods: Projected each player's stats per 40 minutes (loosely based on increases/decreases from last year), scaled to my projected minutes per game.
Assumptions: Nobody (read: Cline and Smotherman) redshirts, and the team totals are as stated. Parenthetical numbers are where those team totals would have ranked in 2014-2015. Remember, last year's team was 10 players deep, this year's team could be 13 players deep.
In a normal situation, I'd see PJ easing into the starting role and getting the bulk of the point guard minutes, but this year isn't a normal situation. Unfortunately, Purdue's focus on post play and playing through Vince/Biggie/AJ might limit PJ's available minutes. I still think he sees more of the floor than Johnny Hill, and his assists and general usage rates (and, thereby, his turnover numbers) see a slight uptick. There won't be much need for his scoring, but a few three point attempts per game will be available and hopefully PJ will capitalize.
Unsolicited BS Advice for 2015-2016:
I think PJ is much better than national reporters have indicated in their concerns with Purdue's roster, but I also don't think either PJ or Hill will make-or-break this team. With post options in Hammons, Swanigan, and Haas, plus alternative facilitators in Edwards and Davis (and Mathias, I guess), all the point guard position has to provide this year is a low turnover rate and mistake-free defense. As you can see by the GIF above, PJ is quite capable of delivering both.
PJ, because you're clearly going to read this, just focus on keeping the wing players happy and don't hesitate on those beautiful skip-passes to find open shooters. Shooting from the corner will be key offensive skill that needs to be added, as both Vince and Swanigan have the passing ability to hit open shooters while stationed at the elbow. If your shooting improves and your steal rate remains astronomical, I think you'll be the clear starter…even after the talented Carsen Edwards joins the squad next year.
BEST/WORST: Remember, this is the top and bottom of the spectrum. The most likely scenario is somewhere in the middle. (Worst case scenarios come with a complimentary side of ACL tears.)
Best case: PJ becomes the facilitator of our dreams, playing 18 minutes per game and making incoming transfer Johnny Hill the most talented luxury option in the conference. Averaging 7 points and 6 assists per game, he brings a Tyler Ulis-like stability to the point guard position on a talent-loaded team. Purdue makes three straight Final Four runs, with PJ putting up low-key numbers while becoming the fan favorite. Barely cracking 5-feet tall makes all NBA teams pass on him, but he becomes a standout point guard in Europe. That gets him discovered by the San Antonio Spurs, who think PJ stands for "Pierre-Jean" and sign him as the "French heir to Tony Parker". Pierre-Jean Thompson wins 5 NBA championships with the LaMarcus Aldridge/Kawhi Leonard Spurs, and everything is beautiful.
Worst case: Three good games in March weren't enough to of a sample, and he reverts to conference play PJ…which means he loses his playmaking touch, makes a ton of unforced mistakes, shoots 20% from the field, and sees a lot of bench time. Purdue's point guard options are objectively terrible, and Coach Painter is forced to go with his best option available: converting Isaac Haas to the primary ball-handler. Like last year, Haas has trouble remembering how to use his hands and feet in synchronicity, and averages an astounding 34 turnovers per game and Purdue finishes last in the conference (just like the national reporters feared). Like Bryson, PJ feels like his minutes will be limited with the addition of Carsen Edwards, and is granted release from his scholarship in March 2016. He joins Ronnie Johnson in Houston, and in 2017 Kelvin Sampson's fast-paced offense is fueled by the best point guard play in the country. Sampson reaches the Elite Eight on the backs of two former Boilermaker guards, while Coach Painter continues to furiously work towards his revolutionary vision of having five centers on the court at the same time.
Feature image from PurdueSports.com