Shoop, Hudson And Others Are Out...What Now?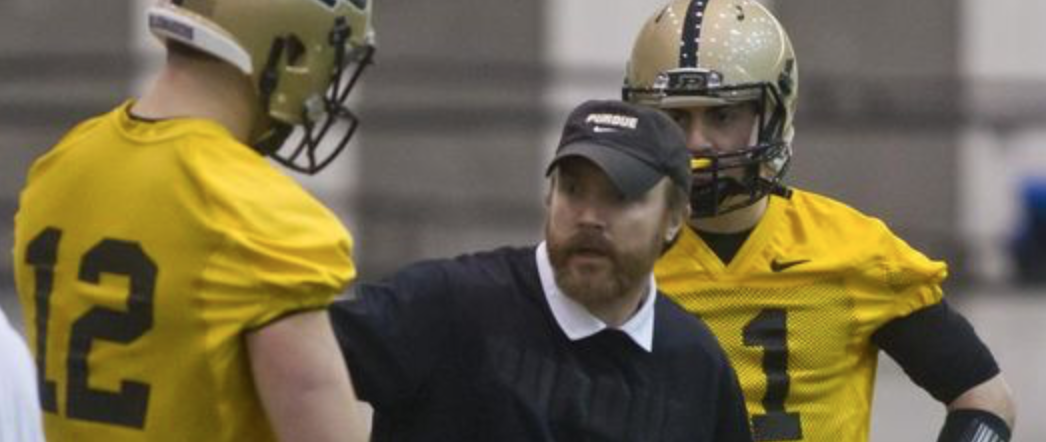 Last year I thought Hazell needed to make major changes to avoid sinking the ship in just his third year on campus. I was right- Shoop's offense didn't improve...Shoop's ability to develop quarterbacks didn't improve...Hudson's defense got worse during 2015 and ultimately, our Boilers had an even worse record than the three wins in 2014. No matter how you frame it, these are dark days. This is college football Siberia. Purdue football isn't fun...and hasn't been for some time.
I'm not sure how it went down after the IU game -- if Burke forced Hazell to make changes or Hazell knew it was time and did it himself...and I don't really care. What I know is that this move is a year late and a few rungs short on the food chain.
Hazell made the hire of both of these coordinators, and stayed loyal to them a season or two too long. As a man, loyalty is of the utmost importance...as a football coach, hardly anything trumps wins and losses. Purdue has been losing too much for a while now. It doesn't matter who is the head coach or the assistant coach, the culture of losing is pervasive...and selling a new coach into this system will take a unique situation.
Will Purdue simply promote Malone to OC? I'd hope so. I'm not sure if a guy with a better resume can be found for our Boilers. If this happens, hopefully, they can find a QB coach who can knock some of the rust loose off of the talented stable of QBs who seems to be stuck in neutral. And whomever takes over at OC needs to find an identity...and do it in a hurry. Purdue's offenses haven't had a consistent identity (other than ineptitude) in about a decade. Hope liked speed...but didn't know what to do with it. Hazell loves ball control, but doesn't have the tools to run an antiquated offense. Change is needed.
Will Purdue promote Freeman to DC? I'd hope so. Coach Freeman has been one of the bright spots on Hazell's staff since he arrived. And I'm not sure of his philosophy, but Purdue needs to go back to a 4-3, in a hurry...the 3-4 never seemed to work. Get speed back on the edges...move some athletes to DE...and have them pin their ears back. The Den of Defensive Ends has been a dead zone for four seasons. That's pretty sad.
The biggest problems seem to be the changes that weren't made.
Burke's bosses gave him an extension last summer...and, based on recent behavior, Mr. Burke seems like he's comfortable where he is and doesn't want to leave. I wouldn't either if I were in his position. Basketball's good...BTN TV contract money rolls in regularly...all is well!
Hazell is still the head coach. Regardless if you like him, dislike him or don't know who he is, he's going to be coaching a team with more uniforms than wins in 2016. I don't doubt his football acumen...I don't doubt that he is a great person. I also don't doubt that he's an awful head football coach, with a resume that backs that opinion up, who doesn't seem to know how to make things better. If he did, he wouldn't have blindly grasped at straws this season (conservative offense one week, aggressive the next, threatening to burn a RS QB's shirt for a worthless potential third win, gimmicky pre-game speeches and tactics to players, etc.).
The season began with Hazell saying that all of Purdue's eggs were in the basket of beating Marshall, it ends with Hazell and company looking to overhaul the staff and change direction of the program...something that is obviously needed. My gut, my eyes and history all tell me that these firings won't being enough to right the ship. One thing to note (as J told us a few weeks ago) -- Coach Hazell will need to guide the Boilers to 16-straight wins...to match Danny Hope's win total at Purdue.
I do appreciate some change...any change being made. But, as it is with so many things in the Purdue football program, these changes were only made when there were very few options left. Bringing Hazell back in 2016 wasn't a move to give Coach Haze as many chances to win as possible (as is being told by the athletic department), this was a move to save a large sum of money that was the result of a lousy contract for a coach with a thin resume. Hazel's buyout is over $6.5 million dollars until next year...It'll be just over $4 million dollars until early 2017.
In comparison to many buyouts in the DI world, this buyout isn't horrible...and when you look at the fact that Purdue will bring in over $30 million from BTN next year, while losing over $1 million per game in which Ross-Ade is half-empty, the cost doesn't seem too prohibitive...But when you think small, you get small results. The circumstances that we are enduring are not the fault of Hudson, Shoop, Carter or anyone else who's about to leave God's country.
All of the program's woes are the result of decades of smalltime thinking.