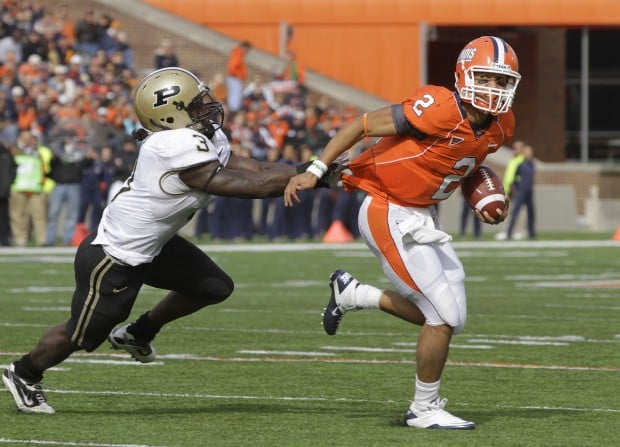 I've been reading message boards and Twitter alike asking the question if Beckford's suspension will make a difference to the team.  I believe it will...but as I said when I heard of the suspension, I'm glad it happened now.

Beckford is an instinctual football player who seems to just react and attack.  I think Lucas plays in a similar manner, but Lucas isn't as good of a tackler as was Beckford.  That might be the biggest problem with losing Beckford.

Who knows if he had grasped the new defense before his most recent arrest...Hope said he had.  And what we've seen the past couple seasons leads me to believe he probably got most of it.  But his athleticism often made up for mental mistakes and put him in the position to make plays.  He was second on the team in tackles last year, and would have been the leading returning tackler. His loss will matter...but it could have been worse.

In the last two seasons, Purdue lost its starting QB, Henry at the time, just weeks before the first kickoff. And two years ago, Hope saw the back-up QB, TerBush, go down to academic issues just before the commencement of the season.  A back-up QB shouldn't be a huge loss, but it turned out to be.  Heck, go back a few years- many of you remember the loss of Stubblefield prior to the season to a fall while climbing a fence to get into a pool. So as Purdue fans, we should be taking the most recent pre-season loss of a starter in stride...and if you're like me, you expected this one to end this way anyway; it was really just a question of when.

Depth is better program-wide than it has been...but in the LB unit, experienced depth is a big problem.  Joe Gilliam was a pretty highly-touted recruit out of this state.  One that the Indianapolis Star must love, but, hadn't done enough in limited snaps in games or during practice to propel him to the top of the depth chart.  It seems that in a matter of weeks, he'll take Beckford's place as Higgs doesn't seem to be the apple of the coach's eyes (this is based on reading interviews in the last day or so).  As of now, it'll be a committee of Gilliam, Higgs, Robinson and Ibarra that will be auditioning while on the job.

I hope Gilliam shines and we begin to see results instead of just potential.  If not, I can assure you that well-coached teams will use TE drag routes and swing the ball to RBs in the flat until Purdue shows that they have LBs that can stop such plays...we've seen this issue before, both from Tiller and Hope defenses. So, once again, we shouldn't be too pissed when it happens.

Regardless of whom fills Beckford's role, there will be a period of growing in to the position...and until it becomes second nature for the new guy, he'll be thinking too much and a bit mechanical...and a mechanical linebacker in the new defense won't be a good thing.  They'll need to adapt quickly and react well in space...two things that are tough to do when a player is over-thinking. The good news is, there are a few guys on the defense who seem to be completely-comfortable in their position; hopefully they can gloss over the discrepancies until the linebacking corps can get up to speed.